On a Magical Night, 2019.
Directed by Christophe Honoré.
Starring Chiara Mastroianni, Benjamin Biolay, Vincent Lacoste, Camille Cottin.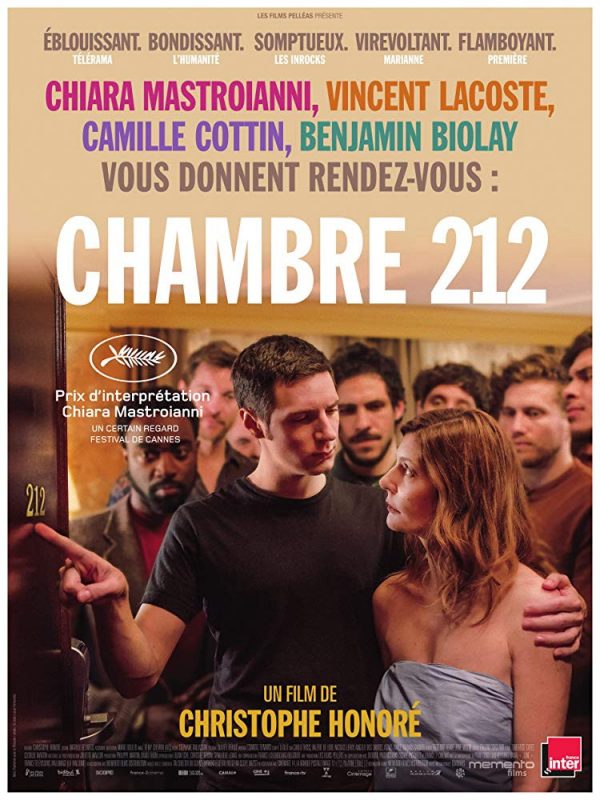 SYNOPSIS:
After ending her latest casual fling with an attractive young student, a University lecturer reveals her long history of affairs to her husband of twenty years. Leaving him devastated, she checks into a hotel room across the street and, over the course of a night, is visited by the ghosts of her past, including her husband's younger self.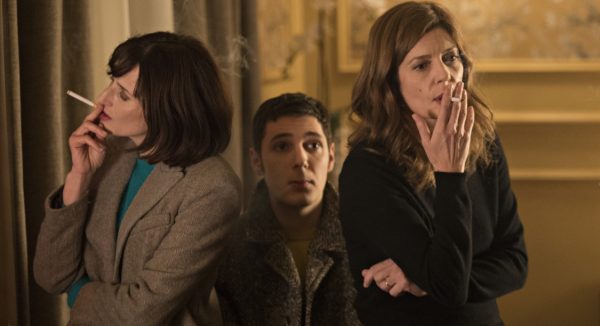 Adultery, deception and the songs of Barry Manilow. From the synopsis alone, you'd be excused for thinking On a Magical Night was anything but a quirky, comic fairytale. As it is, writer and director Christophe Honoré, something of an auteur in his native France, gives infidelity a hefty dose of the light-hearted treatment in his latest offbeat cinematic venture.
Weaving the warm style of a Frank Capra feel-good film through the narrative threads of Dickens' A Christmas Carol, Honoré's Parisian tale takes a typically dour subject matter and imbues it with intriguing, entertaining exuberance.
The story follows Law lecturer Maria (Mastroianni), whose series of flings with several hunky students half her age are discovered when her husband Richard (a suitably forlorn-looking Benjamin Biolay) finds numerous messages on her phone one evening. After confronting her, Maria nonchalantly confesses to her infidelity before packing a suitcase, quietly slipping out of her apartment and into a hotel room directly opposite. Deriving joy from such scenes might initially seem like a stretch, however, the blasé way Maria discloses the details of her numerous affairs firmly sets the tone for Honoré's story. On a Magical Night is a film that never wallows in the bleak deluges of a broken marriage, but instead splashes in the warm oceans of playful possibility.
Over the course of the night, in the solitary spaces where Maria and Richard are left to ponder their predicament, Maria is visited by the ghosts of her yesteryear — everyone from the suave, younger Richard (Lacoste), to her deceased mother, to an entourage of her former lovers. The past, quite literally, packs itself within the four walls of her hotel room (a stand-in for her conscience, perhaps), while, across the street, a lonely Richard sits on the sofa in silence.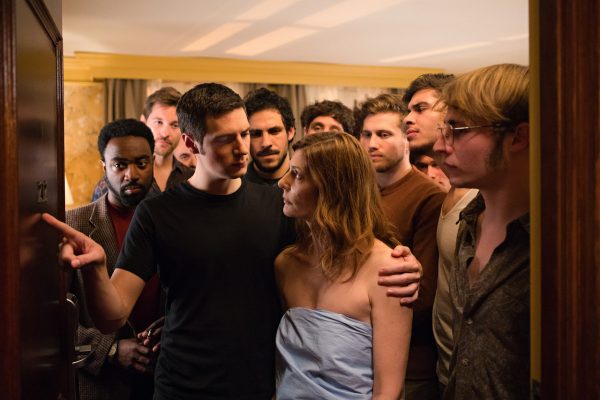 It's a central relationship that carries an autobiographical sting, too (Mastroianni and Biolay were married for three years before they divorced in 2005). But, at a lean, clean 90 minutes, the film feels less of a deep-running rumination on love and loss than it does a dainty, whimsical exploration into the embers of love rising from the ashes.
Where this fantastical tale is headed might, at first, appear obvious. The presence of the charming, libidinous, younger Richard (no de-aging trickery to be found here) leads to some warm, steamy, if somewhat indulgent moments of reconciliation: interactions that inevitably force Maria to re-evaluate where her true feelings lie. Similarly, in the film's stage play style — one of limited locations, abrupt door openings and sudden camera movements (perhaps a metaphor for her relentless stream of consciousness) — Scrooge-like existential dilemmas quickly manifest. When the apparition of Richard's former piano teacher and first love comes a-knockin', the film explores the possibility of life without Maria. What would it be like if she had never to come into the picture? Would Richard have started a family? And, crucially, would he be happy?
But, if everything seems poised for an uplifting finale, Honoré diverts his ending towards one of inconclusion, where the film's many tangents come together in a haze of ideas, hope and slow dancing in a pub called 'Rosebud'. Things start to feel awfully muddled in the film's latter moments; however, if there is an underlying message to take from it all, it's this: people change, relationships evolve, and what love looks like at 25 might look completely different two decades later. But, as the title suggests, that doesn't always mean the magic is gone.
Flickering Myth Rating – Film: ★ ★ ★ / Movie: ★ ★ ★
George Nash is a freelance film journalist. Follow him on Twitter via @_Whatsthemotive for movie musings, puns and cereal chatter.