The Lighthouse, 2019.
Directed by Robert Eggers.
Starring Robert Pattinson, Willem Dafoe..
SYNOPSIS:
The hypnotic and hallucinatory tale of two lighthouse keepers on a remote and mysterious New England island in the 1890s.
Very rarely does an absolutely perfect movie come along. These films are few and far between and seem to follow no specific formula for success. Robert Eggers' The Lighthouse is one of these rare, unusual films.
The Lighthouse is a psychological horror film following two lighthouse keepers marooned on a stormy island far from shore and their horrifying descent into madness. What are their names? They are given in the film, but do not matter. What matters is that in another day and time, these two seamen could be us.
The Lighthouse is shot all in black and white, but that does not mean that it is empty of visual effects. Far from it! There are camera pans, rotations, soft focuses, fades, tricks of the light, and endless shadows. The black-and-white contrast enhances the entire effect of the film. The lack of color also increases the effect of the sound in the film by an exponential factor. From the very beginning of the film until its last, dying breaths, sound defines everything that happens.
The horror in this film is graphically grotesque. One may think that the absolute terrors that can befall one on a nearly deserted island with only one other for company may be limited. They would be mistaken. There is psychological, physical, emotional, sexual, and even mythological terror. What is more, this terror all rests within the mind of just one of the characters. As many a learned man will tell you, magic is real, so long as someone believes in it. It is real to them. And, as this film can teach you, magic, or in this case, belief in superstition and the mythological, can kill you.
The acting is absolutely phenomenal, and while watching it, one completely forgets that this is a work of fiction, and absolutely believes that these events are really happening before them. Perhaps more troubling, one can see themselves in each of the characters, played masterfully by Robert Pattinson and Willem Dafoe.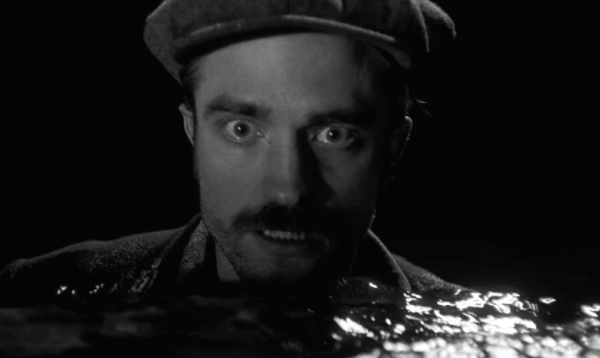 Dafoe plays an older, experienced lighthouse keeper with extreme tendencies for bragging about days gone by, soliloquies, and endless farts. There is definitely a touch of madness that constantly pervades his character, and this only grows more extreme as we get to know him. His behavior, it is revealed, is already quite erratic and definitively insane. His braggadocios tales may or may not be true, and his motivations may or may not be genuine. Nevertheless, his way of achieving those motivations relies upon constant and relentless emotional manipulation and abuse of his younger partner in keeping the lighthouse.
This younger partner is played by the always stellar Pattinson. His character remains an enigma up until the end of the film. Pattinson displays inklings of madness from the very beginning of the film, sinking deeper and farther as it progresses. The name he gives Dafoe's character is a lie born of his past misdeeds, which are great, and yet we still feel for him. His character is constantly overworked by Dafoe's, to the point of slavery, and yet, they develop a love-hate friendship that lasts most of the film. Pattinson is a character of human emotions, including great lust, which displays itself openly and graphically throughout the film's course. As Pattinson sinks further and further into madness, there are hallucinations, but none you as bluntly as those in films such as The Shining. Instead, they are a brief second of a mermaid here, or a snippet of tentacle there, subtly inserted with enough deftness to make you doubt your own sanity.
The Lighthouse is a tale of madness that, while laden with symbolism and the fantastic, is incredibly realistic. The horrifying truth is that these events can happen to anyone, and sometimes actually did. It is the fear of being alone which drives men mad. This may not be the horror movie we expected or the horror movie we wanted, but by Jove, it's the horror movie we desperately needed and the horror movie we deserved. The mind is a horrific place without the light of humanity that shines upon it.
Flickering Myth Rating – Film: ★ ★ ★ ★ ★ / Movie: ★ ★ ★ ★ ★
Alec Frazier