The Blair Witch Project, 1999.
Directed by Daniel Myrick and Eduardo Sanchez
Starring Heather Donahue, Michael C. Williams and Joshua Leonard.
SYNOPSIS:
In 1994, a group of documentary film-makers ventured into the woods of the Black Hills in Maryland to investigate the mysterious local legend of the Blair Witch. They subsequently vanished leaving behind only their cameras and the terrifying footage they shot.
It's found-footage time and if you're a long-time reader then you'll likely know my stance. I've written the same "I don't like found footage" intro so many times now that I'm bored by it myself. So with that out of the way, let's talk about found footage some more by taking a look at a film that, while not the first of this sub-genre, was the first to achieve significant mainstream critical and commercial success. This is The Blair Witch Project.
Revisiting The Blair Witch Project is a rather odd experience for me for one simple reason; nostalgia. Thinking about this film conjures up memories from my childhood in which this film was the most talked-about film of the year. One that everyone wanted to see, and one that was supposedly so scary that everyone who saw it instantly vomited and/or shat themselves to death with fright. I can vividly remember watching it for the first time when I was around 6 or 7 and being utterly terrified by, what looked like to my young mind, a really fucked up home movie of a bad camping trip.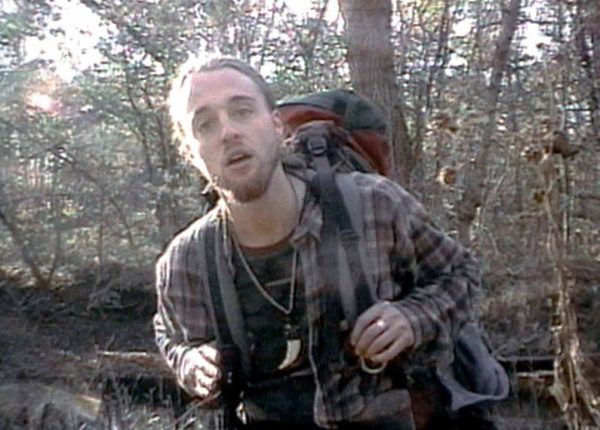 It's with this childhood sense of terror that is perhaps why, for so long time after, despite only watching it again occasionally, I considered it something of an untouchable horror classic. Yet, nostalgia can sometimes be a cloud over your memories to perhaps protect you from a harsh reality. The harsh reality being that The Blair Witch Project is nowhere as good as I remember it. 
Don't get me wrong, some qualities still hold up after all this time and its only fair to praise them. The acting from the film's small cast is solid throughout, their growing frustration with their situation (and each other) coming across as authentic thanks primarily due to the heavily improvised nature of the script and the general lack of direction given to the performers as to how they should act.
The rather novel directing approach taken by directors Eduardo Sanchez and Daniel Myrick to derive terror from their actors are as inspired as they are cruel, with the pair depriving the principals of food and sleep while constantly harassing them in their tents at night. It's an approach that may raise a few eyebrows but it pays dividends with the terror and fear in the actors' performances mainly because they are genuinely terrified about what's happening to them.
The film's night sequences are where it is at its best, the clever sound mix of branches snapping in the deep dark woods and occasional cry or laugh of what might be a child or a demon echoing through the trees never ceasing to make me shiver. Combining the fantastic sound design with the shaky camera work creates a disorientating nightmare as we barrel through the woods only catching blurry flickers of our titular monster while shrieking, much like our protagonists, 'WHAT THE FUCK IS THAT?!'. The final ten minutes still terrify me as much as they did 20 years ago, with the eerie husk of an abandoned dilapidated house serving as the perfect setting for an ordeal of distant cries, dark basements and what I still regard as one of the creepiest final shots to any horror film; that lone figure standing in the corner.
While the acting, cinematography and scares work well, the main issue that you have to suffer through what might be the longest 80 minutes of your life, the vast majority of which is really just the characters trudging through the woods, having the same arguments about who lost the map or generally whining about how they have to get out of the woods. While I understand that this is to build character, tension, and is pretty much I would act if was stuck in the woods with a monster on my tail, it still becomes grating as we yet again have to listen to the characters whine about being lost for the hundredth time in a row. By the end, you're so irritated that you just want the Blair Witch to come and shut them up for five minutes. Quite simply, for a lot of its runtime, the film is boring and strangely for a film this short, it feels overlong, only being saved by those short flashes of genuinely terrifying brilliance that stop you from falling asleep. Well, that and that constant screaming matches about bloody maps.
The Blair Witch Project will always be an important film from my childhood, I'd even go so far as to say as its one of the films that turned me into the horror fan I am today. Yet, and it pains me to say this, The Blair Witch Project might also be the among the most overrated horror films of all time.
There is a decent horror film in here hidden under all the scenes of walking and wailing, but you have to suffer a lot of screaming to get to the good stuff. Check this one out if you're curious. Then again, don't if you want to keep your fond memories intact.
Flickering Myth Rating – Film: ★ ★ ★ / Movie: ★ ★ ★
Graeme Robertson