In an interview with Collider during the Sundance Film Festival, Paul Bettany, who plays Vision in the Marvel Cinematic Universe, discussed the upcoming Disney+ series WandaVision further, calling it "so bonkers" and "really risky."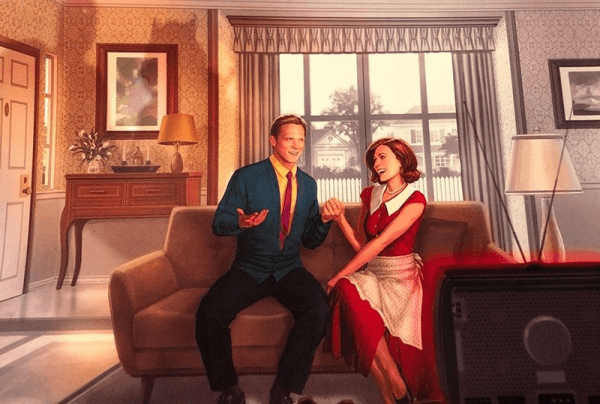 "I so admire Kevin Feige and the courage that he has. The decision that he's made with this show is so bonkers, quite frankly, and really risky and really new and unlike anything [Marvel Studios has] ever done. It has been — I'm going to speak for [Elizabeth Olsen]; I guess she wouldn't mind — is it's been one of the highlights of my career, making this show. I don't know how it's gonna come out but it's been so much fun to make. The writing is just extraordinary. I mean, Jac Schaeffer is the head writer on [WandaVision] and she's just been brilliant. It's the happiest set I've ever been on."
When asked what it was like working on a Marvel project with a 1950's sitcom feel to which we haven't seen before in the Marvel Cinematic Universe, Bettany joked:
"I realize that I've wasted my entire life and all I want to do is be in sitcoms. Fans are not gonna have to wait very long to get a much bigger insight into what the show is gonna look and feel like. I can't say much more about that, but something will be happening very soon."
SEE ALSO: Marvel's WandaVision set photos feature an adult Monica Rambeau and an agent of S.W.O.R.D.
When asked if audiences will get a brand new look at WandaVision during the Super Bowl which is set to take place on Sunday 2nd February, Bettany stated: "I couldn't possibly say."
The good news is audiences won't have to wait as long to get their hands on the upcoming Disney+ series after Disney announced the release date for WandaVision has been moved up to 2020 from its original 2021 date.
Are you looking forward to WandaVision? Let us know in the comments below or tweet us @flickeringmyth…
WandaVision is set to premiere on Disney+ in 2020, and features a cast that includes Elizabeth Olsen, Paul Bettany (Vision), Kat Dennings (Darcy Lewis), Randall Park (Agent Jimmy Woo),  Teyonah Parris (Empire) as an adult Monica Rambeau, and Kathryn Hahn (Bad Moms) as a "nosy neighbour."