Shaun Munro reviews AO Tennis 2…
Tennis is unquestionably one of the most under-served sports in the video game world, pardon the pun. Tennis games are few-and-far-between, and serious-minded ones even more so, leaving many wistfully recalling the halcyon days of Virtua Tennis and Top Spin.
Big Ant Studios' original AO Tennis was released back in 2018 to wildly mixed reviews, though the fan consensus is that the game improved drastically with a slew of comprehensive updates. Two years on, the sequel is finally here, and for someone who's largely been away from the tennis game scene for many years, AO Tennis 2 is an experience both satisfying and frustrating.
On paper, nailing the basic mechanics of a tennis game might seem simple enough, but there's far more to it than slapping a glossy coat of paint on Pong; namely, how the cadence of play and ball physics combine with character animations to create a realistic (or not) tennis experience.
The push-and-pull between simulation and arcade styles that plagues many tennis games isn't really present here at all; AO Tennis 2 is an unapologetically serious tennis game with little time for goofiness – of the intentional kind, at least – and a clear eye on the more discerning, hardcore tennis player.
To outline my immediate prejudices, I am not really this type of player; if Mario Tennis Aces was a step too far towards arcade-y for me, the Virtua Tennis games fit my preferences perfectly, straddled between a clear love for "real" tennis and a desire to make the game fun and accessible for all types.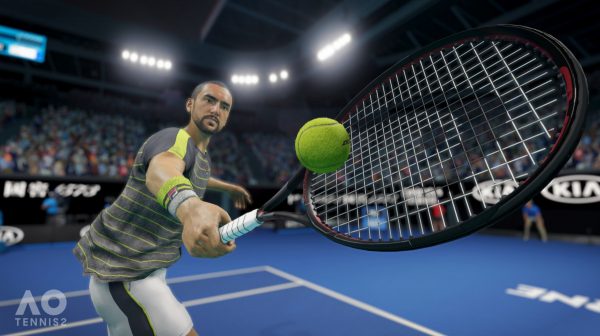 The first 30-or-so minutes of playing this game, then, were a bit discouraging, and I certainly wouldn't call AO Tennis 2 newbie-friendly. With a more technical focus on play, you can't simply pick up a controller, run around the court and rally balls back and forth; gameplay is defined by a red-yellow-green gauge, with players required to land within the green window to maximise the effectiveness of their hit.
It took a surprisingly long time for me to even consistently smash balls past my opponents, though Big Ant Studios handily includes a ton of accessibility options for less-skilled players, such as setting target markers for your ball and speed modifiers. Better still, players can even save their progress mid-match if they need to step away from the game.
While the core gameplay can indeed be enjoyable when you're locked into a tense rally with a formidable ally, that fun comes all-too-rarely for me to enthusiastically recommend AO Tennis 2 to everyone. Play often feels robotic and stilted rather than fluid and urgent, and keeping an eye on my gauge while lining up a shot never quite transpired into instinct, but regularly resembled a chore.
However many will surely appreciate its more serious, technically-minded simulation focus, even if it had me yearning for the laid-back tenor of Virtua Tennis, especially with this game's dull-as-dishwater training levels. Sometimes you just wanna knock down some bowling pins with a tennis ball, right?
There are a number of competition play modes on offer, namely the licensed Australian Open, and across each of them, there's a bizarre inconsistency to the aptitude of A.I. opponents. Regardless of their individual ranking or tournament placement, there was no telling whether a given opponent would pull off near-impossible serves or put up all the resistance of a gnat.
Exhibition-style play is also available, and there's a surprisingly comprehensive Academy creation suite where players can customise their own roster, logos, venues, and even match scenarios, with the developer smartly importing the creation pool from the previous game day one. Given that die-hard tennis fans would otherwise decry the game's rather lacking roster, presumably due to the cost of licensing, it's a relief that there are plenty of passable versions of Murray, Federer, and Djokovic already available for download.
But the real meat of AO Tennis 2 is its Career Mode, an enjoyable if undeniably repetitive and goofy riff on the now-expected story-based modes in sports games. Though largely consisting of players planning out their week – between playing, resting, and training – you'll occasionally be presented with hilariously low-fi cutscenes and even post-match press conferences, where you'll answer the press' questions by selecting a multiple choice text box.
Probably Career Mode's most interesting element is the yin-and-yang reputation system. Your on-court conduct, such as whether you acknowledge a lucky win or get mad at a lost point, has a knock-on effect with the sponsorships you're offered and the tenor of your press conferences – though I wasn't always sure exactly how drastically this was affecting my game. I spent a good few hours with the Career Mode before dropping off, but for more strident tennis enthusiasts, it'll probably prove more involving despite its inherent formula.
Sure to be a major draw for many is the game's online component, which even on launch day seemed to be scarcely populated on PC. Given that tennis games historically have healthier player-bases on consoles, that might be worth considering if you're keen for net play.
When I did find opponents, though, online play was relatively solid; the back-and-forth was largely lag-free, though there were a few frustratingly iffy moments where I'd hammer the "A" button to skip replays and end up accidentally serving the ball before I was ready. Online play is pretty no-frills stuff like most of the game itself, and while leaderboards are apparently present, my numerous attempts to access them resulted in crashes to desktop.
Aesthetically,  AO Tennis 2 is a bit of a mixed affair; played in 4K, the individual character models look decent enough from a distance, though when it comes to the faces up-close, especially those of licensed players, they unfortunately more convincingly resemble soulless mannequins than actual human beings.
Animation during play can also be rather wonky, furthering the feeling that you're not so much controlling a person as an uncanny approximation of one, and ball physics don't always feel quite right. Aurally, the game captures the atmosphere of a real tennis match well enough despite the lack of commentary on offer, and the in-game music is completely generic yet not in any way annoying.
The overall presentation is frustratingly lackluster in places. For starters, the loading times are really quite painful; even on my more-than-capable PC, matches took 30-40 seconds to load, and console players are already reporting loading times numbering in the minutes.
Elsewhere, I encountered random black screen flashes during training sessions, Competition Mode will ask you twice about your selected venue for some reason, and the main menu feels cluttered, perhaps in an attempt to make the game look more value-filled.
AO Tennis 2 ends a massive drought for serious tennis players, and even as someone who prefers their tennis games a little more fun, there is certainly enjoyment to be had in this rough-around-the-edges offering. I suspect that, like its predecessor, it'll be whipped into better shape by some studious patching, though the launch day product is presently a competent yet messy and fairly personality-devoid romp.
Certainly not a bad effort for those craving a tennis game without Mario characters or excess gimmicks, but it'll likely still leave one craving a bigger-budgeted and more technically sound experience.
Pros:
+ Solid tennis sim gameplay.
+ Impressive customisation and accessibility features.
+ Career mode should keep fans busy.
+ Addictive online play (when you can find a match).
Cons:
– Inconsistent visuals and presentation.
– Ridiculous loading times.
– The fun factor is a little lacking.
Rating: 6.5/10
Reviewed on PC (also available on PS4, Xbox One and Nintendo Switch).
A copy was provided for review by the publisher.
Shaun Munro – Follow me on Twitter for more video game rambling, or e-mail me here.