Tom Jolliffe looks ahead to Birds of Prey and why it's the most eye-catching comic book film of 2020 at the moment…
2020 is in its infancy and the blockbuster bombardment is due to start shortly. In a year that will see more Marvel adventures (in the beginnings of a new phase, which opens with a closing chapter for Black Widow) as well as the continuing exploits of Wonder Woman for DC, there's also the small matter of Birds of Prey (And the Fantabulous Emancipation of One Harley Quinn) being released. Margot Robbie, the darling starlet of Hollywood right now, headlines and the film looks set to have a big impact on the box office. Now, whether you agree with Martin Scorsese or not on the over population of comic book/theme part properties in the cinemas right now (I do), there are still a number that look like fun going by the trailers and evidently with much of this year there's a definite female-centric stance.
I'm not hugely drawn to comic book properties but if there's one that looks more interesting than any others, particularly to a take it/leave it comic book observer like myself, it's Birds of Prey. There are several reasons. First, there's Robbie. Now this isn't in the way that virtually every red blooded male (and probably a fair few women) will think. Yes, she's a stone cold fox. If Keanu Reeves is the man crush of the moment, Robbie is the female object of swoon of the moment I think. Be still my beating heart and all that. Beyond that though, she's magnetic, brimming with charisma and energy and she's effortlessly watchable. Headlining, Robbie is every inch the superstar, holding attention and holding court over an pleasingly eclectic and diverse cast (always great to see Rosie Perez).
Visually it also looks wild. As if someone binged through an odd mix of The Wizard of Oz, Suspiria, John Wick, peak Tim Burton and then ingested the artwork from a mix of classic comic books and cult graphic novels. Like the result of a technicolor experiment whilst shitted to the brim on LSD. So in other words, glorious. There's also no shortage of style and it even evokes a mid-90's plethora of campy, culty, slightly awful films like Tank Girl and Johnny Mnemonic in the best possible way.
Here's the thing. There's a pretentious aspect to some comic book films. Many, in particular the best of Marvel, are critical darlings. From the melodrama to the High School level political musings, their dramatic weight can often be overstated. The cultural importance also exaggerated. Black Panther was decent and a pleasing step at offering some diversity (on both sides of the camera) in a genre that had largely been dominated by white male heroes, but talked of as somehow revolutionary, or a masterpiece? No, not really. It came out the same year as a triumphant return to form from a true Black Cinema icon in Spike Lee, who even at his most trailblazing wasn't afforded the level of credit Black Panther garnered. Positive film yes. Good, yes (probably the all round finest Marvel) but it said nothing socially we hadn't already seen in better films 30 years ago.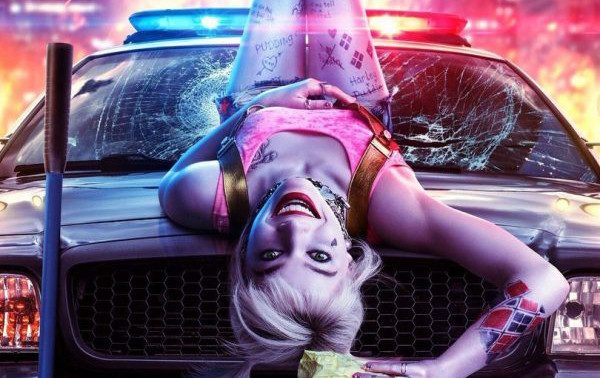 Similarly the hyperbole about Joker in some corners is overstating its artistic merits and its commentary. It's not Ken Loach. Again good, but this isn't going to cut to many cores in a meaningful way like some of the best of cinema (and even then, cinema only cuts so many people). Even mention of an openly Gay character appearing in Avengers: Endgame seemed rote (as forced emotion often does), and another scene thrown in to tick a box and beef up the already unnecessarily lengthy run-time (because the scene was indeed, thrown in). Also kind of countered by every time the film throws in an out of place fan service moment that breaks up the pace more than helps the story progress. Tell us it's barnstorming spectacle by all means, but don't promise us anything socially trailblazing.
Birds of Prey as a film doesn't look like it takes itself too seriously. It doesn't promise deep emotional investment (which often feels almost obligatory or forced in some blockbusters). Yes we will need to care, but we're not watch Cassavetes here. Birds of Prey promises crazy action, loads of fun and in every essence the kind of theme park ride Scorsese spoke of. Black Widow wants to look serious. Wonder Woman 1984 doesn't seem to oversell itself, although doesn't look quite as enjoyably outrageous (nor fresh as the original). Now of course, Birds of Prey may well end up being a ruddy great mess, and Wonder Woman 1984 more coherent, but time will tell.
Birds of Prey seems to go for the true nature of dazzling graphic novels and escapist blockbusters and promises little more and it does so without prodding into us the fact too much that the central cast are female (one shot in the finale of Endgame as an example felt goofily forced and bordering cynical in its purpose). In the case of Charlie's Angels as an example, was a recent clumsy attempt at bigging up the feminist cause by shitting on men, which is unnecessary. Forget the shitting on bit, forget slapping home a message. Just make a good film and indeed Birds of Prey features a director who hasn't been pedestalled as a liberal magnet. Cathy Yan has a great platform here as a female BAME director to continue a welcome diversity push within the comic book genre and does it look like she's delivered? Hell yes.
Cathy Yan (Dead Pigs) is directing Birds of Prey (And the Fantabulous Emancipation of One Harley Quinn) from a script by Christina Hodson (Bumblebee) with Margot Robbie reprising her Suicide Squad role as Harley Quinn alongside Mary Elizabeth Winstead (Fargo) as The Huntress, Jurnee Smolett-Bell (Underground) as Black Canary, Rosie Perez (Fearless) as Renee Montoya, Ella Jay Basco (Grey's Anatomy) as Cassandra Cain, Ewan McGregor (Christopher Robin) as Black Mask, Chris Messina (Sharp Objects) as Victor Zsasz, Ali Wong (Black Box), Robert Catrini (Jack Reacher: Never Go Back), Steven Williams (The Chi), Dana Lee (Dr. Ken), Francois Chau (The Expanse, The Tick) and Matthew Willig (The Ballad of Buster Scruggs). It is set for release on February 7th 2020.
Tom Jolliffe is an award winning screenwriter and passionate cinephile. He has a number of films out on DVD/VOD around the world and several releases due in 2020, including The Witches Of Amityville Academy (starring Emmy winner, Kira Reed Lorsch). Find more info at the best personal site you'll ever see…https://www.instagram.com/jolliffeproductions/