EJ Moreno on Birds of Prey's LGBTQ influences…
Early in the production of the latest DC movie, I noticed an exciting development. Loud costumes showcased from on-set photos, rumors of Black Mask being a gay villain swirled, and the filmmakers talked about removing the male gaze. All of those details perked up my ears as that was not the route I expected from Birds of Prey (And the Fantabulous Emancipation of One Harley Quinn). But I decided to wait until the final product was unleashed onto the world before I made a call.
Now that Birds of Prey is out worldwide, I have no problem saying this movie is incredibly queer. And I mean that with the utmost respect.
As a gay man, I felt the most at home with this film and the marketing around it. But why? Why does the movie starring a murderous clown and an over-the-top camp villain work so well? With this piece, I want to break down why this appeals to the community and why it was the right decision.
Birds of Prey (And The Fantabulous Emancipation of One Harley Quinn) is a rollercoaster ride of colorful sets, bombastic action, and more costume changes than a Lady Gaga concert. From the start of the film and its adorable animated intro, you know this is going for a much different audience. Gone are the edgy vibes of Suicide Squad, the woke political commentary of Joker, and there's no mistaking this for a Zack Snyder film. This truly pushes Birds of Prey in a different direction, but the change started long before the movie hit theaters.
If you go back to the first trailers for the film, the inclusion of Edith Piaf and Bjork music to accompany the previews was a bold choice. Not going for mainstream pop music or even a harder hip-hop influence, the trailers let you know that this wanted to have an alternative edge. You don't put a cover of "It's Oh So Quiet" in a promo and not expect to make a few gays jump for joy. Then the soundtrack trailer was released, and it was another page in the "wow, you are going for a campy audience" book. Doja Cat, Megan Thee Stallion, and Halsey all appear, three women, all known for their gay following just as much as their strong female fanbase.
It's not just the direct marketing for the film either, famed fashion designer Christian Sirano worked on an entire collection of clothing inspired by the film. SPLAT hair color also introduced a line of products directly based on the film; you can easily find that at your local Hot Topic, where they have a full range of clothing from the film as well. Add in the ORLY Beauty nail polishes with the SMASHBOX lipsticks, and you see Birds of Prey is pushing for a queer and female fanbase.
The next question on my mind after seeing the ad campaign nearly everywhere I went was, "can they keep this up in the final product?" Would they appeal to a particular demographic and not follow through when the movie drops? After being burned from so many other projects (Beauty and the Beast remake, Disney's Star Wars), I doubted that Birds of Prey would pull the trigger.
Boy, was I happy to be wrong…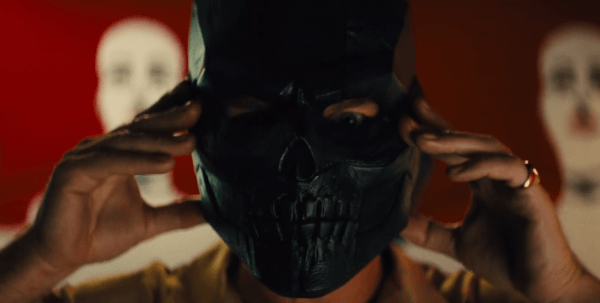 Let's start this off by saying the representation in Birds of Prey, like most things, isn't perfect. Does Black Mask announce to the entire world he's a gay or bisexual man? No, he doesn't. But when he's rocking a pink silk kimono while dancing around with a martini, I didn't think he needed to make such an announcement.
There's a camp nuance to Ewan McGregor's performance that brings me back to baddies in a John Waters movie. The way Roman and Victor sassily bond over violence conjures up vibes of Connie and Raymond Marbles from Pink Flamingos, a reference point I never thought I'd make while discussing a DC movie. Which is also something many in the LGBTQ community would not enjoy so much. Queer or queer-coded villains is a long-standing attempt to make the gays look bad, something that cinema has done for years. Disney made a living off it with camp, queer-inspired villains like Captain Hook, Ursula, Scar, and Hades. So, the fact we have such disgusting, misogynist queer-ish characters in a mainstream movie might not sit well with most, but for some, we need it.
If you notice some of the Birds of Prey media coverage is calling out the fact the movie hates men or makes straight white guys look like baddies. That's not something I think is wholly right, but the film does have a gaggle of bad guys with a similar look to them. What intrigues me about this is the inclusion of Roman and Victor as examples of the bad men. They aren't macho stereotypes of men, not even sexualizing the females in the movie for the most part. One example of Roman slipping into the Black Mask persona and making a woman rip off her dress doesn't feel like he's doing it for sexual kicks, but for the control. Also, it was a hideous dress, and he didn't want it in his club.
What I enjoy about seeing misogynist gay villains is what I enjoyed about the villains family in Get Out. You are showcasing another side to a trope we've seen. Instead of a conservative family attacking a young black man in Get Out, they are liberals. The type that will smile to your face and do things behind your back to harm you. In Birds Of Prey, our main bad guys aren't these straight dudes you'd typically see in a "feminist film." No, it's an all too real issue that many queer folks see: the misogyny from gay men.
I'm not here to dive into that fully but giving you an example of why and how this is appealing to a very different market than most. And Roman Sionis isn't the only representation, there's a canonically gay character in the film, and she's a hot mess. Yes, the one out lesbian in the film is a problematic, brash police officer that fights with her ex-girlfriend throughout the film.
If you genuinely think this movie is solely trying to push some queer agenda, I don't think you know the real agenda. But these are important characters to see in films. If we only present these family-friendly, perfect examples of LGBTQ people, we aren't authentic to ourselves. Birds of Prey speaks to so many queer people because it's making a real canary cry to us, not one of those fake Hollywood attempts.
A message you will find throughout Birds of Prey is family, particularly the idea of a chosen family. So if the term chosen family isn't familiar to you, I'll set it up quickly. For many LGBTQ kids growing up, they don't have it easy in their home life. Many are not accepted by their real family and pushed out into the world without that support system. That's where you find that life partner, those best friends, that older mentor, and you make them your chosen family.
That idea is EVERYWHERE in the film. Harley's journey of self-discovery after a break up is another fantastic topic presented, but the message of a chosen family is what stood out. Almost every character is dealing with that, and what makes the team-up at the end more special. You genuinely feel like this bonding is something each character deserves.
Harley Quinn gives a quick backstory saying she came from a horrible background and fell in with the wrong man as an adult, Huntress had her family taken from her as a kid, and Cassandra Cain is a foster kid with a criminal past. And let's not forget Black Canary's mother issues, as well as Renee Montoya not fitting in with her fellow cops. All of these characters need that core group, that gang that will be there for you, and they end up finding it. It's lovely to see Harley and Cassandra bond in a mentor role, and you see that Renee, Canary, and Huntress all find a little of themselves in each other.
And not to leave Roman Sionis out of this conversation, he has a very pointed speech about his hate for his own family. You can feel that something drove a wedge through that relationship and further added to his insanity. Much like Harley Quinn at the beginning of the film, he's around a horrible influence like Victor that drives that dark side of him. That is when Victor isn't insanely jealous of Roman and his budding friendship with Black Canary. It seems like Victor, in all his obsession, looks at Roman as one of his only family. So the fact someone could take that away (before he can take it away himself) irks Zsasz. Sometimes I feel like Victor and Roman deserve their own article because there's too much to their madness.
All of these layered stories are something the community can sink their teeth into with joy. Not that no one else can enjoy these moments or these ideas, but they are surely placed in the film with the intent to speak to someone specific.
And that brings me to my final point: just because this is appealing to a particular demographic that you may not belong to, that doesn't mean you can't enjoy it. Fast and the Furious movies gear to a demographic I don't belong to, but I sure appreciate the hell out of them. John Wick doesn't have time to make campy references, and that's my favorite action series in a long time.
There's a notion it seems that you can't enjoy something if it's not 100% built for you, and that's 100% incorrect. Cinema is supposed to take you on a journey to other places and different lives. While I felt at home with the insane tone of Birds of Prey, others might feel like its a foreign concept. And that's fine, but don't let that scare you off.
You'll miss out on so many amazing things if you only stick your bubble. If you've never experienced something built for the LGBTQ community, use Birds of Prey as your stepping stone. It's not like binging watching seasons of RuPaul's Drag Race, but it's a step in the right direction.
EJ Moreno