EJ Moreno looks back on Batman v Superman: Dawn of Justice and its legacy…
Do you remember what the pop culture landscape was like after Batman v Superman: Dawn of Justice?
Honestly, go back in your minds to 2016 and think about how wild it was for fans and haters of the film. To this day, I don't believe a single comic book movie has felt more polarizing. As we approach the fourth anniversary, we are in a much different world. Now, there's a rabid group of fans begging to see Zack Snyder's original vision to Batman v Superman's sequel. Even the most passionate haters have retracted their claws and just have a numb feeling to the whole thing. It's quite strange to see because, at one point, it wasn't fun to be a fan of this film.
But what about a diehard fan of the 2016 superhero epic? What is it like to be a fan of a movie that was a cultural reset? Let's dive into the legacy of Batman v Superman and what this film still means to someone who finds it to be the DC magnum opus.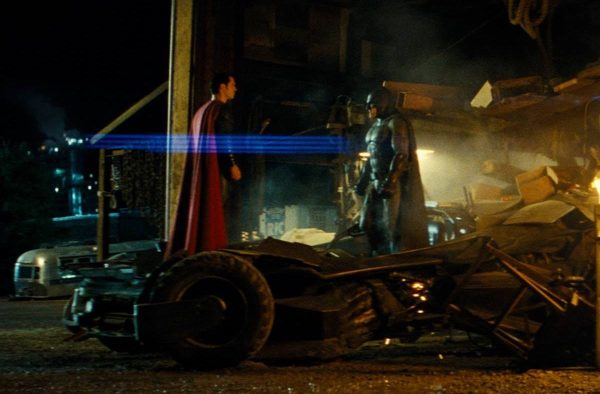 My first significant press screening as a critic was Batman v Superman, which came after months of small releases and ass-kissing. A lifelong DC Comics fan and suckered in by the marketing, I was pumped for this. The movie started, and the insanely pretentious shot of young Bruce Wayne floating with the bats began, and that's the moment I knew this is for me. For the next nearly 3 hours of my life, the world of Zack Snyder's latest DCEU entry washed over me. Totally enamored and completely blown away, there was a pep in my step as I walked out of the screening.
Then a defining moment happened; the critics in front and behind me tore into the film, and they held nothing back in their verbal assault. My world went black and white, and that Katy Perry "You just have to say that you're fine" meme looped in my head. For the next few months after that, it was a non-stop barrage of negative reviews and YouTube videos declaring it the death of the DC Extended Universe.
As a fan of the movie, it wasn't fun dealing with all of this. Anytime you'd praise it online, 40 people would come and scream about how wrong you were. But still to this day, I am firmly in the camp that this movie isn't bad by any means. Hell, I think it added many elements to birth a new type of monster in the world of comic book movies.
Batman v Superman is a movie you can't take too seriously and a movie no one takes seriously enough. There's a level of child-like wonderment to the battles and superhero interactions, but there's also a dry political drama at the center of it. You are firmly planted in this all too real world, all while literal gods & monsters are running around. The film is a lesson in duality, blending two very different tones to bring to life what we love on the pages of comics. More specifically, I believe Batman v Superman is one of the first films to capture the feeling of DC Comics on a cinematic level.
The best comic books are a mix of the campiest moments and darkest scenes, which is what this achieves. You can't tell me Eisenberg's Lex isn't a lesson in camp acting, but he's also a grim look at real-life characters like Elon Musk as well. That's just one example of the film's genuinely genius tonal choices.
In all honesty, it still blows me away that director Zack Snyder and the writing team created a post-9/11 look at superheroes, and sold it to a family audience. It was like showing your kid a version of The Manchurian Candidate with the cast wearing capes and masks. Maybe it's the cinematic rebel in me, but I found that to be utterly hilarious and something unheard of at the time. Not saying any other brands copied another, but a lot of other superheroes got a lot more mature after this.
In many ways, I consider Batman v Superman the first real superhero epic. In terms of film genre, an 'epic' is defined as a movie known for "a style of filmmaking with large scale, sweeping scope, and spectacle." Think about comic book movies up until this point, none of them had the grande scale and spectacle of this piece. The infamous Dark Knight trilogy tries, but Nolan's goal to ground the franchise left out the spectacle part. And on the side of the Marvel universe, we were still years away from their back-to-back epics Infinity War and Endgame. Up until this point in pop culture, no other superhero movie tried to tell this large of a story, jam this much comic book lore, and try to hit so many touchstones.
That's not to say everything is perfect about the film. No movie is perfect, and this has the problem of trying to do way too much at one time. Director Zack Snyder had the daunting task of trying to create an entire cinematic universe in just one film while dealing with the issues of a script penned by Chris Terrio and David S. Goyer. Slowing down the setting up of the world around these central characters is a quick fix, but when everyone was trying to catch up with the MCU in a short period… things like that will happen.
It wasn't just the rushed feeling of the story that threw people off either. Batman v Superman had to make things feel new when dealing with two characters we've seen numerous times for decades. To expand the scale and vibe of the film, you need to shift these characters in a new direction. That's precisely what happened.
No one knew fans would receive character changes so poorly, though. Especially after they gleefully accepted Christopher Nolan's dramatic different take on the universe and characters just a few years before. Nolan removed the comic book soul of the Bat-verse characters, in hopes to make something feel closer to his aesthetic. Snyder went directly to the pages of some of the most famous comics when bringing this universe to life. Even if he changed a character, it was still a conscious 180 reflection of what we were more used to seeing.
For a long-time DC fan, these changes felt like seeing an Elseworld story brought to life. If you don't know what 'Elseworlds' are when dealing with DC Comics, it's basically DC's excuse to change characters, tell different stories, without ruining the canon. Batman v Superman felt like an Elseworlds story, with Superman losing his trademark smile and Batman feeling like a grittier, darker version than usual.
Maybe it's because I've read numerous comics with both characters, seen both Donner-era Superman as well as the both cinematic Batman universes, and binged every animated series. Still, I welcomed these changes, especially when it was clear that the entire point of changing them was to rebuild them from the ground up.
In most art circles, there's a saying that you have to know the rules before you break the rules. If you want to rebel against something as a filmmaker, writer, or painter, you must understand what you are rebelling against first. Zack Snyder and company clearly knew what they were doing, making direct choices to shift these characters. They were breaking the rules of DC, but doing it for a reason and with genuine knowledge.
And that's where my love of this movie comes from; this feels like it loves being a comic book movie. Batman v Superman: Dawn of Justice has no problem in being a campy, weird, extremely dark superhero epic. I admire that, especially now when one of the biggest comic book movies of the last year is created by a guy who didn't want it to be anything like a comic book movie.
Four years later and there's still nothing like the hate, love, and conversations about this film. In 10 years, I expect Batman v Superman to still be in the hearts and mouths of so many people. It will take another cosmic shift in the pop culture landscape to dethrone this misunderstood masterpiece.
EJ Moreno