The Beast, 2019.
Directed by Jung-Ho Lee.
Starring Sung-min Lee, Jae-myung Yoo, Jeon Hye-jin, and Daniel Choi.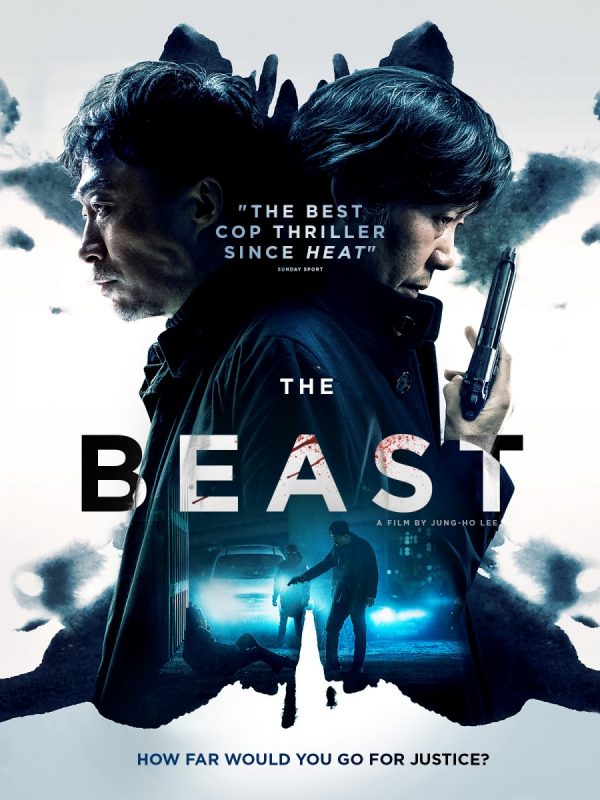 SYNOPSIS:
A pair of detectives find themselves in competition with each other as they race to solve the brutal murder of a schoolgirl.
Thanks to the runaway success of Bong Joon Ho's awards magnet Parasite, it seems that the entire world has fallen in love with South Korean cinema and about time as well, with the country producing some of the most fascinating and brilliant films of the last two decades, it's film-makers displaying a mastery of genres that should make Hollywood especially envious. This brings me to the subject of today's review, the crime drama The Beast, a film that, while slightly better than some Western efforts, is far from the best that South Korean can offer.
The film, a remake of French crime drama 36, centres around the rivalry between Seoul police detectives Jung and Han who are both vying for the promotion to chief of the homicide department. Jung is your typical maverick cop who isn't afraid to get his hands dirty if it means getting results. Han, on the other hand, appears to be a much more "by the books" detective, often more careful and keen to follow proper procedure, yet often making catastrophic errors in his desire to move up the chain of command, and often using underhanded tactics to aid him in his quest. The conflict between these two men is an engaging one, the pair's clashing approaches to crime-solving merely serving as a cloak for a private battle of wits, each more than willing use whatever dubious methods possible to do so and scupper the other's ambitions.
The rivalry that is at the heart of the film is enclosed within a pair of plots that, while offering fascinating possibilities, don't succeed in complementing each other in the way the film-makers perhaps intended.
Much of the first hour of the film is devoted to the detectives as they find themselves on the trail of a potential serial killer, and while it isn't the most original plot, it is the arguably the strongest of the two.
While it does sport the usual murder hunt cliches of false confessions and wrongly arrested suspects, the strength of this comes from watching the detectives undermine their own efforts to apprehend the killer by their failure to put their rivalry aside and work together. It's an engrossing plot that should have been the film's primary focus, with the clash of egos serving as the perfect backdrop to what becomes an increasingly disturbing hunt for a psychopath.
Unfortunately, once enters its second hour and the focus shifts away from the murder hunt, the film loses momentum as we follow Jung as he contends with a figure from his past that lands him in increasingly troubled waters that threaten to destroy his entire life, while Han eagerly begins to dig into his rivals somewhat questionable interactions. While this half of the film does have its moments, such as an intense scene in which Jung swaps evidence in a desperate attempt avoid incrimination, it quite quickly becomes a tiresome affair as he finds himself sinking deeper into a complicated moral entanglement that isn't as interesting or exciting as it should be.
Given its dark subject matter, of course, The Beast is a violent film. While it largely steers clear of extreme depictions of gore, it does possess more than a handful of scenes of brutal, sometimes uncomfortable violence. A midpoint highlight comes in the form of a botched police raid in which officers battle criminals in an apartment complex, with the sequence featuring more than a few cringe-inducing close-ups, such as one poor sod having his faced dragged across a concrete wall. However, what is perhaps most uncomfortable is that women tend to bear much of the brunt of the violence, with the film having several scenes of women being rather viciously beaten and/or tortured that is bound to leave an uncomfortable feeling for many viewers.
While the duelling plots might not always work, the acting certainly does, with the leading performances from Sung-min Lee, Jae-myung Yoo delivering solid performances as the fiercely combative detectives out to screw the other. Lee, in particular, gives a strong performance as Jung, his increasingly desperate behaviour and exhaustion from his actions being brilliantly realised by the actor, particularly in the film's climax in which he finds himself faced with an especially intense confrontation with the serial killer.
The Beast is very much a film that viewers can take or leave. It's well-acted and competently directed with a strong first half that keeps you engaged with its disturbing serial killer plotline. However, whatever momentum and goodwill the film has built up is nearly squandered by a frankly boring second half that is only saved by a strong ending that returns to the serial killer storyline. While overall a solid film, The Beast is far from the best that South Korean cinema has to offer, although, it's hardly worst either. Check it out if you're curious.
Flickering Myth Rating – Film: ★ ★ / Movie: ★ ★ ★
The Beast is released on Digital HD on April 6th from Signature Entertainment.
Graeme Robertson