The Room, 2020.
Directed by Christian Volckman.
Starring Olga Kurylenko, Kevin Janssens, Joshua Wilson, John Flanders, and Francis Chapman.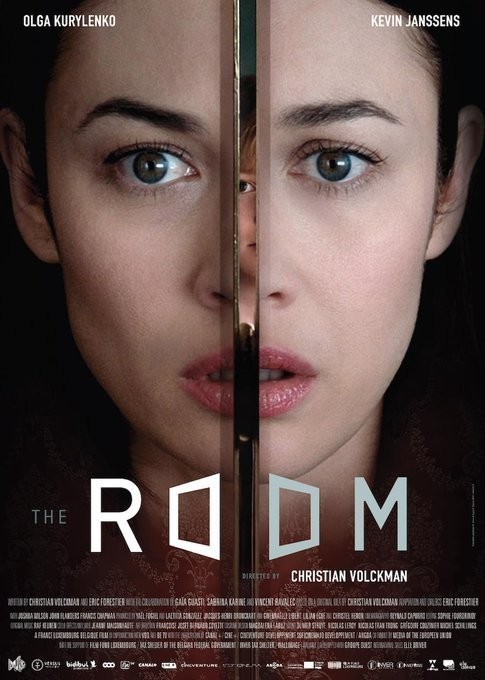 SYNOPSIS: 
Matt and Kate buy an isolated house. While moving, they discover a strange room that grants them an unlimited number of material wishes. But, since Kate has had two miscarriages, what they miss the most is a child.
"Be careful what you wish for" is something, like, eleventy billion horror thrillers have previously warned. Christian Volckman's The Room ponders familiar double-edged entrapments, which in-turn begs another question raised by audiences – what's the catch? How can Volckman invigorate evil genies and twisted greed in ways not already morphed into redundant nightmares? My answer, surprisingly, would urge you to find out for yourself. Everything learned viewers might expect and yet never repetitive, exploiting parental fantasies for a much darker, sinful endgame than initially proposed.
New homeowners Kate (Olga Kurylenko) and Matt (Kevin Janssens) move into their dream fixer-upper. Secluded, rich with wooden details, and primed for new beginnings. Shortly after settling down, Matt witnesses something miraculous: a bottle of liquor materializes out of thin air. Same with priceless paintings, expensive jewelry; anything Matt asks for, a special room within the house provides. It's all caviar and hotel service role-playing between the overwhelmed lovers until Kate wishes for one thing that changes their lives forever: a baby boy.
Volckman's intentions cut right to the meat of The Room, ushering newborn Shane into the world via unexplained magic. Kate and Matt indulge their champagne-hazy honeymoon period after stumbling upon their manor's power for what appears to be one night – then it's right to Shane's introduction (their child). The chemistry between actors on display during their disco-happy, slice of elitism lifestyle makes me wish we'd gotten more Marilyn Monroe dress-up. Needless to say, that's not where Volckman's interested in remaining. Bored with materialized hypnoses, opting for pre and post-pregnancy complications.
Youngling Shane's introduction reprograms an otherwise rudimentary plot device because every "too good to be true" scenario is just that. An object Matt wishes for disintegrates past the house's architectural border, meaning yes, same goes for Shane. Tensions already build from the minute Matt finds out he's become a father through unnatural causes, which stages this harrowing scene as Kate unknowingly exists through the front door and tragedy strikes. Matt, frozen, torn between morality and monstrosity, until he finally whisks both bodies inside presuming his child may already be dead.
Wrong. Ain't mysticism a sonofagun?
Shane reenters the home now physically matured past toddler into grade school years, as both adults are thrown into the ring of parenthood with breakneck impact. Volckman's writing team (seriously, check IMDb) utilizes "the room" in a way that subverts typical "have it all" perils. Kurylenko and Janssens play characters who hurdle out of their depth like asteroids flung from an intergalactic slingshot, their actions so effectively volatile. Shane's "creepy horror kiddo" vibes as rebellion brews, Kate's motherly affections that show clear favoritism, and Matt's standoffish rejection from the day of immaculate "conception?" A trifecta of inexplicable reactions to a crazier scenario that still supports chilling Earthly conflicts.
Volckman's greatest trick is downplaying Checkov's room between first and third acts that tread sci-fi creationism waters. Shane's conscious self-exploration intertwines with Matt's detective research when trying to decipher how "the room" functions, only to embrace seriously wicked mommy issues upon climatic ambitions. Thus the titular room registers importance once more, as a curious Shane ponders why he must stay housebound and isn't allowed in a locked chamber. The Room easily could have wished itself into a cyclical story of dangerous desires but becomes a smarter, more conceptually freeing brand of wishbone storytelling by veering from the wishes themselves. Kurylenko and Janssens are much better served dealing with the consequences of one single, lifegiving action than an assault of shallow luxury-chasing.
Where Blumhouse's Fantasy Island fails, The Room gains momentum. One distorts visiting vacationers' fantasies with basic pushback, the latter showcases what's possible when layering a domino effect of reactions atop the best-laid intentions. It's not perfect, still falling into subgenre traps be it Matt's driving emotional wedge or Kate's blind devotion, yet culminates having not overstayed any welcome. Come for the room's infinite possibilities, stay hooked into a narrative that expands upon the one diversion you least saw coming. As a wise record store clerk once said: "Shock me, shock me, shock me with that deviant behavior."
Flickering Myth Rating – Film: ★ ★ ★ / Movie: ★ ★ ★
Matt spends his after-work hours posting nonsense on the internet instead of sleeping like a normal human. He seems like a pretty cool guy, but don't feed him after midnight just to be safe (beers are allowed/encouraged). Follow him on Twitter/Instagram/Letterboxd (@DoNatoBomb).