Moffie, 2019.
Directed by Oliver Hermanus.
Starring Kai Luke Brummer, Ryan de Villiers, Matthew Vey, Hilton Pelser, Stefan Vermaak and Wynand Ferreira.
SYNOPSIS:
During South Africa's apartheid era, a conscripted teenager must conceal his same-sex desires.
In a recent interview with the Guardian, Capetonian filmmaker Oliver Hermanus, when discussing his fourth feature, remarked that he "didn't want to make a safe film". Moffie, based on André Carl van der Merwe's autobiographical novel, is hardly the kind of movie one would consider safe.
Set in 1981, Hermanus's film observes the apartheid era with an unflinching eye: A drama soaked in the institutional racism and violent frictions of a society in the midst of destroying itself. Against the backdrop of military operations to thwart Communist-led Angola, it's a tale that takes place in the dark, vast shadow of conflict.
For two thirds, however, this is a story that unfolds not in the heat of battle, but at an army base where sensitive, observant 18-year-old Nicholas van der Swart (Kai Luke Brummer), just one of thousands of young white South African males enlisted for mandatory military service, must endure brutal soldier training at the hands of unforgiving hierarchy. The boys might be miles from the Angolan border, but the flames of war rage no less ferociously here, as Nick navigates a toxic world fuelled by intimidation, terrifying machismo and fierce homophobia ('Moffie' being a derogatory Afrikaans term for gay men).
In an environment that recalls the chaos of Full Metal Jacket — not least through Hilton Pelser's sadistic, Ermey-esque drill sergeant — it's an intense initiation, one where any sign of sensitivity is quickly snuffed out and anything other than heterosexuality mercilessly punished. As a gay man, it's a place fraught with added danger for Nick. However, a flashback to a key moment in his sexual awakening — a single-take sequence shot with impressive battle-scene kineticism — shows how for years he has learned to conceal his same-sex desires. Armed with quiet stoicism and a hetero porn magazine given to him by his father on the eve of his departure, it seems Nick will evade interrogation. But repressed romantic feelings soon start to surface during an overnight trench-digging exercise, where Nick and handsome fellow recruit Stassen (Ryan de Villiers) share a sleeping bag to keep warm.
It's here that Moffie begins to shed its Kubrick comparisons to reveal a delicacy and deftness more akin to the likes of Barry Jenkins's Moonlight. Elevating their film through similar means of communicating much from very little, Hermanus and DoP Jamie D. Ramsay capture Nick's conflicting two-fold journey—from novice recruit to hardened front-line soldier and from closeted adolescent to embracing his own sexuality—with powerful precision. Through some astute handheld camerawork, Moffie succeeds in mirroring the human gaze in such conditions, reflecting both the raw brutality and forbidden affection with facial close-ups that are at once harrowing and adoring.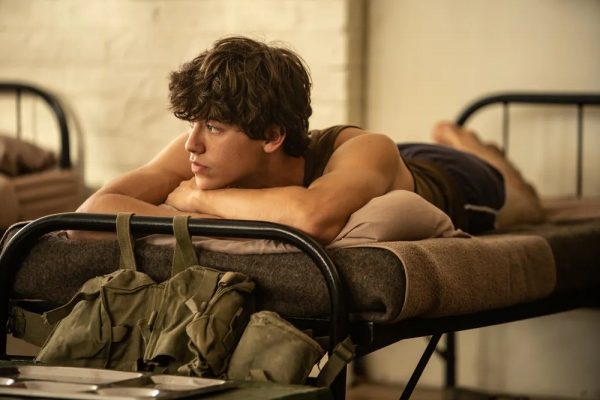 Amid the horrors of South Africa's masculine military culture, fleeting moments of tenderness slowly start to seep through. But in a place where such intimacy is met with such volatile hatred, Hermanus ensures you're never certain whether it's a punch or a kiss, a stray bullet or a loving embrace, that will carry the more devastating consequences.
Flickering Myth Rating – Film: ★ ★ ★ ★ / Movie: ★ ★ ★ ★
George Nash is a freelance film journalist. Follow him on Twitter via @_Whatsthemotive for movie musings, puns and cereal chatter.