Survive, 2020.
Directed by Mark Pellington.
Starring Sophie Turner and Corey Hawkins.
SYNOPSIS:
Jane (Sophie Turner) has her concerns not least is where she lives. Confined through routine, defined by hard to break habits and taking one day at a time her compulsions are symptomatic. Only once she leaves that behind does everything start slotting into place.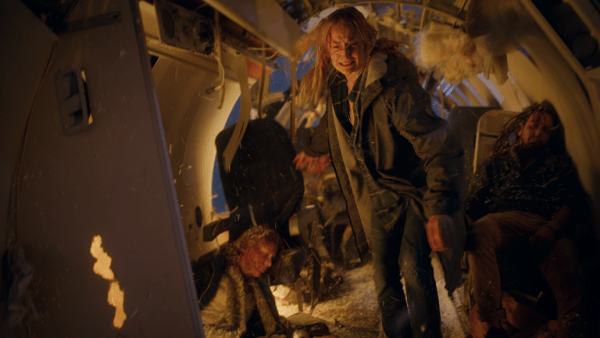 Whereas Quibi's Most Dangerous Game feels like a straight up thriller with fully immersive elements, Survive starring Sophie Turner does things differently. Playing masterful games with point of view it has moments of psychedelic imagery which come on like a substance induced fever dream, before delving into mental health issues. Each chapter in this quick bite movie presentation uses flashback to not only establish story and character, but make you question everything throughout.
Sophie Turner gives a performance which fluctuates between unhinged and placidly rational on a dime. Her voice over is reminiscent of Fight Club in the matter of fact delivery, classification of mental disorder and character introductions. Again the choice of mobile device is perfect as it indulges our voyeuristic tendencies, as well as giving dramatic scenes an additional edge.
Where Survive really comes to life however is after we leave the institute and join her on a plane flight home. Throughout the film Turner is jumpy, anxious and fraught with insecurities which director Mark Pellington does much to communicate in his framing, use of sound and staging. Both the aftermath of her journey and each stage in between reflects her internal struggles, whilst letting us into a world defined by psychological barriers.
Incorporating both portrait and landscape via the turnstyle tech allows for wildly varying points of view, which visually feed into the sub-text of mental health being addressed. Simultaneously a viewer and participant in the use of extreme close up and wide shots, Pellington exemplifies our sense of claustrophobia and separation reflected through Jane's situation. A feeling which is underlined through the interactions she has throughout.
Structurally there are similarities with Most Dangerous Game but only in the use of establishing dramatic premise and use of flashback in broadening story. In every other conceivable sense they are worlds apart. Most Dangerous Game might be a slick thriller for mainstream audiences, but Survive represents a step beyond conventional comfort zones into braver areas of discussion.
From this it is clear that Quibi is not a platform looking for an easy sell but instead one seeking content designed to challenge. Clever, insightful and intentionally uncomfortable in places Survive will ensure you never look at your phone the same way again.
Flickering Myth Rating – Film: ★ ★ ★ ★ / Movie: ★ ★ ★ ★
Martin Carr