Martin Carr reviews the first season of Creepshow…
Released last year on Shudder, Creepshow is an old school horror anthology with a legendary lineage. Featuring visual FX supremo Tom Savini and steered by his prodigy Greg Nicotero, it tells tales of terror alongside supernatural fables using an entirely practical approach. Debuting on AMC this May in the run up to a second season, each episode aims to unsettle before lights out.
Working off stories by Stephen King and Joe Hill amongst others Creepshow is heavy on atmosphere, deviates into demonic possession and indulges in some light lycanthropy. Each narrative is concisely written, cleverly realised and endlessly absorbing without feeling truncated. Respected character actors including Giancarlo Esposito and Tobin Bell ground events whilst slowly drawing you into the drama. By using these iconic players Creepshow subtly adds gravitas through their associations with Breaking Bad and the eponymous Saw franchise.
Film references include Poltergeist, Dog Soldiers and Hereditary keeping the feel contemporary whilst the approach remains old school. Narratively it incorporates flashback, montage and fades between graphical panels into live action sequences as homage rather than technique. There is a genuine love of old fashioned gore, obvious creature effects and mood over technical trickery. On occasion characters break the fourth wall addressing their audience, but this is more of a tongue in cheek nod rather than overt acknowledgement.
Similar in many respects to The Twilight Zone, Creepshow has now morphed from forerunner into contemporary competition. Amazing Stories recently premiered on Apple TV, itself a recalibration of an Eighties concept that has proven popular. However, where Creepshow differs from these other anthology shows is its decision to leave well enough alone. It was intentionally tongue in cheek with polished B-movie content back then and this revamp is gloriously faithful to that legacy.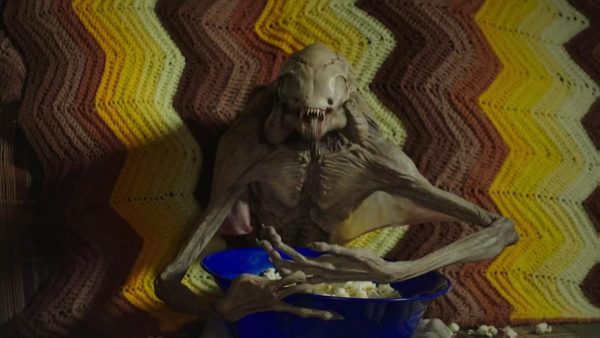 This feels like a real passion project from visual FX veterans which has not only garnered praise but greenlit another season. Savini has been in everything from Dawn of the Dead to Dusk Til Dawn, while Nicotero recently contributed extensively to HBO's Watchmen. A fact which comes through on screen as the lo-fi effects, carefully considered aesthetics and simplistic storylines belie the wealth of experience involved.
Creepshow sets out to scare, manages to unsettle and does so by concentrating on character, building plausibility and focusing on set up. A feat which is not only successful but repeated episode after episode to great effect. Tall tales, campfire fables and stories of contemporary terror might be old fashioned but nothing beats them done well. Something which these showrunners not only know but purposely exploit to spine chilling effect throughout.
In a time when Disney tent poles use virtual volumes and bring back dead screen icons Creepshow makes a refreshing change. Tangible terror, old school scares and in camera effects mean that bad story telling has nowhere to hide. There is no budget to hide behind or overly elaborate final acts to distract you from glaring plot holes. Here character, performance and story is everything and horror comes home to roost.
Martin Carr