The King of Staten Island, 2020.
Directed by Judd Apatow.
Starring Pete Davidson, Bel Powley, Marisa Tomei, Maude Apatow, Bill Burr, Ricky Velez, Lou Wilson, Moises Arias, and Carly Aquilino.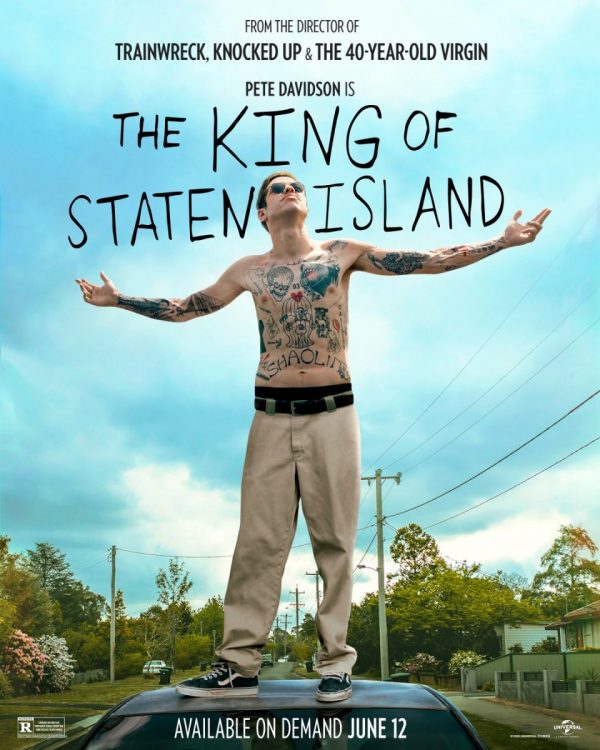 SYNOPSIS:
Scott has been a case of arrested development since his firefighter dad died. He spends his days smoking weed and dreaming of being a tattoo artist until events force him to grapple with his grief and take his first steps forward in life.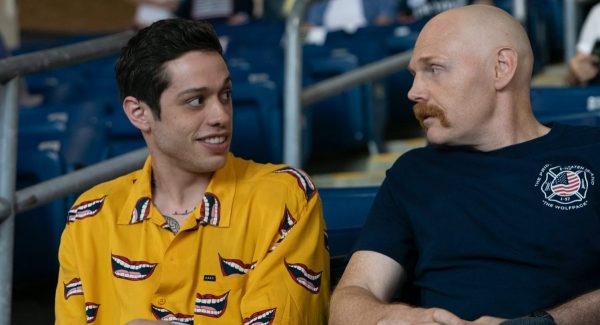 "Slacker Cinema" sometimes gets pinned as shallow, or lackadaisical, which can lead to typecasted performers who must fight against surface-value preconceptions from audiences. Pete Davidson's roles in 2020's Big Time Adolescence and The King Of Staten Island, along with his comedy bits, certainly earn him divisive reactions. In the latter title, Judd Apatow sees the man behind the blunt, no-cares delivery. His brazen outspeaking. The "no shits given" facade and every complication underneath. Davidson's strengths come out when playing characters viewers may waver between empathizing with and scolding, but it's that signature open-book honesty that clears away weed smoke to reveal a portrait of human fragility. Scars, cynicism, muck-ups, and all.
Davidson stars in a semi-autobiographical performance as "Staten Island 4 Lyfe" pothead Scott Carlin. He spends most days getting high with his deadbeat friends, dodging relationship pillow talk with Kelsey (Bel Powley), and pursuing his career as an amateur tattoo artist. Did I mention he's 24, suffers from attention-deficit disorder, and lives at home with mother Margie (Marisa Tomei)? The entire Carlin family suffered when their firefighter father, Margie's hero husband, died in a hotel blaze, yet Scott seems to be the only one not trying to move forward – stuck in the past, blaming his outbursts on trauma or instability, and driving away those who care the most.
Scott's two-hour-plus journey honors all the expectancies of mischievous narcissism mixed with "Slacker Cinema" tropes. Within opening minutes, we witness Scott flee the scene of an automobile accident as he zones out while driving, only to then joke about his deceased father amongst friends minutes later. By openly acknowledging his depression and hardships, Scott is giving himself (in his mind) a get out of jail free card for the rest of his life. Hence the random tattooing of minors, or shrugged-off cussing at loved ones, or inability to allow sister Claire (Maude Apatow) to leave for college without guilt. Scott aspires to manage the world's first tattoo parlor slash restaurant, and that's his big dream. Nothing more, because he's already convinced himself there's no "getting better."
Enter Bill Burr as local fireman Ray, who romantically entangles himself with Margie due to his marital separation. Scott's world upends (further) because Margie no longer coddles her mid-20s "loser" of a son (Claire gets all the attention for "overcoming" her hurdles). Ray's profession and talkative presence send Scott into a spiral given how Margie's first real relationship since becoming a widow is with another fireman, and complications feign maturity. Burr and Davidson's rivalry plays how it should: a rough-and-tumble civil servant forced to interact with his new girlfriend's schmuck of a scrawny son. Ray offers compassion, Scott responds with douchery, Ray institutes structure into Scott's life, Scott launches into paranoid sabotage mode. Because let's face it, what else is he doing?
Davidson's live-and-let-whatever vibe is perfection when it comes to playing characters like Scott Carlin. Covered in "bad" practice tattoos, scared of leaving Staten Island, and unhappily wallowing with a self-inflicted smile on his face. Scott is the poster child for jaded youth, forced to pick up the pieces after his world shatters at such an unfortunate age. "Adult" Scott lives like the world is a joke, acting out of rage and insecurity and masochism. Davidson's ability to continue stumbling backward whenever something "good" happens unlocks the more exceptional treatment of Scott's underlying issues, and how things that unquantifiably suck can still be overcome. A lesser performance would exploit dramatizations, but Davidson's level-headed mediocrity (in Scott's portrayal) is also the character's charm. People hurt, act out, and make the wrong choices (most of the time) without a grand spectacle. They can also learn, listen, and find peace.
The King of Staten Island defines itself through tough luck, tough love, maybe "fear and self-loathing in Staten Island." What Judd Apatow gets right is not a representation of Pete Davidson as another stock stoner sad-sack, but how to expose the pain and complexities that motivate such an anything-but-stereotypical character arc. It's less about what crazy hijinks Scott finds himself a part of, but why he refuses to desire a better life for himself foundationally. You'll laugh, but this is another Funny People situation from Apatow and Davidson. A film that trades outright comedy for introspective earnestness, from a place of rawness that some viewers might or might not be ready to embrace.
Flickering Myth Rating – Film: ★ ★ ★ / Movie: ★ ★ ★ ★
Matt spends his after-work hours posting nonsense on the internet instead of sleeping like a normal human. He seems like a pretty cool guy, but don't feed him after midnight just to be safe (beers are allowed/encouraged). Follow him on Twitter/Instagram/Letterboxd (@DoNatoBomb).