Brit-Cit is coming to London next spring, with Rebellion Entertainment announcing the upcoming launch of Judge Dredd Uprising: The LIVE Experience, a multi-level team attraction based upon the iconic British comic book character Judge Dredd and created by Little Lion Entertainment, the company behind The Crystal Maze LIVE.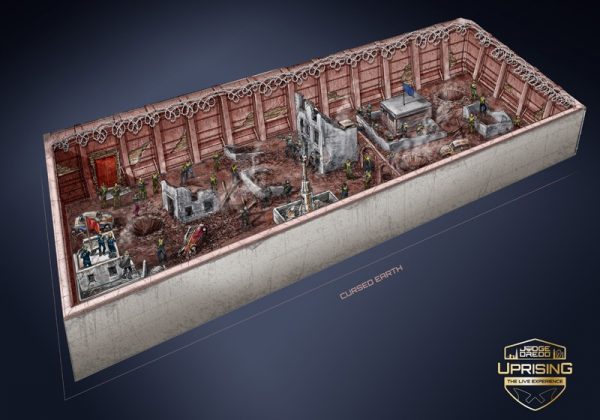 Judge Dredd Uprising: The LIVE Experience takes Little Lion's cutting-edge mix of immersive live theatre, fiendish mental and physical challenges, multi-level problem- solving and stunning world-building to a whole new level.
With incredible set design, groundbreaking interactive technology and a real-life cast of crooks, robots & convicts, it's a new dimension in excitement for friends, colleagues, rivals, gamers and fun-seekers alike.
In the sprawling megalopolis Brit-Cit, the post-nuclear London of the future, all manner of characters roam the streets. But Judge Dredd, has discovered a terrible plot and you and your merry gang of chancers are the city's only hope!
"The world of Judge Dredd is the greatest imaginative universe to come out of British comics and we're proud to bring it to ever wider audiences," said Jason Kingsley, CEO of Rebellion Entertainment. Every reader has dreamed of setting foot in a Mega-City, and with Judge Dredd Uprising: The LIVE Experience, they can do just that…"
"This new show is insanely exciting!" adds Tom Lionetti-Maguire, Founder and CEO of Little Lion. "The experience is part comic book, part sci-fi film, part immersive theatre, part escape room, part action adventure and part indoor theme park… all wrapped into one. This is our second show and I really wanted us to push the boundaries of what audiences can expect, to explore the space between theatre, film and reality. With Uprising we have really achieved that. Judge Dredd's mega-cities are a wild, prophetic and very funny world of future crime, surreal action and crazed citizens… and now you can experience that world for yourself. It's time to choose your side."
Judge Dredd Uprising: The LIVE Experience is set to open in London in Spring 2021.