Baby Frankenstein, 2020.
Directed by Jon YonKondy.
Starring Andre Gower, Rance Nix, Patrick McCartney, Eileen Rosen, Ian Barling, Mike Rutkoski, and Cora Savage.
SYNOPSIS:
The story of Lance and his unlikely friendship with a self-aware, pint-sized automaton.
What if I told you Baby Frankenstein is no horror movie? That Baby Frankenstein is a quirky adolescent rom-com with a dosage of E.T. the Extra-Terrestrial, except swap Mr. Glowy Finger with an A.I. Mini-Frankenstein? You wouldn't believe me based on promotional posters, which feature a stitched creature (who isn't in the film) and frowning dolls in a gothic-creepy attic. Those expecting Baby Franky to start tormenting a family or small suburb, prepare to be monumentally disappointed. Jon YonKondy's commentary on humanity's best and worst instincts belongs on the Hallmark channel, at 6:00 PM on a Friday, because there's no gore or terror or darkness worth audience frights.
Oh, and dare I admit Baby Frankenstein is more lovable and heartfelt than it has any right to be?
Lance Wilton (Ian Barling) is your average new kid in town until he (rather quickly) uncovers an artificially intelligent being (played by Rance Nix) in his new home's attic. Lance engages the experiment's startup function, and it runs off! With the help of his crush-worthy neighbor Truth (Cora Savage), Lance must locate his "Little Dude" companion before mom's deadbeat boyfriend, Ken Glinevich (Patrick McCartney), kills the monster-thingy for a $50K reward. Or suspicious Lundquist Industries suit-man Dauvin Lundquist (Andre Gower) gets a hold of his company's missing property.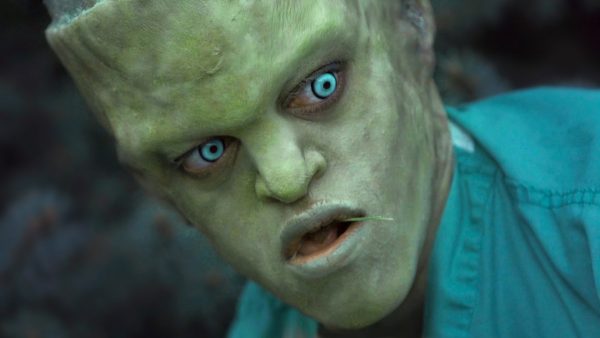 Once again, because this needs to be double-stated, Baby Frankenstein doesn't include the violent aggressor depicted in the film's marketing materials. Rance Nix's prosthetic transformation is bright green (impressively applied), brain tissue shows from under a clear dome, and without a stitch in sight. There's never a scene where "Little Dude" devours roadkill, which turns him onto the taste of human flesh or something more gruesome. The first time we meet Baby Frank (doo, doo, doo, doo, doo, doo!) is while he's munching on grass and throwing dirt like an animal; his first signs of acclimation into our mortal world. There's never ferocity or danger. Little Dude, as Lance continually calls him, only ever curiously investigates his surroundings. He never becomes the murderous Baby Frankenstein who is labeled an out-of-control threat.
Don't get me wrong; Baby Frankenstein is cheeseball to the max. An indie rock band scores most sequences with uptempo, sunshiney tunes that promote gallivanting. Is there a bowling montage where Lance, Truth, and Little Dude embrace the joys of rolling strikes while some summertime hit plays overtop? Yup! What about a signature treat like E.T.'s Reese's Pieces addiction? Little Dude loves gum! The film's puppy-dog appeal comes from Nix's portrayal of a self-aware automaton that's never fundamentally defined, but we understand it learns from mimicry. Cue Little Dude imitating Lance or Truth's actions, giggling and then grunting repeated phrases. It's so seen-it-before but genuinely family-focused and pure at heart. Honestly? Cult appeal is in tall order.
Enter Patrick McCartney, who plays the film's beer-bellied villain "Ken" with slapstick gusto. As Lance's father figure, he's a hurtful bully who calls him "Princess" and "Twink" because masculinity is oh-so fragile. As Kim Wilton's (Eileen Rosen) lover, he's a country-greaser who's always horned up and uses objectifying language on the regular. As Little Dude's hunter, he's a bumbling alpha who keeps calling the lab creation "Chupacabra" because Ken's either that stupid or that racist. He's repugnant, probably dangles rubber testicles from his pickup truck's bumper, and acts like a throwaway Dukes Of Hazzard henchman given control after his boss fell ill. Also? McCartney's commitment to small-minded bigotry and outright hatable actions only elevates wholesome counterbalances when we can rally against the script's actual beast.
No denial, Baby Frankenstein is rough around the edges. There are one or two sequences where fighters throw punches, and the camera goes into reverse motion smoothing (blurry and jerky to the max). Set design isn't much more than local-area pizza shops and office complexes. Cinematography tries to maximize inherited benefits on an otherwise do-it-yourself production, like the laser lights that illuminate Little Dude's gutterballs. I'm not even saying all the romantic angles work, as lovesick neighbor John (Mike Rutkoski) loses some of his "nice guy" points when telling Lance he hopes to "bump uglies" with his mother later that night. It's imperfect, it's asking the audience to forgive a lot, but it's trying to say something meaningful where other indie genre titles lose interest in their own limited ambitions.
Baby Frankenstein is about a family in need of salvation, restoration, and the pint-sized reanimated thingamajigger that brings them closer together. There's no blood sans a fistfight that ruptures someone's nose or haunted anything. Jon YonKondy utilizes a small budget to showcase his film's immense, cheerful heart, one that never shies away from saccharine levels of lovey-dovey schmaltz. From a sensory Halloween party game (touch the Jello brains) to Little Dude's first trick 'r treat, or John's babysitting duties to authentic connections formed between a grounded cast (sans Ken). It's in no way for everyone but deserves eyes from those who don't require blockbuster budgets to adore a sweetheart story of the oddest conceptualization. Enjoyable despite its faults, which are easier to laugh along with thanks to a hard-topped cadaver creation filled with ultimate wonder.
Flickering Myth Rating – Film: ★ ★ / Movie: ★ ★ ★
Matt spends his after-work hours posting nonsense on the internet instead of sleeping like a normal human. He seems like a pretty cool guy, but don't feed him after midnight just to be safe (beers are allowed/encouraged). Follow him on Twitter/Instagram/Letterboxd (@DoNatoBomb).