Last and First Men, 2020.
Directed by Jóhann Jóhannsson.
Starring Tilda Swinton.
SYNOPSIS:
A message from billions of years in the future, alerting humanity to its ultimate extinction.
"Listen patiently," intones the other-worldly voice over of Tilda Swinton. "We who are the last men earnestly desire to communicate with you." As she speaks, the camera pans beneath a huge, spaceship-like edifice, as if aping the opening shots of Star Destroyers that have become common to Star Wars adventures. Soon, Swinton has revealed that she is speaking from 2,000 million years in the future as a representative of the 18th iteration of the human species. They're living on Neptune, far from the ravaged Earth, but they're also finally facing a seemingly insurmountable threat to their continued existence.
An experimental, monochrome journey into the dying days of mankind, Last and First Men is the first and only film directed by renowned composer Jóhann Jóhannsson prior to the Icelandic great's passing in February 2018. A version of the movie premiered at the Manchester International Film Festival in 2017, but the current version benefits from work carried out by Jóhannsson's team of collaborators after his death.
It's a delightful tribute to a maestro, with the epic, booming soundtrack – crafted by Jóhannsson and collaborator Yair Elazar Glotman – giving suitably grandiose weight to the unravelling story. Swinton's calm description of what happened to humanity after Earth became uninhabitable is detailed over images of brutal, bizarre architecture – actually 16mm footage of the abstract Spomeniks war memorials in the former Yugoslavia. It's unclear whether these images are supposed to depict the new society on Neptune, or the discarded remnants of the Earth, but the combination of cleanliness and filth is compelling. Ben Wheatley's adaptation of High-Rise is a close visual cousin, along with the early, experimental work of David Cronenberg.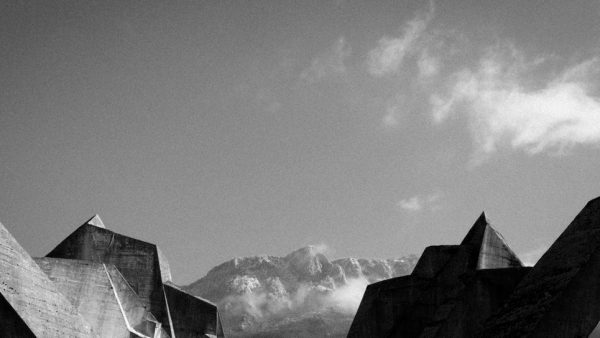 Initially, it seems as if Jóhannsson's movie – an adaptation of Olaf Stapledon's 1930 novel – is designed as a warning to the human race, with the spectre of climate change evoked subtly by the script. Cinematographer Sturla Brandth Grøvlen depicts the monuments as something contradictory, oddly beautiful and yet intrusive – an explicit, deafening statement by mankind amid the quiet splendour of nature. Last and First Men is intriguingly agnostic on the destructive power of humanity. But in fact, the movie is as much about creation and innovation as it is about destruction.
Swinton's message is from a world that, for millennia, has functioned as a utopia with an adapted human race optimising its near-immortality to improve themselves with each new wave of births. However, it's also a bittersweet tale – a reminder that even the most perfect of utopia will eventually be forced to crumble under the weight of nature's crushing randomness. In one scene, the comforting green light of communication – inevitably evoking Gatsby's symbol of hope – is replaced by a HAL-like red circle, and the previously pulsating, heartbeat-like score becomes an anguished wail for help.
There's no denying that Last and First Men is an art piece and, in many ways, it might be more at home in a gallery than it is in the homes of people looking for Sunday afternoon lockdown viewing. It's glacially paced even at just 70 minutes and visually oblique, with every lilt and revelation of Swinton's voice over allowed to sit and stew for several minutes, as Jóhannsson and Glotman fill the gaps with their evocative, apocalyptic soundscape. This is a film of mood rather than plot, with no easy answers offered to the many philosophical questions the story raises.
But for those who key into Jóhannsson's unique vision, Last and First Men is a treat of invention and stark sadness. It has the feel of a long-forgotten curio – something uncovered by accident – and, as a result, possesses as much dark mystery as it does thematic resonance. This is a movie that sits at the centre of the ongoing fight between the human race and the natural world we have occupied. Even after millions of years, there's only one winner.
Flickering Myth Rating – Film: ★ ★ ★ ★ / Movie: ★ ★
Tom Beasley is a freelance film journalist and wrestling fan. Follow him on Twitter via @TomJBeasley for movie opinions, wrestling stuff and puns.