With The Witches celebrating its 30th anniversary, George Nash takes a look at the legacy of Nicolas Roeg's terrifying family film…
In the filmography of the late British director Nicolas Roeg — a career spanning just shy of 50 years — two movies stand out from the rest. Both are adaptations of literary texts. Both begin with the death of a child. Both centre around a family ravaged by tragedy. Both involve people being murdered.
The difference is that one is a dark, brooding thriller inspired by a Daphne du Maurier short story. The other is a kid's film based on a Roald Dahl book.
But while 1973's Don't Look Now topped Guardian critic Peter Bradshaw's 2018 list of the scariest horror movies of all time, The Witches, which turns 30 this week, will be remembered for terrifying an entire generation of children in a way very few films have ever done.
Frequently taking inspiration from dark fairy tales, so-called family films have, over the years, proven extremely fertile ground for an extensive yield of striking, nightmarish imagery. One need only remember a hallucinatory sequence involving pink pachyderms, a less-than-pleasant boat ride inside a chocolate factory, or the precarious endeavours of a group of animated rabbits and memories of scarring viewing experiences and sleepless nights immediately come flooding back.
But insomnia is usually only a by-product of these memorably macabre moments. Often, such disturbing sequences serve a much more profound purpose: a warning to younger viewers about the harsh realities of life. For instance, is any child going to even entertain the idea of taking sweets from a stranger after watching Chitty Chitty Bang Bang? Are they more likely to think twice about misbehaving having sat through the metamorphosis scene in Pinocchio? And what better way to learn about the fragility of life than through the death of a cartoon lion?
But when we talk about the danger, pathos and bleakness that underlies many beloved family favourites, few embrace it quite as unashamedly as The Witches. Beneath the thin guise of a fantasy adventure about magic, talking mice, Van Helsing-esque Grandmothers and a distinct lack of hygiene (washing once a month is advised if you want to evade witch detection, of course), The Witches remains a cautionary tale that broaches the subject of death with little subtlety. In a story of orphaned protagonists, murderous adults, and evil plots of global child genocide, Dahl, like in many of his other celebrated works, weaves mortality into the very thematic fabric of The Witches.
Although author and director famously clashed over the project (Dahl was incensed by the decision to shoot a different ending to the one in his book), Roeg's take on The Witches is no less sombre in its outlook. Within minutes, the parents of Dahl's unnamed young hero, here called Luke, are killed in a car accident shortly after a tale of a Norwegian girl, abducted by a witch and placed in an oil painting to slowly age and die, is recounted with unnerving detail. Aided by a largely faithful adaptation from screenwriter Allan Scott (who also co-wrote the screenplay for Don't Look Now), Roeg's film gleefully revels in the darkest elements of Dahl's story, playing unapologetically on children's inherent fear of abandonment.
And at 90-minutes, it's an iteration that rarely stops to pull its punches. Even with Roeg's own attempts to tone the film down (reportedly using the reactions of his young son as a marker of what might be deemed too intense), the film hurtles brazenly into a world where threat exists at every turn, where the villains appear, to the untrained eye at least, frighteningly normal and the quiet solace of a quintessentially British seaside escape is flipped terrifyingly on its head.
Despite distribution headaches and an underwhelming box office return upon initial release, The Witches has garnered cult status in the three decades since it first played in cinemas. It concocts a potent formula of fantasy, frights and fun that, while certainly open to misogynist readings and criticism for its uncomfortable, recurring fat-shaming gags, remains notable for its blend of cunning casting and impressive creature design.
Anjelica Huston, who just five years previous had picked up the Oscar for Best Supporting Actress for her role in her father's film Prizzi's Honor (which also starred her then-partner Jack Nicholson), came aboard as the film's star attraction. And it proved an inspired casting choice. As the infamous Grand High Witch — proclaimed to be "the most evil and appalling woman in the world" — Huston's star power, among a cast of largely British actors, played perfectly into a character designed to be at once foreign, alluring and intimidating.
Jim Henson's creations are equally unsettling. A nasty-but-neat subversion of his most celebrated creation, his involvement in The Witches betrays any expectation of the same warm, fuzzy Muppet goodness. Instead, the work of his team channels a nightmarish quality more akin to The Dark Crystal (a project Henson had co-directed eight years earlier). In The Witches' most famous scene, Huston's menacing villain pulls back her human mask to reveal a hideous monster that appears to be part demon, part Skeksis and part something from the David Lynch catalogue of frightening surrealism. A far cry from Kermit and co., indeed.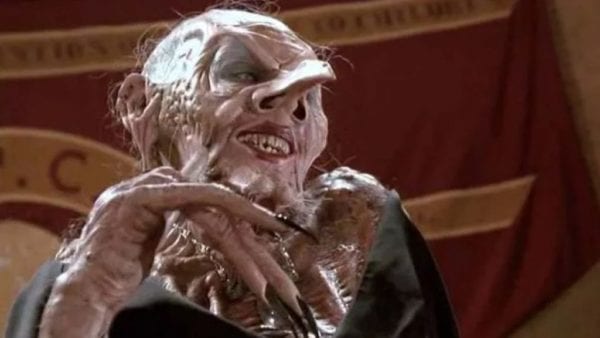 With a Robert Zemeckis-helmed remake set for release later this year, boasting similarly impressive star power both on screen (in Anne Hathaway's Grand High Witch) and off it (in Producers Guillermo del Toro, who also co-wrote a version of the screenplay, and Alfonso Cuarón), The Witches is set to terrify a whole new generation of kids. And for many of their parents, it might just evoke some equally terrifying instances of déjà vu. Either way, don't be surprised to see monthly water bills significantly reduced as households across the world scrap bathtime from their evening schedule for the foreseeable future.
George Nash is a freelance film journalist. Follow him on Twitter via @_Whatsthemotive for movie musings, puns and cereal chatter.