Tom Jolliffe looks back at two well cast 90's video thrillers, Sabotage and Night Vision…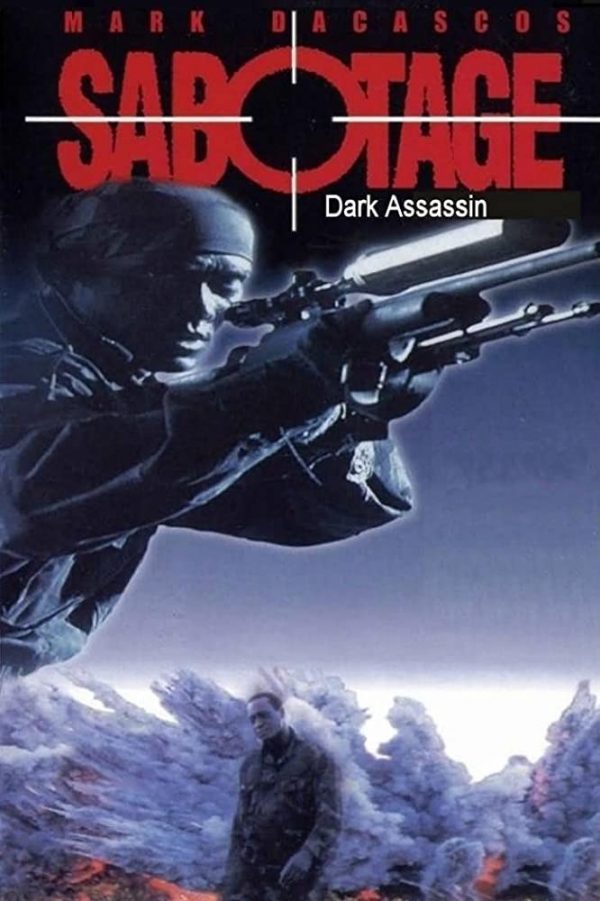 Many a 90's straight to video special has been left cast asunder by time. Some left forever to remain as rare VHS copies, occasionally appearing on Ebay, or low resolution uploads on Youtube. Certain cult favourites do find their way to DVD, and if even more fortunate, Blu-Ray or Hi-Def streaming. Well, as it happens, recently I've come across two slightly more obscure video thrillers with decent casts that have had the high definition treatment. For differing reasons they most certainly deserve that treatment too, giving these ragged old video premieres a spit and polish that makes them look better than you'd have ever imagined they could. Lets start with…
Sabotage
Not to be confused with the old 1937 Hitchcock film, or the more recent Arnold Schwarzenegger action film, 1996's Sabotage is a conspiracy action thriller with the kind of cast these types of films rarely had. Our leading man, Mark Dacascos was well established as an action man by this point, and furthermore, pretty well rooted in the video market following unfortunate outcomes in the distribution of films like Crying Freeman. Joining him are a pre-Matrix, Carrie Ann Moss, villain extraordinaire Tony Todd, Oscar nominee Graham Greene and theatrically trained thespian, John Neville.
There's an overriding motif of Chess throughout Sabotage, as the characters are being orchestrated around like Chess pieces in a game involving shady dealings, espionage, arms deals and then murder. At the centre, Dacascos even plays a character called Bishop, a former elite special ops soldier in the military (dishonourably discharged after having the blame pinned on him for a botched rescue mission). Bishop, now a bodyguard sees his clients killed. There's a connection to that opening rescue mission too, as the hitman who takes out his client is the same man (Sherwood, played by Todd) and a connection is then discovered between that client and the botched mission. With a lot of shady dealings and duplicitous characters, there's a danger the whole thing could become too convoluted, but that never arises with a tidy script from Rick Filon and Michael Stokes. As well as an intriguingly woven plot, there's plenty of clever touches throughout (Dacascos laying out warning censors at his motel room, or obtaining CCTV footage from an ATM to I.D a suspect) which are rarities for action driven films of this era.
SEE ALSO: Exclusive Interview – Action legend Mark Dacascos on Brotherhood of the Wolf, John Wick: Chapter 3 and his upcoming projects
Director Tibor Takacs, a former horror specialist (notable for films like The Gate) has a distinct and confident visual style. There are some enjoyable set pieces here, whilst the film (if you get the chance to see it on Prime UK or Blu-Ray) looks good in HD. What really elevates this above the standard action thriller video fare of the time, is the strong cast. Dacascos has always been a more engaging leading man than many of his martial artist contemporaries, and here he plays a character well suited. Carrie Ann Moss has a strong and interesting female character (again, a rarity in DTV action in the 90's). Neville camps it up with relish. Greene revels in slimy underhanded antics, but Tony Todd steals the film as a really strong villain. Synonymous with Candyman of course, Todd has been a perpetually reliable villain throughout his career and Sherwood has a macabre humour. It's a very solid action thriller, and it's most certainly more enjoyable than David Ayer's groan inducingly dumb and vulgar Sabotage.
Night Vision
Night Vision is a pretty odd entry into the video arena. To be fair, around that time there were a fair few films that went for something a little out there in terms of material. If I step back to Tibor Takacs and Dacascos briefly for example, they made Armageddon/Redline, which was a somewhat bizarre futuristic Sci-Fi, and B movie auteur icon, Albert Pyun certainly made his share of oddities during the video era. Night Vision on paper is a fairly routine serial killer film, with Fred Williamson as a beleaguered alcoholic former detective, busted down to beat cop status, teaming up with Cynthia Rothrock to stop the killers.
There's an odd kind of funky synth score throughout that's pretty cool (even if it doesn't always entirely fit with what's on screen). The assorted characters are a hodge-podge of broadly crafted oddballs. Williamson is a cigar chomping detective who encounters everyone from a cigar chomping female coroner, to oddball police colleagues, a bandanna wearing landlord of the hostel he resides and more. The villainous circle who create snuff videos of all their female victims are an odd (and decidedly un-menacing) mix. Additionally the film regularly has comedic lines that can be oddly surreal, or occasionally feel out of place (one cop goes through a suggestive routine of brass instrument euphemisms whilst trying to tempt Rothrock into giving him a blowjob…needless to say it didn't work). Williamson too, wanders around his apartment in his underwear, and the film sets up, without much logic of intimate chemistry, a potential romance between he and Rothrock. They have a definite buddy cop partner chemistry that works, but not a romantic chemistry. Robert Forster also appears. There's certainly a good degree of star power between having Williamson and Forster, and likewise that kind of calibre helps Rothrock raise her acting game. She's pretty decent here. She of course gets to throw down, even if the fight sequences don't have the skill or precision of even her better American works like China O'Brien.
SEE ALSO: Cynthia Rothrock: The First Lady of International Action
On a visual standpoint this has a nice look to it. Scenes at night particularly have some vibrant colours and it has benefited from high-def. I'd never caught this first time around on video or on TV, but some straight to video films have certainly benefited from an HD gloss and the version on Prime UK looks great (whether it's the same transfer used for a very good German Blu-ray release, I'm not sure). This was unlikely to have been counted among favourites of Williamson's work, nor Rothrock on release, but in time the quirks of the film have probably made this more appealing, with some cult potential (the German Blu-Ray would suggest so). Director Gil Bettman had been predominantly known as a producer on shows like Knight Rider and The Fall Guy. Night Vision has a certain style to it, and visual gloss (again, probably finally looking as good as intended). It's haphazardly edited at time though. Well worth checking, particularly if you see this on Amazon Prime, for it's oddball qualities.
Tom Jolliffe is an award winning screenwriter and passionate cinephile. He has a number of films out on DVD/VOD around the world and several releases due in 2020/21, including The Witches Of Amityville (starring Emmy winner, Kira Reed Lorsch), War of The Worlds: The Attack and the star studded action films, Renegades (Lee Majors, Billy Murray) and Crackdown. Find more info at the best personal site you'll ever see…https://www.instagram.com/jolliffeproductions/