Koko-di Koko-da, 2019.
Directed by Johannes Nyholm.
Starring Leif Edlund, Ylva Gallon, Peter Belli, Katarina Jakobson, Morad Baloo Khatchadorian, Brandy Litmanen.
SYNOPSIS: 
Three years after a devastating tragedy, a couple go camping in the woods to reconnect with one another. But, rather than reconciliation, what they find instead is something truly horrifying.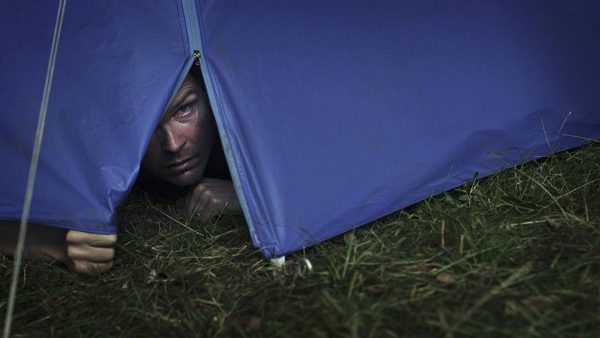 Of the many things associated with the horror genre and its long, rich legacy, two of the most synonymous are the exploration of grief and putting people off camping forever. Koko-di Koko-da, a Danish/Swedish language film written and directed by Johannes Nyholm, does both.
Channelling a similar infinite-loop premise deployed by the Happy Death Day series, Nyholm's dark and disconcerting fable centres around a young couple, Elin (Gallon) and Tobias (Edlund), who, three years after discovering their daughter dead on the morning of her 8th birthday, find themselves being killed over and over again when they take the road less travelled (quite literally) in a bid to get their relationship back on track.
Through the trees, terror comes in threes, in the form of a dandy sideshow artist and his entourage of murderous oddballs whistling the nursery rhyme that gives the film its title. As embodiments of the cartoon trio depicted on the side of the circular music-box that becomes the film's central motif, the film's motiveless villains bring the rhyme but very little of the reason as, deep in Nyholm's dreary woodland setting, the unhappy campers are embroiled in a recurring nightmare where their grisly fate seems inescapable.
The trek that Nyholm takes us on is a bizarre and perplexing one, creeping through the dark and difficult terrain of grief and guilt that occasionally stops at some very disturbing places indeed — one such moment has Belli's bowler-hat-wearing antagonist singing "Yummy, Yummy, Yummy" while commanding a dog to perform a particularly heinous act.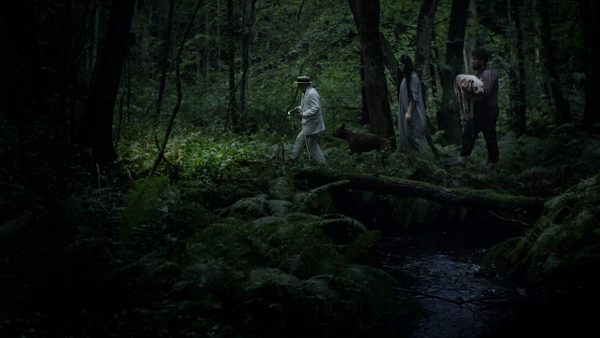 It's a disturbing, yet intriguing, striking study of anger and loss, one that darts frequently between the reality of a marriage on its knees and a surreal venture into the realms of repressed pain. In doing so, however, Nyholm also paints the picture of something darkly humorous — the unnerving creepiness of the three villains often borderlines on the caricature, while, in an increasingly desperate bid to escape the outcome we quickly learn to be an inevitability, Tobias is seen regularly running hysterically about the countryside wearing nothing but his pants.
But, while Nyholm cranks up his disorientating melange of humour and horror, almost everything in Koko-di Koko-da carries an allegorical tinge. From the relentless bloodlust of the film's villains to the visual inventiveness of Nyholm's eerie handmade cartoons, to the enigmatic white cat that shows up every now and again purring with symbolism, meaning here almost always feels both obvious and ambiguous. The product is a strangely hypnotic, occasionally monotonous hour and a half, and a film of jarring juxtaposition that feels simultaneously dense and underdeveloped.
Then again, perhaps this is entirely the point Nyholm hopes to make: that rarely can grief be defined so rigidly, and the only truth in all of this is the silent, encroaching inevitability of pain — one both inescapable and inexplicable. As Koko-di Koko-da can firmly attest to, in the wild woods of anguish, it's easy to lose your way.
Flickering Myth Rating – Film: ★ ★ ★ / Movie: ★ ★ ★ ★
George Nash is a freelance film journalist. Follow him on Twitter via @_Whatsthemotive for movie musings, puns and cereal chatter.