Limbo, 2020.
Written and directed by Ben Sharrock.
Starring Amir El-Masry, Vikash Bhai, and Sidse Babett Knudsen.
SYNOPSIS:
Omar is a promising young musician. Separated from his Syrian family, he is stuck on a remote Scottish island awaiting the fate of his asylum request.
There's an understandable seriousness and sobriety to most movies chronicling the asylum seeker experience, and so writer-director Ben Sharrock's (Pikadero) effort is of particular note, melding devastating honesty with hilarious deadpan absurdism.
Our protagonist is Syrian refugee Omar (Amir El-Masry), who along with several other asylum seekers has been packed off to a dreary holding pen in the Scottish Outer Hebrides to await his asylum verdict from the government.
It's material which seems almost impossibly depressing, and yet, Sharrock's nimble approach finds an inspired niche to mine every last drop of soul-shellacking black humour. The film opens with Omar and his fellow limbo-ees sitting through an excruciatingly patronising "cultural awareness" course where they're taught the particulars of sexual harassment in British society.
Elsewhere local racists taunt Omar from their car, only to immediately turn around and offer him a lift. Scenes like this confirm the free-wheeling tone of Sharrock's film early, which might be best approximated as the head-spinning love-child of Martin McDonagh's darkly comic existentialism and Terry Gilliam's Kafkaesque indictment of ineffective bureaucracy.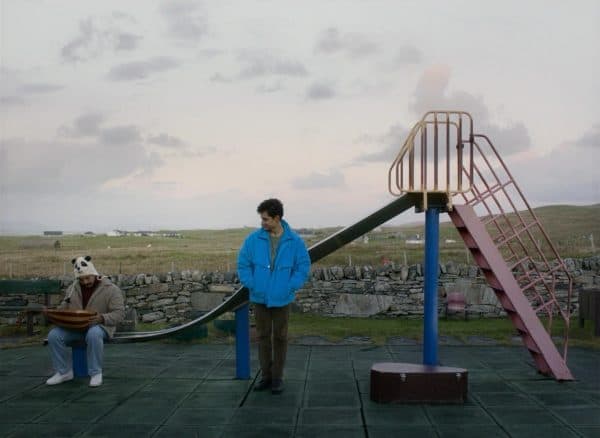 Indeed, Limbo is no stuffy, dour drama, despite its inevitable detours into more upsetting territory. It is a film written, directed, and acted with both savage wit and human warmth, focusing on the unique weirdness of the refugees' predicament. In one outrageous aside, two of Omar's fellow confined men enthusiastically debate the TV show Friends – which they've been watching bootleg copies of in their boredom – namely the infamous "Were Ross and Rachel on a break?" debate.
Sharrock also plumbs the eccentricities of the small town where they reside for all it's worth; in one low-key riotous early moment, the local postman's laziness knows no bounds as he drives between houses mere feet apart. Elsewhere, a woman wearing a dolphin head hat offers up a "dolphin tour" for the supposedly legendary dolphin that frequents the town's shores – a tour which is also first prize in the local pub's talent contest.
But as theoretically daft as these moments may be, Sharrock has the emotional intelligence to make Limbo so much more than a fizzy, flippant engagement with an important subject. He never loses sight of the dehumanising, identity-stripping nature of being in citizenship purgatory, so to speak.
That Omar and co. are stranded in the middle of nowhere only heightens the mental toll, which one of the group speculates is an entirely intentional conceit by the government, in the hope that some of the asylum seekers will volunteer to go home; a war of mental attrition, if you like.
True darkness certainly comes home to roost in reel three, as the full, heartbreaking desperation of Omar's plight is made clear, while braced against the terrifying reality of just how little the locals – the police, even – care about those seeking refuge. This pays off with a deeply affecting final sequence – a rousing, quasi-allegorical testament to the spiritual horrors endured by those simply hoping to get themselves to safety.
Sharrock's script is abetted at all times by an outstanding central performance from Amir El-Masry as Omar. Though his general affect is flattened throughout the film, the world-weariness is also worn on his face at all times, even during fitful bouts of joy with his Freddie Mercury-loving new pal Farhad (Vikash Bhai), who serves as well-placed comic relief. That's not to forget a fleeting, scene-stealing appearance from a Glaswegian Muslim shopkeeper with whom Omar briefly, and uproariously, connects.
On top of all this craft, Sharrock's film is also one of the most visually evocative cinematic experiences of the year, with DP Nick Cooke exploiting the Uist Islands's gorgeously bleak natural scenery for every drop – especially during the wintry second half.
For much of the back-end, Cooke's lensing has an almost otherworldly look to it, accentuated by aggressively symmetrical framing which runs slightly uncanny in that Wes Anderson sort of way. It's all a mesmerising example of cinematographic and directing craft, aided by a boxed-in screen ratio which only accentuates Omar's isolation for the majority of the feature.
On the aural side, Hutch Demouilpied's stark, spare string score further enhances the haunting, somber mood yet without placing too firm a stamp on things, while the moment-to-moment soundscape is underscored by the brutally oppressive sounds of crashing waves and harsh winds.
Limbo approaches its downcast subject matter with an off-kilter, surprisingly hilarious vibe, and with any luck will put writer-director Ben Sharrock firmly on the map.
Flickering Myth Rating – Film: ★ ★ ★ ★ / Movie: ★ ★ ★ ★
Shaun Munro – Follow me on Twitter for more film rambling.