Time, 2020.
Directed by Garrett Bradley.
Starring Sibil Fox Richardson and Robert G. Richardson.
SYNOPSIS:
Fox Rich fights for the release of her husband, Rob, who is serving a 60-year sentence in prison.
Garrett Bradley's towering – if perhaps too-hurried – documentary powerfully highlights a near-indisputable truth; black Americans are playing a rigged game that so often sets them up to fail. Time powerfully elucidates the obstacles standing in front of black prosperity – black contentment, even – yet is more overtly a testament to love and hope that endures over more than two decades.
Bradley's focal subject is Sibil Fox Richardson (aka "Fox Rich"), a woman who has spent more than 20 years campaigning for her husband, Rob, to be released from prison all while single-handedly raising their six children. In 1997, the pair robbed a credit union after falling upon desperate times, with Fox ultimately being released after three years while Rob continues to live out a 60-year sentence.
The thrust of Bradley's film comes down to a prison sentence which is flagrantly disproportionate to the nature of Rob's crime, which while tinged with violence – armed as it was – resulted in no physical harm to those inside the bank, and which surely didn't justify locking him away for most if not all of his remaining years.
Though originally conceived as a short-form documentary about the case, Bradley decided to expand it into this lithe 81-minute feature after Richardson gave her a bag of tapes containing 100 hours of home video footage she recorded while Rob was in prison. From the slivers we see here, they cover all the intimate milestones that Rob missed while inside, from the birth of his youngest children to the no-less vital "banalities" of home life.
While an opening clip from one of the first tapes paints the film's tenor as optimistic-yet-bittersweet, with a younger Fox insisting, "everything is gonna be OK," Time is a stinging document of how easily life can be ripped away from you, especially if you're poor and doubly so if you're black.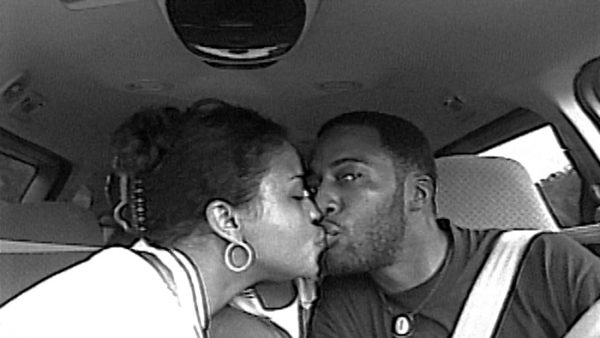 The American Dream is long held to be a sham by anyone with their eyes open, with the so-called "Land of Opportunity" affording little quarter to those struggling to pay the rent. Just look at the country today, where during the middle of a global pandemic the government tries to hush people up with meagre $1200 stimulus checks.
Heartbreakingly, Fox is less hopeful in justice prevailing than she is budget cuts allowing her husband to be released, but of course, she knowingly notes that public services will be cut long before non-threatening criminals are released from prison. Rob's case serves as a potent reminder that the American justice system is built on punishment and incentivised incarceration rather than rehabilitation, forgiveness, and compassion.
It is a system designed to erode the sanity of both those in prison and their loved ones outside, who are granted just two hours of visitation per month. Ultimately, the authorities seem less concerned with serving justice than they do opening the floodgates of legal challenge by granting basic human compassion to someone who has clearly paid their debt to society.
Despite its scant runtime, Bradley's film does a fantastic job depicting the passage of time, moving lithely between period footage and contemporary recordings of Fox attempting to extricate her husband. Yet even as the years slip by, she retains hope for herself and her family, and even more admirably, seems to harbour at least as much love for her partner as she did the day he went away. In a closing moment so disarmingly poetic as to almost seem scripted – yet it clearly isn't – Rob refers to love by the stirring acronym, "Life's only valid expression."
Though Rob himself naturally doesn't figure much in the film physically, Fox and her children are remarkable figures of courage and commitment, that they haven't let their lives fall into despair as a result of their circumstances. Rather, they've used their hardship as motivation to do something with the time their husband and father has been robbed of.
Somewhat ironically, Bradley's film compresses so much history and life down into scarcely feature length that the runtime just flies by – as too life does. In a film about the agonising passage of time and enormous void of 20+ lost years, it is a slight shame however that Bradley seems so eager to race through the particulars.
She crams a lot into the doc, for sure, but with such a fascinating case and compelling cast of "characters," I was left desiring so much more – a miniseries, ideally – especially given how little we actually learn about Rob as a person.
Even so, the breadth and depth of the archive footage on offer is staggering – Fox's tireless self-documentation predating the vlogger movement by around a decade. Meanwhile the general thematic and emotional nuance speaks for itself, yet refuses to ignore the fact that Fox and Rob's crime did have an effect on the people in the bank that day.
Bradley's monochrome visuals rather amusingly reflect a case which is anything but black-and-white, with Gabriel Rhodes' virtuoso editing job slaloming effortlessly between grainy VHS footage and gorgeous, inky footage of the family today. Jamieson Shaw and Edwin Montgomery's rousing piano score accentuates the near-overwhelming emotion of it all, even if the occasionally muddy sound mix makes it tough to hang on every last word of the muffled VHS audio; if you're watching it on Amazon Prime in the future, I would recommend subtitles.
Bradley soon enough reaches an extremely effective emotional crescendo, through a stirring final montage which soars on the strength of one mesmerising editing choice, perfectly conveying the relentless march of time.
Time is a soul-shattering, deeply compassionate documentary which will likely leave you wishing it were a more fleshed-out deep dive into these people and their heart-rending story.
Flickering Myth Rating – Film: ★ ★ ★ ★ / Movie: ★ ★ ★
Shaun Munro – Follow me on Twitter for more film rambling.