Ricky Church reviews Transformers Vol. 2: The Change In Your Nature…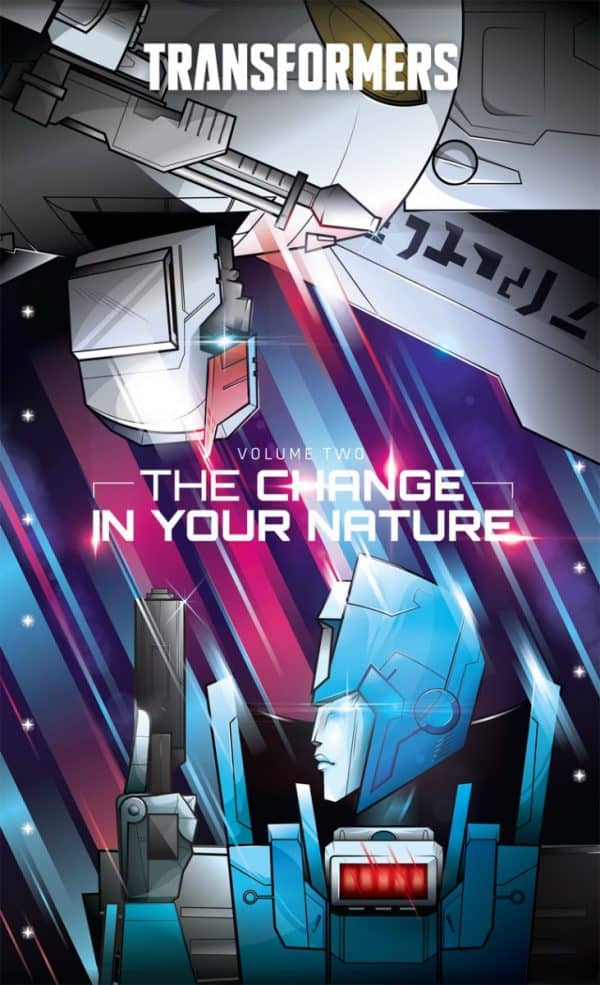 As IDW continues its reboot of the Transformers franchise, the second volume of the series The Change In Your Nature has hit the shelves in a decently sized collection showcasing Cybertron's march toward all-out war. Writer Brian Ruckley crafts an interesting story with a nice build-up that balances the escalating violence with the political tensions in Cybertron pretty well while stories from the series' sister series Transformers: Galaxies explores other characters that opens up this continuity in some very intriguing ways.
Opening up the collection is the introductory story arc to Tranformers: Galaxies, 'Constructicons Rising', which tells the origin of the Constructicons as a group and how they first merged into the fearsome combiner Devastator. Written by Tyler Bleszinski, 'Constructicons Rising' gives a pretty interesting look at the political landscape Cybertron was in in the centuries before the main series' story. Much has been said in Ruckley's Transformers about how Cybertron's previous war nearly destroyed the planet and the leadership's subsequent decisions to prevent another war from ever breaking out again. This didn't just include limiting energon to citizens or the number of new bots from being forged, but finding ways to send potentially troublesome bots like the Constructicons away from Cybertron for good. Having these elements explored a bit more thoroughly serves to bolster some of the grievances Megatron and his followers have with Cybertron's current leadership and the the edicts that were first passed.
Bleszinski does a good job writing the Constructicons with Hook and Scrapper given the focus as the team's two leads. Bleszinski gives each member their own specific areas of expertise as they rebuild Cybertron like explosives, ores, etc, but aside from Hook and Scrapper it's still difficult to tell them apart sometimes as their personalities aren't all that different and their appearances are so similar from their physique to colour scheme. For any confusion in their looks though, artist Livio Ramondelli does a pretty clever introduction to each of the Constructicons in the first chapter with close-ups on their faces. It's easy to flip back to should any readers forget which one is which. As to their journey, Bleszinski develops them pretty well as a group with their anger and longing to return home to Cybertron slowly building. It's not until some fan-favourite Decepticons interfere that the Constructicons' power as Devastator is fully realized.
The other Transformers: Galaxies story presented, which is written by Kate Leth and Cohen Edenfield, features Cliffjumper as he travels to a colony where the inhabitants confuse him with Bumblebee. In fact, due to the close forging he had with Bumblebee and how the yellow bot is pretty well-known, he is constantly confused by other as being Bumblebee. It's a humourous tongue-in-cheek commentary on the similar molds of Bumblebee and Cliffjumper toys since the franchise's inception in 1984 – that and the fate of poor Cliffjumper in other Transformers media that past decade like Transformers Prime and the Bumblebee film. In this two-issue story, Cliffjumper steps up to protect the alien citizens of Cybertron's colony from a vengeful and psychotic Deathsaurus. Leth and Edenfield develop Cliffjumper nicely from an insecure bot to one realizing making their own name and identity isn't always tied to fame and glory.
The main thrust of the book are the Transformers issues that continue the growing tensions between the Autobots, Megatron's Ascenticons and the terrorist group known as The Rise (which you-know-who is secretly leading). Unlike the first collection, Ruckley doesn't do much of a slow build in the story and kicks things off right away as the situation on Cybertron grows to even new tense heights. Ruckley spends some time delving more into the precarious political situation as Sentinel Prime, returned from touring various colonies with his guard and Starscream in tow, doesn't care to play nice with either the Ascenticons or The Rise, leading Orion Pax and others to reluctantly escalate things further. However, Ruckley places a lot of the focus on Bumblebee's investigation into the Ascenticons' connection to The Rise and Megatron's control over both groups. It leads to a pretty explosive cliffhanger where Ruckley's long-game story pays off some of his teases and sees bots outside of the main story like Arcee and Greenlight react to the recent developments.
Ruckley continues to write an interesting take on Megatron. The soon-to-be Decepticon leader genuinely wants the best for Cybertron after what he sees as the backward steps their society has taken since the end of their previous war and is willing to do whatever it takes to achieve his goals. It's interesting that he still is somewhat hesitant regarding the loss of life his plans may bring, only using them as a last resort, yet still doesn't hold back on putting those plans in motion or on enforcing his will on his underlings. Ruckley also makes an interesting decision where Megatron's will is not fully ironclad among those under him. Typically loyal characters like Soundwave and Shockwave are thoroughly dressed down by Megatron for taking initiative in ways that are harmful to his position, a fact the latter Decepticon is severely punished for in one of the book's most memorable moments. And while Starscream only appears briefly in a few scenes, he's still as shrewd and calculating as ever as he balances between both factions and waits to see which one will serve his agenda better.
The book features artwork from Ramondelli, Alex Milne, Angel Hernandez, Bethany McGuire-Smith, Anna Malkova and Umi Miyao and they all do great jobs with their imagery throughout the stories. The characters are detailed and animated with some nice facial work from Milne, McGuire-Smith, Miyao and Malkova while Ramondelli and Hernandez make detailed settings and backgrounds along with their characters. The action is easy to follow and, in the case of 'Constructicons Rising', gruesome with clear movements from panel to panel. The colours from Ranomdelli, Josh Perez, David Garcia Cruz, Joana Lafuente and John-Paul Bove are quite vibrant with lots of bright and dark colours. Ramondelli's work is quite atmospheric while the others are so varied with different colours throughout the book, yet makes many of the images and settings different so you don't feel like you've seen the same thing over and over again while remaining consistent with each artists style.
Transformers Vol. 2: The Change In Your Nature is a good book that opens up the world of IDW's new continuity and expands on Ruckley's story and characters. The writing from Ruckley, Bleszinski, Leth and Edenfield move at a nice pace while relying fairly heavily on character driven stories while the artwork from the whole team is detailed, colourful and action-packed. It takes Ruckley's story into some new avenues with how he presents the characters and advances the coming war between the Autobots and Decepticons, making this a good collection for Transformers fans new and old to pick up.
Rating: 8/10
Ricky Church – Follow me on Twitter for more movie news and nerd talk.