Body of Water, 2020.
Written and directed by Lucy Brydon.
Starring Siân Brooke, Amanda Burton, Fabienne Piolini-Castle, Nick Blood and Kazia Pelka.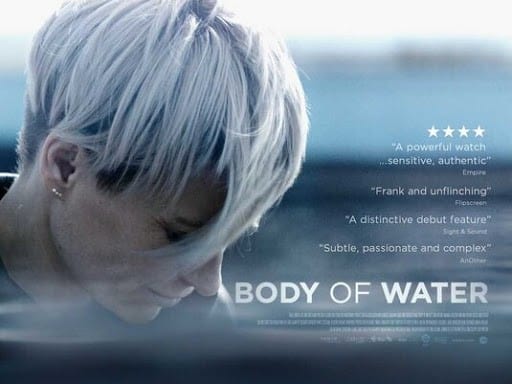 SYNOPSIS:
A mother suffering from anorexia struggles to repair the relationship with her estranged teenage daughter.
The poignancy of writer/director Lucy Brydon's debut feature unfurls with a potent, twofold timeliness. Body of Water, a taut, quietly powerful film about anorexia and the dangers of vulnerable people in isolation, arrives with the world in the midst of a prolonged period of widespread seclusion: a time when, according to the UK's leading eating disorder charity Beat, calls to their helpline have risen by 97 per cent in the last six months. The film also comes as the discourse surrounding eating disorders is undergoing a progressive shift. Gone are the days, it seems, when illnesses like anorexia were thought of as an issue exclusively affecting teenage girls.
Stephanie (Brooke), the character at the centre of Brydon's film, is in her mid-thirties and has an adolescent daughter of her own. Immediately, the myth that an eating disorder is something one simply grows out of is rejected, replaced by a candid, intricate portrait of a lifelong struggle and the devastating impact it can have on a family unit.
In the case of Body of Water, that unit comprises a fractured relationship between Stephanie, her mother Susan (Burton) and her estranged daughter Pearl (Piolini-Castle) in the days following Stephanie's discharge from the treatment facility where she has spent the last seven months. Due to her illness, Stephanie has been unable to take care of Pearl, rendering Susan as her daughter's primary guardian. Coinciding with Stephanie's return, Susan, whose relationship with her daughter darts repeatedly between concern and criticism, is getting married to her partner Annette (Pelka), opening the door for Stephanie to reconnect with Pearl.
But if hampered by a slightly contrived central irony – a wedding, the height of familial celebration, taking place as a family dynamic hangs precariously in the balance – Body of Water is never a showy, melodramatic affair. On the contrary, Brydon's deeply personal film (she battled eating disorders herself for over a decade) is a muted, often bleak account, complete with washed-out colour pallet and scarcely-used score, that powerfully confronts some of the darkest truths about a disease that is equally damaging physically, mentally and emotionally.
If, therefore, the script occasionally feels a little light, it's very much by design. Much of the focus here is instead on an internalised pain, an illness that many sufferers can quickly learn to conceal, a turmoil from within betrayed every so often by a trigger point that elicits a subtle change in facial expression. Anchoring such nuance is a measured central turn from Siân Brooke, who lost weight for the role under the careful guidance of a dietician and personal trainer. Her performance, along with Brydon's deft direction and DoP Darran Bragg's intimate camerawork, captures with commendable rigour the meaning in what is not said; the power in communication without words.
Equally acute is the film's recurring use of aqueous motifs, ranging from the narrative's coastal setting, to Pearl's swimming competitions, to numerous shots of Stephanie drinking water from a glass in order to achieve the sensation of feeling full. Bookended by the sound of waves crashing against the shore, by the time the credits role, Brydon's title has become both literal and figurative. A place that so often in movies has been one of calming, cathartic serenity becomes, in Body of Water, a vast, lonely space.
Flickering Myth Rating – Film: ★ ★ ★ ★ / Movie: ★ ★ ★ ★
George Nash is a freelance film journalist. Follow him on Twitter via @_Whatsthemotive for movie musings, puns and cereal chatter.