The Trial of the Chicago 7, 2020.
Written and Directed by Aaron Sorkin.
Starring Yahya Abdul-Mateen II, Sacha Baron Cohen, Joseph Gordon-Levitt, Michael Keaton, Frank Langella, John Carroll Lynch, Eddie Redmayne, Mark Rylance, Alex Sharp, Jeremy Strong, Daniel Flaherty, and Noah Robbins.
SYNOPSIS:
In 1969 for one hundred and fifty one days seven men went on trial accused of inciting civil unrest. Twelve months prior the Democratic Convention had taken place in Chicago and this film explores what came from that peace protest.
There is a self-assurance to The Trail of the Chicago 7 which will be remembered as a watershed moment for writer director Aaron Sorkin. From A Few Good Men through to Charlie Wilson's War and David Fincher's The Social Network, he possesses a formidable list of writing credits. Dialogue in every film he writes are virtuoso performances of vowel and consonant in perfect harmony. Between the monologues of Jack Nicholson and Philip Seymour Hoffman alone this writer has racked up over two million YouTube hits for ten minutes of talking. His characters are savagely eloquent, effortlessly omnipotent and in full ownership of their faculties.
What we have in this slickly polished star studded courtroom drama come social commentary piece, is a culmination of everything that came before. A damning indictment of the justice system combines with dialogue that strips away any bullshit. This is Aaron Sorkin knee deep in corruption using cinema like a surgeon general against the American justice system. Through a supremely structured narrative, carefully selected stock footage and the judicious use of flashback he exposes how sordid some people can be.
As a group of individuals who crossed state lines with the intention of peaceful protest, these men were arrested, held to account and then made examples of. This is First Amendment freedom of speech stuff which plays with timelines, provides ample room for character arc and gets your blood up. Fact and fiction are conjoined as Mark Rylance's William Kunstler hits innumerable brick walls in his attempt to garner justice for these men. Every advantage is taken from him, any avenue of resource closed down and any attempt at protest over ruled. As Judge Julius Hoffman, Frank Langella is subtly incompetent, flagrantly bias and politically paid off.
Amongst the defendants who include Eddie Redmayne, Sacha Baron Cohen and John Carroll Lynch, it is Yahya Abdul-Mateen II best known from HBO's Watchmen who shines from minute one. His take on Bobby Seale chairman of the Black Panther party is charismatic rather than overtly arrogant, providing gravitas in the face of flagrant racism. Joseph Gordon-Levitt also shows a modicum of restraint playing prosecutor Richard Schultz with humility as his part in this debacle becomes increasingly apparent to him. In fairness there are no weak links here and Michael Keaton hits a home run with his ten minutes of screen time, doing what Jack Nicholson did with far less grandstanding.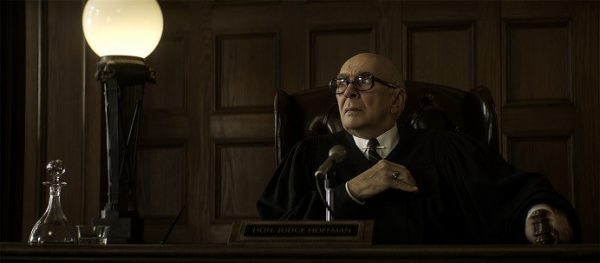 There has already been talk of Oscar nominations for Aaron Sorkin and his ensemble as The Trial of the Chicago 7 is nothing short of masterful.  Comparable to The Verdict in terms of impact this could have been dry as a bone in other hands, yet with Aaron Sorkin orchestrating things remain riveting. Thought provoking, provocative and savagely incisive are watch words we should all live by, but none more so than the man who just redefined courtroom drama for a new generation.
Flickering Myth Rating – Film: ★ ★ ★ ★ ★ / Movie: ★ ★ ★ ★ ★
Martin Carr