Martin Carr reviews HBO's The Undoing…
This slick and stylish psychological thriller adapted for the screen by David E. Kelley is supremely engaging. High society living, private prep school fund raisers and understated opulence define this Manhattan based murder mystery. Based on the bestselling novel by Jean Hanff Korelitz it introduces Grace Fraser and Jonathan Sachs in all their privilege. Both Nicole Kidman and Hugh Grant ground the whole enterprise by turning in some subtly naturalistic performances. Having established the credentials of both in opposing medical profession, David E. Kelley then begins unpicking this perfection.
Cinematographer Anthony Dod Mantle imbues the city with a cloying claustrophobia, which never lets up even inside these apartment palaces. It is clear that he enjoys using his camera as an intruder in the life of Grace Fraser as her world slowly unravels. Matilda De Angelis plays the brazenly confident, alluringly fragile Elena who becomes integral to this whole charade. It is her dynamic with Nicole Kidman which sets in motion a chain of events that soon sees suspicion turn into accusation, while the police and camera crews swarm like locusts.
In many ways beyond the polished production values and broadly drawn characters which inhabit this series, David E. Kelley does much to explore our obsessions with personal relationships. He asks questions around fidelity, marriage and what it means to retain identity in the face of long term commitment. He also examines the corrosive quality and insular effect extreme wealth has on those who possess such opportunities. In many ways the creator of Big Little Lies and Ally McBeal makes his audience a vicarious onlooker into this world of privilege, then shows us how advantage isn't everything.
Director of Bird Box and The Night Manager Susanne Bier combines with Anthony Dod Mantle to produce a slick whodunit, which embraces genre tropes. Hugh Grant is consistently charming in a curmudgeonly way, swearing fidelity yet wearing his previous roles like an advanced warning system. Meanwhile Nicole Kidman takes centre stage instilling Grace with ever increasing degrees of hysteria. Praise must also be given to Noah Jupe who forms a quick and easy chemistry with both, selling the family unit convincingly despite minimal screen time.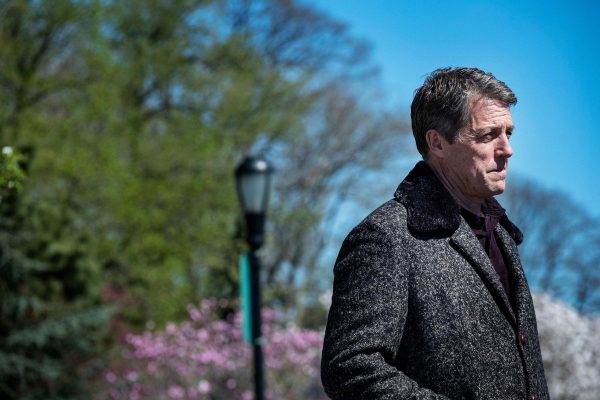 Donald Sutherland is the elder statesman and only one who comes close to overshadowing Hugh Grant in terms of on screen presence. A voice of reason, concerned father and protective grandfather, he leads everything an essential gravitas underscoring the quality elsewhere. After the home run of Perry Mason and Lovecraft Country it seems HBO can do no wrong this year in terms of content.
From minute one The Undoing is never less than engaging and excels in narrative manipulation without ever slipping into stereotype. It feels old fashioned in construction but somehow skirts close to contemporary without seeming to try, offering up solid entertainment from a killer cast.
Martin Carr