Uncle Frank, 2020.
Written and Directed by Alan Ball.
Starring Paul Bettany, Sophia Lillis, Peter Macdissi, Steve Zahn, Judy Greer, Margo Martindale, Stephen Root, and Lois Smith.
SYNOPSIS:
Accompanied by his teenage niece, a gay literature professor reluctantly returns home to attend his father's funeral.
For lack of a better phrase, I am the "Uncle Frank" in my family. The gay outsider who loves art and doesn't relate to most of their family. Maybe that's why the latest piece from filmmaker Alan Ball hit me so hard, or maybe it's because this is a powerful film with so much love and compassion to offer.
Sitting down to watch Uncle Frank made me a bit nervous as most fans of queer cinema know the films we get are often fluffy little love pieces or trauma porn. I was pleased by the end of my viewing to know what this film lives somewhere between those two mindsets. Uncle Frank has a beautiful, heartwarming tale at the center of it but doesn't pull any punches when it comes to the darkness surrounding so many coming out.
At the center of the film is the story of Frank, played by Paul Bettany, as he comes to terms with his bigoted father's passing and having to visit family he rarely enjoys spending time with. Thankfully he's joined by his partner Wally, played to perfection by Peter Macdissi, and the always incredible Sophia Lillis playing Frank's niece Beth. These two become the foundation for Frank's growth throughout the film, and it helps make this a complete story that needs to be seen.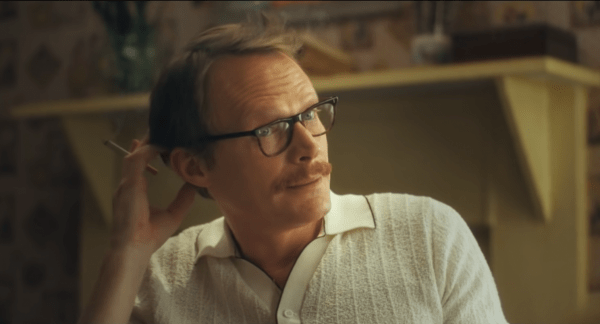 Let's take a moment to talk about the incredible acting on display in Uncle Frank. When the film dips into too much melodrama, the actors are there to walk the fine line between too much emotion and not enough. The women in the film deserve their own shoutout as they were truly doing the lord's work. Judy Greer, Margo Martindale, and Lois Smith are all saints here, and even when Lois Smith is being prickly and stuck in her ways, she's still beaming with light and happiness. Margo Martindale made me burst into tears near the end of the film, something I expected to happen at one point but didn't expect one line from her to hit me in the gut that hard.
But the real stars of this film are the three going on a road trip from New York to South Carolina: Paul Bettany, Sophia Lillis, and Peter Macdissi. Starting with the latter, Macdissi is a saint here. He offers so much joy, even in the darkest scenes. There's a comfort in his voice and how he speaks that engulfs you like a warm hug. He's an absolute gem in this film, and I feel like I need the Wally character in all the sad dramas in the future. Sophia Lillis is something I've followed since her scene-stealing moments in 2017's IT, and she is still stealing every chance she gets. Lillis has grown into a confident young woman, and she brings that growth to her character Beth.
Paul Bettany will likely be left out of the Best Actor conversation this year as it's already filled with some incredible performances. Still, I'd personally include him on any list I create as this performance was stellar. The silent moments of reflection, the outbursts with so much rage, and then finally being able to relax slightly; Bettany does all of this with ease through Uncle Frank.
Going into the awards season this year, I needed a film like Uncle Frank. While others try and fail to depict life for Southerns and Mid-Westerners, while others try to tell gay romance but end boring their viewers, this film gets all of that correct. There are not too many movies that pack this much of a punch without trying to bring down your mood too much. It's refreshing to see, but that's the magic of Alan Ball's penning and directing.
If you are looking for something filled with emotion and charm, this is the film for you. Get ready for a hard-hitting film that takes care of its viewers, though, as so many dramas like this just love the trauma. No, thankfully, Uncle Frank is a feel-good movie that doesn't shy away from the moments that don't feel the best.
SEE ALSO: Exclusive Interview – Sophia Lillis talks Uncle Frank, empowerment, role models, portraying literary characters, finding her calling, and more
Flickering Myth Rating – Film: ★ ★ ★ ★ / Movie: ★ ★ ★ ★
EJ Moreno