Showtime's revival of Dexter is picking up steam as Variety has announced that Clancy Brown (Billions) has joined the season as the primary villain.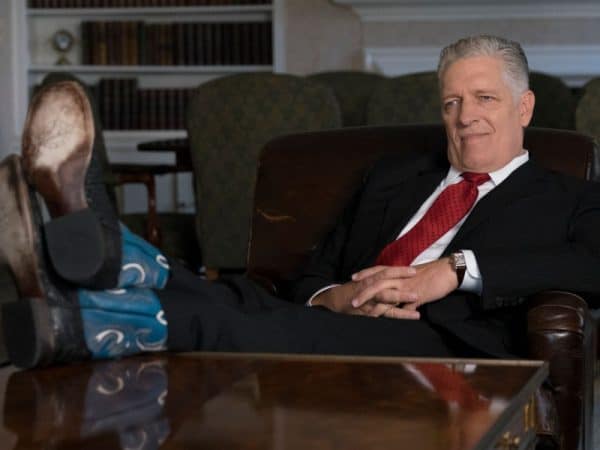 Brown will portray Kurt Caldwell, the "unofficial mayor" of the small town of Iron Lake Dexter now resides in. "He's realized the American dream by going from driving big rigs, just like his father did, to now owning several trucks and the local truck stop. Powerful, generous, loved by everyone – he's a true man of the people. If he's got your back, consider yourself blessed. But should you cross Kurt, or hurt anyone that he cares for, God help you."
Although there are currently no details on the plot of the revival series, we do know that Clyde Phillips is set to return as showrunner and executive producer with Marcos Siega, who previously directed nine episodes of the original series, set to return to executive produce and direct six of the 10-episodes in the limited series.
When Dexter ended in 2013, the series finale, as well as the final season as a whole, was received very poorly. Lead star Michael C. Hall recently spoke about their hopes for the revival, wishing to give the series an ending that will leave all fans satisfied. "People found the way that show left things pretty unsatisfying, and there's always been a hope that a story would emerge that would be worth telling. I include myself in the group of people that wondered, 'What the hell happened to that guy?' So I'm excited to step back into it. I've never had that experience of playing a character this many years on."
Michael C. Hall will also serve as executive producer alongside John Goldwyn, Sara Colleton, Bill Carraro and Scott Reynolds. Production on the new Dexter season is set to start early next year, with Showtime expecting to release the revival during the fall of 2021.
The original Dexter series followed serial killer Dexter Morgan who specifically targeted other serial killers while also holding down a job as a blood spatter expert for the Miami Police Department before disappearing and becoming a lumberjack to live a life of solitude.
Ricky Church – Follow me on Twitter for more movie news and nerd talk.