Robin's Wish, 2020.
Directed by Tylor Norwood.
Featuring Susan Schneider Williams, Bruce Miller, Walter Koroshetz, Mike Mullen, Carter Ham, Elaine Rogers, Shawn Levy, David E. Kelley, and Robin Williams (archive).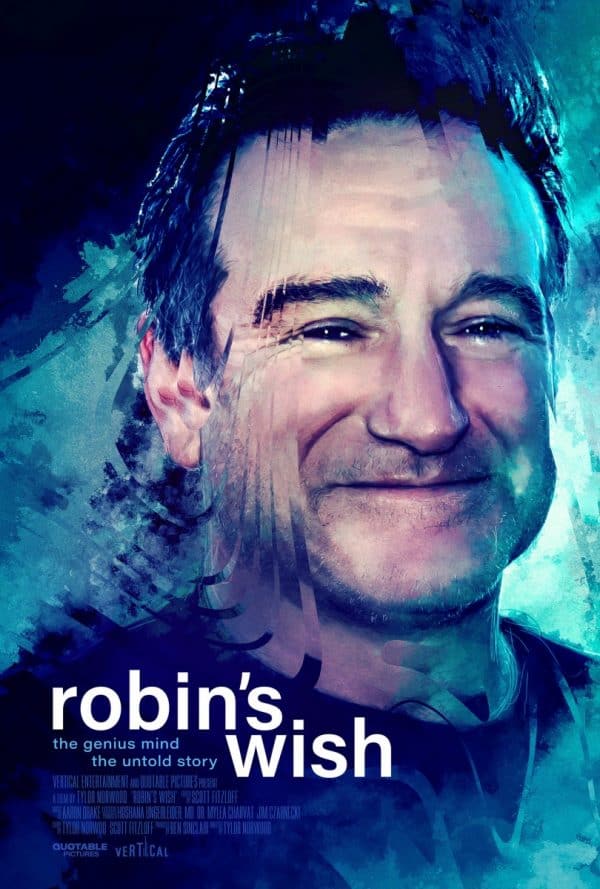 SYNOPSIS:
Following the death of her husband in August 2014, Susan Schneider Williams made it a personal mission to quell public speculation. It meant reliving painful memories, raising public awareness around his obscure condition, but more than that allowed Robin Williams to finally rest in peace.
This documentary is sombre stuff and only underlines how much Robin Williams meant to so many. It delves into cause of death and maps his mental decline but keeps the audience at a distance throughout. In between talking heads from close friends, neighbours and his grieving widow, the portrait of a humble man begins to reveal itself. Someone in possession of a gift which brought nothing but joy to millions, even if the man himself was naturally introspective and shy.
That his private persona should contradict the public face will surprise no one. Performers in any field crave attention, seek validation and yet oddly fear adulation. Inherent insecurities plague both the gifted like Robin Williams and those who never reach the public eye. If writer-director Tylor Norwood has achieved anything through Robin's Wish it is to illustrate that fact, as well as celebrate the actor's selfless acts of altruism.
Beyond the debilitating disease which went undiagnosed until after death, this documentary serves as a cinematic platform for Susan Schneider Williams. Someone who is still grieving six years on and has built her life around championing research into Lewy Body Dementia. However, beyond the insight from medical professionals nothing new is brought to the table. Interviews with Hollywood big hitters Shawn Levy and David E. Kelley might add credence, but they respect him enough to keep their opinions free from conjecture.
Fans would be better served buying Moscow on the Hudson, The World According to Garp or Dead Poet's Society if they require illumination. For purists it would be prudent to purchase Robin Williams: Live at the Met or a boxset of Mork and Mindy. That way audiences would experience both sides of the coin. In his desire to be earnest Tylor Norwood offers up all the facts but none of the emotion. For a documentary supposedly in search of understanding, Robin's Wish feels oddly clinical.
To a certain degree this comes down to the production values which give it the sheen of a made for television special. Tonally it veers between melodrama and subjective voice over with snippets of stock footage, meaning that Robin Williams the man gets lost. As interesting as personal recollections might be, Billy Crystal or the lack of him speaks volumes. His involvement alongside the other show business contemporaries might have added something special.
Their friendship and on-screen chemistry helped cement annual fundraising telethons into the public consciousness across America. If anyone was in a position to offer illumination around that elusive talent and provide valuable insight it would have been Billy Crystal. It would have given Robin's Wish an essential gravitas, grounding events and offering context. Unfortunately, this never happened and audiences are left instead with a film which never truly gets under the skin of this comedic enigma.
ROBIN'S WISH is out now On Digital and On Demand on all major platforms. For more information, please go to https://www.robinswishfilm.com/
Flickering Myth Rating – Film: ★ ★ ★ / Movie: ★ ★ ★
Martin Carr