CODA, 2021.
Directed by Sian Heder.
Starring Emilia Jones, Marlee Matlin, Troy Kotsur, Daniel Durant, Ferdia Walsh-Peelo, and Eugenio Derbez.
SYNOPSIS:
A hearing child in a deaf family finds herself torn between pursuing her love of music and her family's reliance on her to be their connection to the outside world.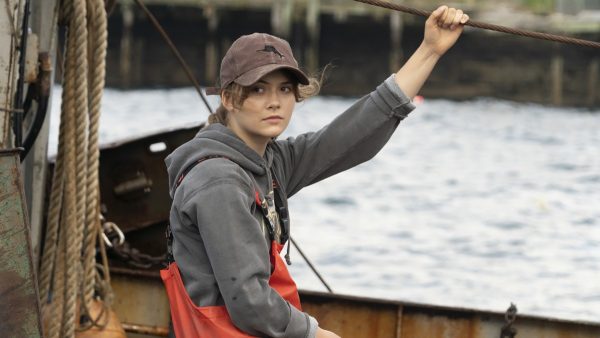 The undisputed winner of this year's Sundance was Sian Heder's (Tallulah) sophomore feature CODA, which in addition to winning four festival awards – the U.S. Grand Jury Prize, U.S. Dramatic Audience Award, U.S. Dramatic Best Director, and a Special Jury Ensemble Cast Award – was quickly snapped up by Apple TV+ for a record-breaking $25 million.
And it's easy to see why the streamer opened their coffers quite so generously for this loose remake of the 2014 French dramedy La Famille Bélier, which reconfigures a deceptively conventional coming-of-age story through the perspective of a social group too rarely captured on film – especially with such heart-on-sleeve empathy.
17-year-old Ruby (Emilia Jones) is the titular CODA (Child of Deaf Adults) and single hearing member of her otherwise deaf Massachusetts family. Before school, she helps her mother Jackie (Marlee Matlin), father Frank (Troy Kotsur), and brother Leo (Daniel Durant) operate their fishing business, though Ruby's real passion is for singing, which causes conflict when the demands of her high school's choir club bristle with those of her family's livelihood.
There's an unfortunate scarcity of films about the deaf experience, and even less about the complex relationships between deaf people and their of-hearing family members, which makes CODA such a disarming piece despite its superficially familiar narrative.
Almost every scene is motivated to show us things we've probably never once stopped to think about; in an early moment, Ruby is mortally embarrassed at her parents for driving up to her school with music blaring out, for despite being unable to hear the music, they love the bassy vibrations.
This is just one of the myriad difficulties simply yet effectively illustrated throughout, many of which have bred an understandable resentment in Ruby. She grew up "talking funny" because her parents were deaf, and has to interpret for her family to negotiate fish prices at the dock, to order food in restaurants, and even during awkward visits to the doctor's office. Ruby's exhaustion despite her love for her family is palpable.
Despite making a passionate case for how little the world at large caters to those bereft of hearing, not a frame of the movie begs viewers to feel sorry for its characters, opting instead to render them in empathetic terms, depicting them as the complex, humorous, and at times crass people they unassailably are.
Viewers may not quite be ready for the sheer number of laugh-out-loud moments throughout, between Heder's witty banter and the more elaborately constructed, expectation-defying jokes centered around the humour and beauty of non-verbal communication. Or, in one case, the fact that two deaf people having sex don't know how loud they're being. Such is the tenor of a film that never looks down upon its subjects.
And though the spine of CODA's story – of a walled-in young woman becoming self-actualised – is very much familiar, and the path it takes to the finish line isn't remotely surprising, the singular how of the story is what allows it to stand out.
Yes, Ruby is smitten with a boy from choir class she's forced to duet with, Miles (Ferdia Walsh-Peelo), but this potential relationship has its own rocky beginnings, while the family's fishing business isn't merely threatened by predatory market vendors, but also the necessity for the boat to have a hearing person as a deck-hand at all times. Given that Ruby slowly begins to see a future away from the docks, it's clear the current paradigm won't hold.
There's parental friction, but again, it's shot through the unique experiential prism of deafness; Jackie finds the very notion that her daughter wants to sing an affront, asking her, "If I was blind would you want to paint?"
And while this tension builds to a climax the bones of which we've seen so many times – a choir recital performance by Ruby – it's radically recontextualised through its focus on Ruby's family and how they will experience her performance. Heder perhaps wants to have her cake and eat it too with an appended second finale, but it's such a heart-swelling knockout that it's tough to begrudge her the pleasure.
You'd be forgiven for assuming that lead actress Emilia Jones – daughter of legendary Welsh singer Aled Jones – were herself the only hearing child in a deaf family, but Jones actually had to spend nine months learning American Sign Language and training to sing. This is all without even considering her faultless American accent. Jones does a masterful job portraying an impossibly resilient woman torn between the duty she feels she owes to her family and to herself, but she's also only as great as the exceptional co-stars who comprise her family.
This is an especially salient point as the original French film was excoriated for casting non-deaf actors to play the protagonist's parents, yet Heder doesn't make the same mistake. Marlee Matlin, who remains the youngest Best Actress Oscar winner in history, is an easy standout as Ruby's conflicted mother, but Troy Kotsur and Daniel Durant also bring a wealth of humanity and good humour to their roles as Ruby's father and brother respectively.
If it's easy to scoff at the casting of insanely popular comedian Eugenio Derbez as Ruby's choir teacher, as a spot of stunt casting intended merely to boost the movie's commercial prospects, he quickly earns his place among the lower-flying cast with his entertainingly impatient demeanour. He may be prickly, but he gives Ruby just the push she needs to plot a promising future course for herself.
While it's tempting to consider Heder's direction loose and unfussy from a pure aesthetic perspective, the film's style is so thoroughly informed by how much of it is either silent or signed between characters. Heder's sublime work with her cast proves her directing nous beyond any doubt, aided by strong editing from Geraud Brisson, particularly during the film's phenomenally crisp and crucial final montage. Marius de Vries' non-invasive musical score is meanwhile composed of gentle piano and guitar tracks, which smartly avoid stepping on the drama.
Heder's film powerfully affirms that there's so much more to living than any single sense, no matter the considerable challenges deafness poses. CODA cleverly remixes familiar coming-of-age tropes through its unique, insightful, affecting perspective. You'll probably come away feeling like you learned a lot. I certainly did.
Flickering Myth Rating – Film: ★ ★ ★ ★ / Movie: ★ ★ ★ ★
Shaun Munro – Follow me on Twitter for more film rambling.