Martin Carr reviews the fifth episode of American Gods season 3…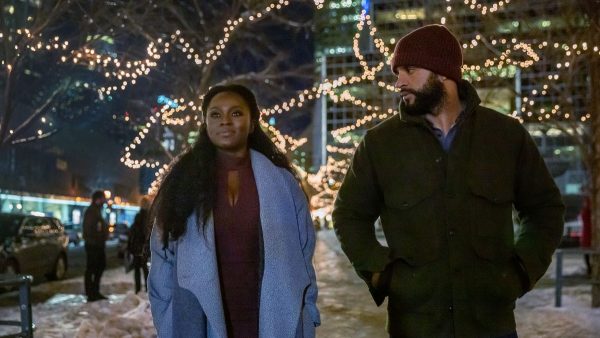 Tales of technical innovation, demonstrations of genuine power and a side order of Seventies cinema make this episode come alive. Ruminations on the afterlife, a silky smooth voice over and Yetide Badaki in full flow, also ensure this fifty minutes of fulsome television flies. Visual flourishes sit alongside dynamic storytelling, bringing plot and character together in blessed alignment. Mr Ibis, Salim and Laura Moon may appear fleetingly but they feel integral, imperative and essential to a tale which has lacked cohesion of late.
Atmospherics, subtle soundtrack choices and a demure ambience bring the swagger back, while moments between Bilquis and Shadow Moon feel easy. Freed from the shackles of objectification this Goddess is unburdened. Sharing a smile, some light conversation and an aura which encompasses, there is no denying the impression or contribution this creation continues to bestow. Elegant, assured and unrivalled in her access to ancient energies, there is a majesty that threatens to the consume the screen.
Elsewhere the stand off between Odin and Demeter escalates as two veterans clash over an afternoon water colour. Blythe Danner and Ian McShane are clearly enjoying themselves reminiscing over lovelorn brief encounters. There is a hint of the eons which have passed between them locked in rambunctious relationships, absorbed in passionate pursuits and bickering of ancient indiscretions. Devotion is something unsaid, unchallenged yet indelible as a fingerprint. That this continued encounter opens up the door to a ten minute split screen odyssey of thriller, heist, homage is an added bonus.
Ashley Reyes and Ricky Whittle show their ability to switch gear with this suave segue into Seventies cinema. Oozing cool and representing nothing less than a perfect change of pace, this momentary side step kicks American Gods up a notch. With soundtrack choices that feel made to measure this Ocean's Eleven throwback brings a little normality into a show not known for it. Alongside that the dramatic arc of Technical Boy takes a hammering as Bruce Langley gets more than he bargained for.
All clockwork cogs and intrinsic advancement, aside from glitching and bitching much of his role has been based in IT support. There have been minimal moments to shine in a role which relies upon a lack of grandstanding. From that ostentatious episode opening through to a cowering conclusion, his sense of diminishing influence in 'Sister Rising' is tangible. Progress maybe a driving force but can often be painful, unwanted and premature. That Technical Boy remains a likeable creation with a sense of substance has much to do with Bruce Langley's presence.
For those who were quick to write off season three as below par, 'Sister Rising' is proof that such judgements lack merit. It may feel late in the day, but sometimes a series needs time to gain traction. Expectations never consider change as a good thing, preferring instead the tried and tested over innovation. American Gods is nothing if not a fitting allegorical example to prove the point.
Martin Carr