Surge, 2020.
Directed by Aneil Karia.
Starring Ben Whishaw.
SYNOPSIS:
Dissatisfied with his life, a man breaks free from societal constraints and politeness, living a life of total liberation for 24 hours.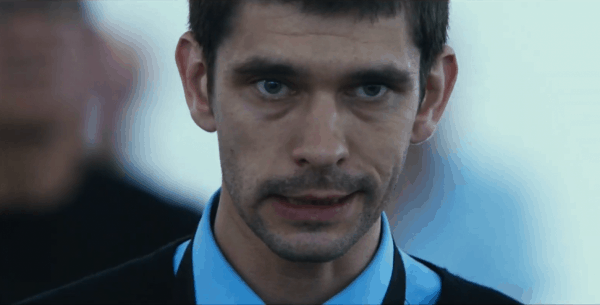 Joseph lives an ordinary and quiet life, working as an airport security guard. There's something strange about his existence, a held tension that's difficult to define. It's not just his social awkwardness, his apparent loneliness, or even the severely strained relationship with his parents. There's a stiffness to this character so perfectly maintained that, unless one is watching Joseph very closely, might be completely imperceptible. That is, until something breaks under it's own weight. With his debut feature, Aneil Karia explores the act of letting go, of releasing pent up energy and emotion, and the many consequences of doing so.
In the beginning, attention is drawn to Joseph's teeth – as if he's experiencing a pain or an itch. He stretches his jaw, bites down on things; as the unease spreads around him like a layer of ever-thickening fog. Then, all of a sudden, he bites too hard. It's as if Joseph experiences an immediate relief, perhaps euphoric, and spends the rest of the film trying to recreate that feeling. He begins to act less self-consciously, with more assertiveness and a clear disregard of the things standing in the way of whatever he desires in each moment.
The script wastes little time on dialogue, choosing instead to focus energy on defining Joseph's character from second to second. It's a masterful thing to watch, as his slow deterioration exudes a bittersweet sense of both remorse and unbridled joy. What's fascinating is that Joseph seems to have adopted a simplistic caveman logic in his actions – never stopping to consider the pros and cons of what he is about to do, or the morality or ethics. Put simply, Joseph needs something, so he finds the closest and least complicated way of getting it, with no regard for the problems this might cause him down the road.
Karia's filming style is somewhat reminiscent of Hungarian director László Nemes, following Joseph closely, often from behind as he pointedly rushes forward. Even when he's relatively still, the camera refuses to pull very far away, living in close ups and super close-ups. It's as if Karia believes the only interesting subject here is the character, everything else is just background noise. It's refreshingly focused, the kind of filmmaking that self-indulgent wannabe auteurs secretly wish they had the patience for. Karia has selected the correct subject in Ben Whishaw, who plays Joseph with a brilliant everyman veracity.
The film places a huge amount of stock in visual style, allowing the audience to infer a lot simply through Whishaw's breath-taking performance. As a result, there are moments, though few and far between, where the substance on show comes a little into question – the portrayal of Joseph's relationships leaves a little to be desired in this regard. This is particularly true in Joseph's encounters with his parents – the forced feelings between them are left to hang, when perhaps they could reveal more of what led Joseph to his current predicament. Then again, Karia's decision to hold fast to a lack of dialogue and leave much unspoken gives a hugely grounded sense of reality. It really is a powerhouse of a debut.
Flickering Myth Rating – Film: ★ ★ ★ ★ / Movie: ★ ★ ★ ★
Dan Sareen