Mark Amin is a veteran Hollywood producer with many major credits to his name. But now, after years spent producing, he has written and directed his very first feature film, Emperor. For this ambitious debut, he nevertheless stayed on producing duties while also teaming up with Reginald Hudlin, the producer of Netflix's The Black Godfather and Django Unchained.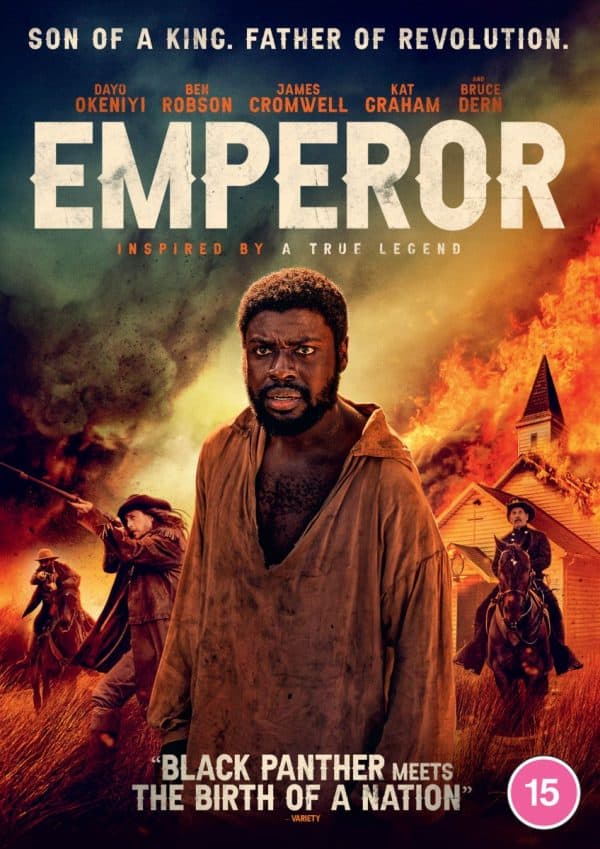 Emperor is an inspirational and timely portrait of courage and resilience set during a turbulent time in American history, inspired by the legend of 19th century freedom fighter, Shields "Emperor" Green, played by rising star Dayo Okeniyi (The Hunger Games, Shades of Blue).
A man fighting to free his family and bring an end to tyranny, Emperor escapes his captors and fights his way north, joining forces with abolitionist John Brown for a raid on Harpers Ferry, helping to alter the course of American history in the process.
An action-packed and powerful epic shining a light on one of history's unsung heroes, Emperor co-stars Ben Robson (Animal Kingdom, Vikings), Academy Award® nominee James Cromwell (The Young Pope, The Green Mile), Kat Graham (All Eyez on Me, The Vampire Diaries) and Academy Award® and Golden Globe® nominee Bruce Dern (The Hateful Eight, Nebraska).
Mark Amin tells us more…
How did Emperor begin? Did it start with you, or was it a project you inherited?
It actually started with me. I'm a history buff, not a historian by any means, but I'm enthusiastic about all kinds of history. The American Civil War really interests me, in particular. I've watched a lot of films and read a lot of books about slavery and what I noticed, particularly in films, is they focus on misery and injustice, and some of them do it very well. However, I found myself wondering why there weren't too many films about resistance, fighting back and escaping. When I researched, I found out that several hundred thousand slaves tried to escape and, in fact, over a hundred thousand apparently made it to freedom.
I'm also a big fan of westerns and, although this history overlaps in much the same period, between watching a slave story and a classic western, you'd think you're seeing two different worlds because one doesn't usually show the other. I decided to tell a story based on the structure of a western but following a runaway slave.
The concept and basic story came first, then when we started researching real escaped slaves, we discovered the story of Shields Green. Not only did he fit the bill as an escaped slave, he crossed paths with abolitionists John Brown and Frederick Douglass, and even Colonel Robert E. Lee during the raid at Harpers Ferry. So, these hugely important figures of the American Civil War converged during this time. This is what inspired me to develop the story, then co-write the script [with Pat Charles] and eventually direct, which I'd been considering doing for quite some time.
Shields Green's final years and death are covered in old literature, but little is known of his early life. Did this afford you creative opportunities in telling your story?
Yes, this was something I struggled with a little, how much did we want to stick to history, or take creative license? Apart from the fact that he escaped from a plantation in South Carolina and, later, met John Brown and Frederick Douglass before taking part in the raid on Harpers Ferry, not much is known about him. There are things written about his character, which is fascinating and gave some good insights. We decided we wanted to be true to his character, as much as we could, and true to major historical events, but for the rest we'd take creative liberty. Beyond this, I didn't want to make a historical document, I wanted to make an entertaining, inspiring and fast-paced film and I believe his story offered us that.
If you look at the work of someone like David Lean, who is one of my favourite directors, even in Lawrence of Arabia, the major events are true, but a lot of the details are made up, and that's how you tell a good story. In Emperor, I didn't want to give a history lesson, I wanted to make an entertaining film that might also teach you something about history.
Many audiences, in both the US and UK, have admitted to taking up further reading and research after seeing the film, suggesting it's is a good gateway to the story of Shields Green. Was this your intention?
To be honest, my intention was only to tell a good story. Of course, if people take an interest for themselves in the historical subject, that's great. I really admire Shields Green and I came to admire him more through writing the story, along with Frederick Douglass and John Brown. Even Robert E. Lee is a fascinating figure in his own way.
Dayo Okeniyi plays the titular character and while he's played supporting roles in major films (like The Hunger Games and Terminator Genisys) this is really a breakout. How did you discover him and what do you feel he brought to the role of Shields Green?
One other thing we knew about Shields Green was that he was nicknamed "Emperor" and there were rumours he was descended from African royalty, who had been captured. According to reports of his character, he carried himself with a certain dignity, which probably enhanced that reputation. So, I wanted to find an actor with a really strong presence, but who could also play a leading man.
As always, first we were encouraged to audition big stars for the role. Even though the script was getting a good reaction, since it was my first feature as a director, we realised it would be hard to make it with a star in the lead. I even suggested I turn the script over to another director if that helped, although obviously I really wanted to direct. Eventually, we decided we wouldn't worry about big stars and would just go for the best actor we could find. We saw lots of different actors during the audition process. When I first spoke to Dayo, I was very impressed by his passion, his understanding of this character and how much he liked the script. As the process went on, he flew from New York to Los Angeles to meet us and audition, on his own dime, and frankly he just knocked it out of the park.
When it came to shooting the film, he more than delivered. I wanted the character to have a heroic presence, but he's never a superhero. I wanted the whole thing to feel very grounded. We talked a lot about how the character would look before we started, and he asked if he should lift weights and get bigger? I didn't want him big and I wanted to keep his vulnerability. We decided he should do a lot of running beforehand and I felt the character would be slim, the image of someone working on a plantation all day.
As a producer you've worked on many films, but how was your experience coming into this as a director?
It's funny, people have asked me if I enjoyed directing and, to be honest, the answer is no. It's really, really hard! At my age, working 16-hour days and averaging four to five hours of sleep was very difficult physically. We were also filming in Savannah, Georgia, which is beautiful, but the summers are very hot and humid. The physical experience was difficult, but I had a great team around me which helped a lot. I think it was an ambitious film for a first-time director, it had lots of action, stunts, extras, special effects, but when we saw how well it came together, it helped energise everyone. I eventually realised that my biggest satisfaction doesn't come from directing itself, it comes from seeing the end result.
Why do you think it's important for younger audiences to learn about history, whether through films, books or study?
There's that old expression that "history repeats itself". I don't believe it really repeats itself, but it's more like waves in the ocean, it keeps coming back slightly different. I think we're dealing with a very chaotic state of the world right now, there's a shift taking place between morality and politics.
For a long time, I'd say around the beginning of the last century, despite obvious problems and conflicts, the general trend in history leaned towards morality and democracy, at least in my opinion. Sadly, I have a feeling at the beginning of this century it turned the other way. I think we're moving slowly towards politics, dictatorship and convenience. If you look at the history of American slavery, it was really around the turn of the Civil War that the course started changing for the better, and it took a long time, it's still not complete! I hope other moral issues will eventually go the same way. Making one movie probably doesn't make a difference but if it prompts people to ask questions and start a conversation, I hope it can be a good thing.
What do you hope audiences take away from Emperor?
I hope people see the film for an engaging, fast-paced, exciting story and find it inspiring. That was always our objective. Then, if you learn something, or you're compelled to find out more and do some private research, that's even better. I hope audiences enjoy the ride.
Kaleidoscope Entertainment presents Emperor out now on Digital and on DVD from April 5th
Find it on iTunes: http://bit.ly/Emperor_iTunes
Find it on Amazon: http://bit.ly/EmperorDVD