Justin Cook spoke to actor Chris Lowell (GLOW, Veronica Mars) about his role in Promising Young Woman, which is now available to own on Digital, Blu-ray, DVD, and On-Demand. The following conversation contains spoilers from the climax of the film…
Promising Young Woman is a hard movie to scrub from your brain after viewing it. And while it doesn't hurt that the film has been everywhere recently, even receiving five Oscar nominations earlier this week (only further cementing its place in the cultural dialogue), it's a particularly hard movie to shake for a different reason: that scene. And, love it or hate it, if you've seen Promising Young Woman, you know the scene in question. 
At the climax of Emerald Fennell's darkly comedic thriller, Carey Mulligan's Cassie looks to complete the masterstroke of her revenge plot. Disguised as a stripper, she crashes the bachelor party of an old classmate, Al Monroe — the man who drove her best friend, Nina, to suicide, after sexually assaulting her. Cassie is able to isolate Al and handcuff him to a bed, before taking out her tray of tools and revealing her true intentions. She wields a scalpel and approaches Al, telling him of her plan to carve Nina's name into his chest, so that he will never forget what he did. 
Except instead of getting his comeuppance, Al subverts Cassie's revenge fantasy, breaks free from his confines, and for two unwavering, uncomfortable minutes, the camera lingers as he suffocates our protagonist to death with a pillow.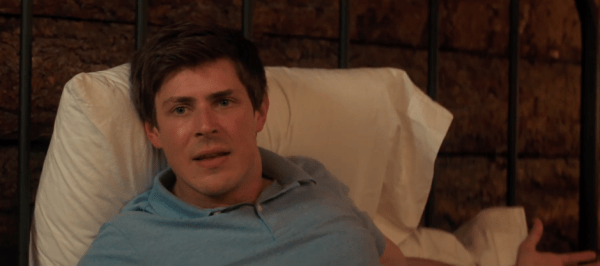 It's a shocking moment — the repercussions of which reverberate through the film's final 20 minutes and have spawned countless conversations and think pieces. But, as a practical, self-contained scene, Promising Young Woman actor Chris Lowell, who plays Al Monroe, spoke to Flickering Myth about the "physically and emotionally" exhausting process by which it came together.
"On that day we shot that, Emerald [Fennell] was like, 'I've heard it takes two minutes for someone to die of asphyxia. So once you get the pillow over her face, we're just gonna roll for two minutes. And I'm gonna yell out every 30 seconds, so Carey knows when to die. Action!' I was just like, 'Oh. My. God.' And that's literally what would happen," said the GLOW and Private Practice actor. "That was a brutally exhausting day," Lowell admitted. "Both physically and emotionally, just what you're doing."
The film's stunt coordinator even warned the pair that the stunt's unconventional nature would render them exhausted by the end of the day. While most film stunts are quick actions that can be covered across multiple shots, Fennell opted to point the camera at her two actors, uninterrupted, for two minutes, forcing the entire stunt to be played out in real-time. Long take after long take.
In one instance, Lowell recounts filming a take where mismatched blocking on the stunt nearly resulted in an on-set injury. 
"There's actually a take where we mismatched our blocking, and I actually did start suffocating Carey. And we had a little signal that we'd give each other to stop, obviously. But I remember, she tapped me on the leg, I got off her, and she sat up and just tears exploded out of her eyes. Less because she was emotionally scared, and more because physically she was experiencing that actual trauma in real-time."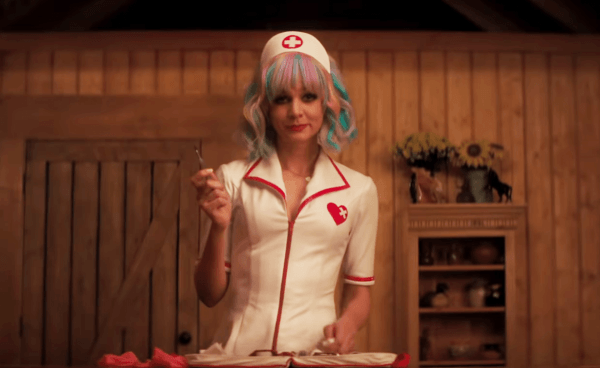 Lowell called the bedroom scene in question a "slow boil," playing out over 12 minutes in the film, and reflected on Fennell's intention in having the scene unfold the way it does.
"As an audience member, following the tropes of the films we've seen in the past, there are these moments where the woman gets the weapon and she kills off the bad guys. But statistically speaking, the moment a weapon comes out, the woman is the one who suffers … I think in that scene, when the scalpel comes out, and we think we're gonna have this cathartic murder-revenge moment take place, I think [Emerald Fennell] forces us to reckon with the fact that like, "No, statistically, actually, what happens is he's gonna overpower her. She's gonna be a victim, yet again."
Despite any on-set exhaustion or complications, Lowell says filming the scene was, undoubtedly, a rewarding experience as an actor.
"… To have it be just relying entirely on Carey and myself … that's intimidating, but that's also the rush. That's why we do it. That's why you sign up for it, to see if you can rise to the challenge."
Many thanks to Chris Lowell for taking the time for this interview.
Justin Cook