Ricky Church revisits A Knight's Tale, released twenty years ago today…
We all know that famous sports movie. The one where an underdog kid who dreams of joining the big leagues gets their chance, but has to fight against the system and upper class professionals while hiding their real identity to do so. After things go wrong for them, they earn the respect of their peers and fans, winning the love of their romantic partner at the same time.
You might be thinking it's The Mighty Ducks or The Replacements, but you'd be wrong. It's not even She's the Man… It's A Knight's Tale.
Today marks the 20th anniversary of the classic medieval film A Knight's Tale from writer and director Brian Helgeland with the late and great Heath Ledger leading the film. He plays William Thatcher, an English commoner and squire who decides to fake being a noble knight in order to compete in jousting tournaments. After training and taking the name Sir Ulrich von Liechtenstein, William quickly rises through the ranks and makes friends out of future poet and author Geoffrey Chaucer and the noblewoman Lady Jocelyn and contending with Count Adhemar, a very skilled and arrogant jouster who is William's primary rival in both the tournaments and his life as Adhemer seeks to ruin William's growing reputation.
One of the best aspects to Knight's Tale is how the film makes this a 'modern' medieval film with the focus on jousting, making it similar to modern day sports movies with a distant period piece twist. Not only that, but the film is littered with a soundtrack of 70s, 80s and 90s hits including Backman-Turner's 'Takin' Care of Business', ACDC's 'You Shook Me All Night Long', Thin Lizzy's 'The Boys Are Back in Town' and more. The songs are even woven into the actual story as the crowd claps along to Queen's 'We Will Rock You' at the opening tournament. Let's not forget Paul Bettany's magnificent and hilarious introductions to William at the tournaments, delivering an over the top "Sir Uuuuuuulrich von LIECHTENSTEIN!" as if it were a wrestling match instead of a tourney. The way Helgeland plays with the sports tropes while also blending in some actual historical figures like Chaucer and Edward The Black Prince or events such as the Black Plague and the Battle of Poitiers into the film is very clever and works incredibly well.
Of course though, Heath Ledger steals the show as William. A Knight's Tale served as another breakout role for Ledger during his teen heartthrob era before earning more critical acclaim with Brokeback Mountain and The Dark Knight. Ledger is full of charisma as William and gives a pretty earnest performance as the young wannabe-knight, from the way he interacts with his friends, his sense of fairness and honour in the tourneys to his cluelessness at how to deal with women, much less one of noble birth like Jocelyn. Ledger does a great job playing William straight while not taking the role too seriously, balancing the film and character's tone and seemingly having a lot of fun doing it. A Knight's Tale is another outstanding mark in Ledger's unfortunately short but unforgettable career.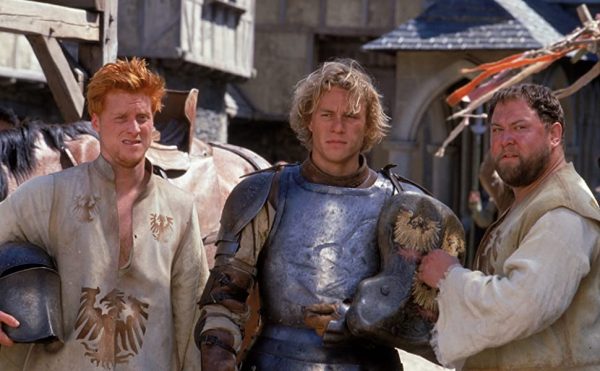 Apart from Ledger, the rest of the cast is equally as entertaining. Most people may know Mark Addy as Game of Thrones' drunken, womanizing and angry King Robert Baratheon, but here as William's friend Roland he's very loyal and steadfast while Alan Tudyk compliments him as the more angry and brash Wat, who is also very loyal to William but is probably more interested in getting rich quick than any of them. Laura Fraser brought something new to the film as the group's female blacksmith Kate, a fact which wasn't really possible for women in those days and the film brings attention to, but William's journey as a professional jouster would not have been successful without Kate's ingenuity and friendship. She even helps his love life as she provides a perspective William and his friends do not possess. Shannyn Sossamon shares nice chemistry with Ledger as Jocelyn, having a funny back-and-forth relationship while showing she's more forward thinking and not as stuck up as other noblewomen might be about William's true status while Rufus Sewell's Count Adhemar is a villain you just love to hate and can't wait for William to knock him off his horse.
After Ledger though, the best actor in the film is undoubtedly Paul Bettany as Geoffrey Chaucer. As mentioned, Bettany's ringside introductions help give the film that sense of over-the-top modernism, but he also brings a whole lot of energy to Chaucer as there are very few moments where Bettany stands still or speaks in a more quiet and normal manner. Not to mention all of Bettany's one-liners which he delivers with great comedic timing and an amount of seriousness, from his dancing lessons with William, his gambling problem, the way he insults Wat or even threatens his debtors with "I will eviscerate you in fiction. Every pimple, every character flaw. I was naked for a day. You will be naked for eternity." Bettany is captivating in his role as the legendary writer/poet and is ultimately Helgeland's secret weapon.
20 years on, A Knight's Tale is still as enjoyable and entertaining as it was when it was first released. There is a whole lot of fun movie magic here as the choice to blend medieval times with a modern sports story is inspired. Helgeland's writing and direction is clever and never misses a beat while Ledger, Bettany and the rest of the ensemble provide terrific performances that are funny, heartfelt and serious. If you've seen it already today is a great day to watch it again and if you haven't, then today is a great day to introduce yourself to A Knight's Tale.
Ricky Church – Follow me on Twitter for more movie news and nerd talk.