Shaun Munro reviews Biomutant…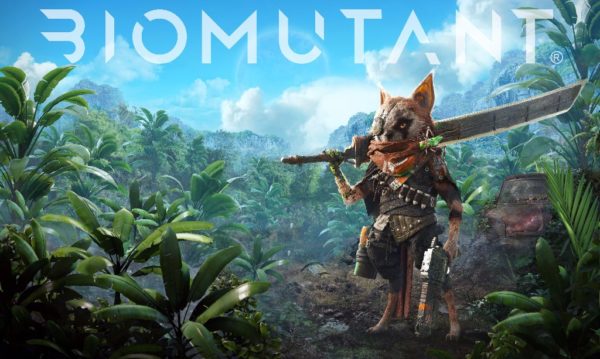 Experiment 101's action-RPG Biomutant, self-styled as a "post-apocalyptic kung-fu fable," has been in development since 2015, the alternately impressive and infuriating result of just 20 employees toiling away for the last six years.
It's tough to deny that the strains of development are felt all throughout the game, which while ambitiously-scaled for its team size is only fitfully enjoyable per its aggressively dated gameplay and over-familiar genre throughline.
The setup is simple – in the lush land called the New World, the lives of the mutated creatures who reside there are threatened by poisonous oil rising from the ground, which if unchecked will destroy the ailing Tree of Life. With four so-called World Eater monsters also attacking the tree, it falls to the mammalian warrior protagonist to destroy the behemoths and restore balance to the land, all while dealing with six competing tribes who have their own designs on the New World's future.
It goes without saying that there's a strong environmentalist tenor to Biomutant, which while howlingly on-the-nose throughout is at least nobly intended, albeit unfortunately not terribly interesting. But for many players the story will be of considerably lesser import than their ability to bring a highly customisable character to life.
When the game begins, you're presented with a mutation modifier wheel, which you must balance between various warring attributes (vitality, strength, agility, and charm), all of which have their own evident benefits, in addition to picking a warrior class type.
The opening hour-or-so of the game piles systems upon systems on top of the player, beginning with mutation-based powers – biogenetics and psipowers – which can be unlocked by finding Bio-Points and Psi-Poles out in the game world. Elsewhere there's an Aura morality system, where your light/dark story actions will result in NPCs interacting with you differently and also allow you to unlock unique abilities.
By levelling up, players can hone their Wung-Fu attributes for close, ranged, and melee-based combat, while making use of perks, hoovering up gear, and, of course, crafting their own bespoke duds. Though this is all laudably versatile in allowing players to tailor their own preferences free of annoying, pointless restrictions present in so many RPGs, it's unlikely to sway anyone who – like me – finds stat-tracking and gear-hunting the most tediously rote part of most video games which contain it. Mileage will vary considerably here, but it often feels like the developers mistook the sheer muchness of abilities and options on offer for actual substance.
From the moment you're given control and sent off into the world, there's a distinct feeling of PS3-era machinery about Biomutant; the stiff animations, erratic camera, clunky menu system, bizarre lack of a mini-map, and awkward, thrown-together, oft-recycled cutscenes.
Jumping upwards to grab ropes will see you magnetically teleport to them with a few frames of animation seemingly missing, HUD objects can end up caught in the game's many cutscenes, and if you select an objective trigger before the game wants you to, you might even be greeted with a strange "level 0 needed" message. Even doing something as simple as selecting the fast travel option can feel like a chore because map icons are nestled too closely together.
There's virtually nothing here RPG fans won't have seen before; the critical path involves players defeating the four World Eaters, dealing with local tribe discord, and figuring out which of the locals you'll allow to join you on a spaceship known as the Ark. It is undeniably indebted to both The Legend of Zelda and Shadow of the Colossus, though captures only a fraction of their artistry and engineering skill.
The game's missions disappointingly cling hard to generic RPG formula; fetch items from far-flung, drab warehouse-style dungeons, fight a small scattering of enemies, and rinse and repeat. The overabundance of "control the outpost"-type missions, especially later in the game, feels like an especially shameless copy-paste.
Most of Biomutant's missions also involve a puzzle element of some sort, typically where you need to link a series of colour-coded nodes together in order to gain access to a room. These puzzles offer almost no challenge whatsoever and are so blandly trivial that one has to question why they're in the game at all beyond simply bloating the experience out.
Despite the continual introduction of new weapons, mounts, and even vehicles – my favourite being the Mekton mech-suit needed to traverse the ultra-hostile Dead Zone – there's no getting around the unimaginative quest design throughout. This ensures that even by the end of the game's shockingly short story mode – running around 8-10 hours depending on how often you use fast travel – I didn't have much desire to persevere with the many side missions on offer. Those that I dabbled in were largely just more of the same; fetch quests and repetitive combat scenarios.
There are elements of choice inherent in the game – namely how you deal with the opposed tribes and who you agree to give a seat on the Ark – but considering that it doesn't really nail down much fundamental interest with regard to its story or characters, it's tough to imagine many willingly testing out the permutations for a second go-around.
Even the four marquee boss fights offer only periodic relief from the formula; though heightened, these excursions rely on typical boss battle cliches. The peculiar simplicity of felling each beast severely hampers any and all sense of stakes or tension. It doesn't really incentivise players to work much on their build given that almost every fight in the game can be listlessly button-bashed through once you've mastered the parry and dodge abilities.
I played through the story on Medium difficulty – the other possibilities being Easy and Hard – and between the predictable enemy A.I., the sheer wealth of combat options available, and the ability to easily flee from even the biggest enemy, there was very little resistance to deal with whatsoever.
On one hand it's nice to play an RPG that doesn't force players to slog through hours of grinding, but the sense of threat in the world is also sorely lacking; the toughest thing the game has to offer are a few mildly bullet sponge-y bosses later on. Across my play-through I can count the number of times I was killed by an enemy on one hand, so for anyone seeking a challenging RPG experience it's safe to say that Biomutant isn't it.
The combat itself is at least one of the game's stronger assets. It's shamelessly aping the dodge-and-counter-heavy nature of the Batman: Arkham series – as so many action games do nowadays – and while there's little punishment for even the sloppiest of players, close-quarters combat is often breezily fun.
There are myriad "quirks" to endure, though; fight an enemy on even a faint incline and you may find your hits struggling to register, and getting more than a few meters away from a mob may cause their health to fully replenish. Combat also includes periodic comic book-style pop-up words which may irritate some, though these can at least be disabled in the options menu.
The game's strongest suit is undeniably its art direction and general aesthetics; the New World is presented in brightly saturated primary colours for the most part and pops agreeably off the screen. Creature designs are also a high-point, varied enough in their frank weirdness to slightly offset the game's generally by-the-book nature. It's not going to melt anyone's graphics card, but the game is certainly nice to look at on higher-fidelity settings, even if not all textures are created equal.
Despite how teeming Biomutant is with curious flora and fauna, however, it's a shame there's not more diversity to the New World – the topography is relatively familiar throughout bar a few delineated hazard zones that present distinct dangers to players, such as fire or low-oxygen (yet which can be easily run through before losing any health).
In addition to its fittingly earnest, twee musical score, Biomutant is narrated by a disembodied voice throughout, which while retaining an endearing storybook quality is also likely to divide. It doesn't help that by default the game forces you to sit through (or skip) both the un-translated otherworldly language (called "gibberish" in the game menu) and the English-language translation afterwards. Were it not for the fact that the game allows you to reduce the amount of gibberish in the options menu, it'd be easy to assume this was a desperate attempt to the pad the game's already brief length.
It doesn't help that the dialogue itself is mostly of the witless variety, lacking almost any sense of charm no matter how appealing the game's furry creatures might be. As a result, characters often feel more like expository mouthpieces for a variety of subjects close to the writers' heart – prejudice, global warming, the necessity for renewable energy – rather than actual distinct beings.
Biomutant is a quintessential jack-of-all-trades game, wanting to offer a slice of everything you'd expect to see in an action-RPG developed by a much larger team with a far bigger budget. The trade-off is that those systems and mechanics are absurdly simplistic and detail-lacking here, such that for anyone craving a deep, rich excursion, this will seem staggeringly superficial. All in all, it's lightweight to a fault.
In fact, it struck me while playing how much better-suited the game would be for younger players as an introduction to the RPG genre – the hallmarks are all there, albeit in puddle-deep form, while offering an extremely gentle difficulty curve. Whether played by young or old, though, this isn't a game that lends itself to extended play; the aching repetition on offer means it's far more agreeable as a chunked-up romp of, say, 30 or 60-minute sessions.
Even with the main story campaign running so short, Biomutant still feels padded out with rehashed missions as if to suggest the developers invested most of their time in creating the sprawling world, yet not enough to populate it with elements of sustained interest. Though the ending teases a vaguely intriguing setup for a potential sequel, it remains to be seen if such a wildly uneven game can muster the necessary groundswell of support to make it a reality.
Despite its appealing open-world and charmingly oddball characters, Biomutant's jank-heavy gameplay, short length, and over-familiar grab-bag of RPG tropes make for a frustratingly lukewarm experience.
Pros:
+ Gorgeous, expansive open world.
+ Compellingly weird character designs.
+ Enjoyable close-range combat.
+ Sweeping musical score.
+ Simple mechanics might be a good fit for younger players.
Cons:
– Dull, heavy-handed story.
– Janky, dated gameplay.
– Generic, repetitive missions.
– Campaign feels padded at even 8-10 hours.
– Low difficulty may bore some players.
Rating: 6/10
Reviewed on PC (also available for PlayStation 4 and Xbox One, with PlayStation 5 and Xbox Series X/S releases planned later this year).
A review code was provided by the publisher.
Shaun Munro – Follow me on Twitter for more video game rambling, or e-mail me here.