Jockey, 2021.
Co-written and directed by Clint Bentley.
Starring Clifton Collins Jr., Molly Parker, and Moisés Arias.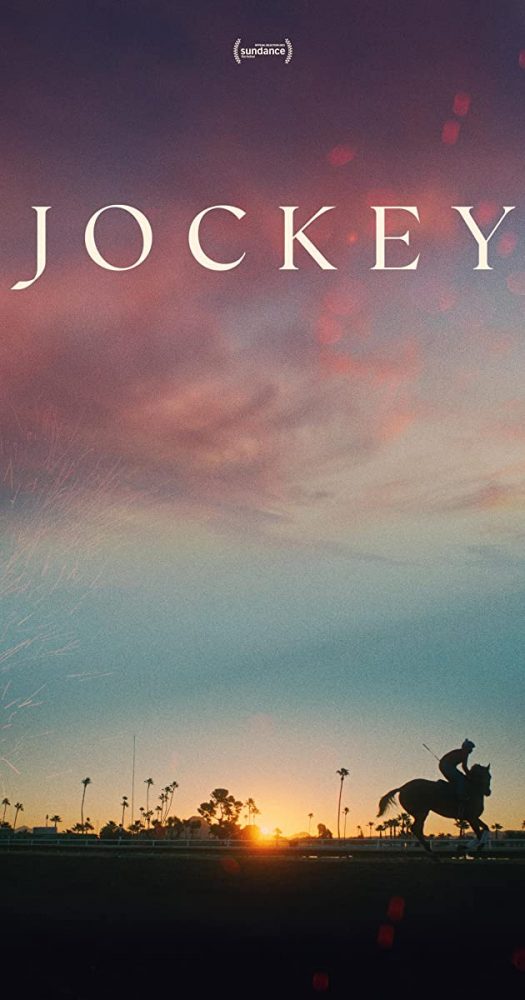 SYNOPSIS:
An aging jockey is determined to win one last championship, but his dream is complicated when a young rookie shows up claiming to be his son.
Clint Bentley has entered the world of feature films with a powerhouse in the form of Jockey. Making its way through the film festival circuit, this film is precisely the type you'd expect to see, and hell, it even feels familiar to others in the same vein. But what makes Jockey stand against its awards season peers and other films like this is its central performance by Clifton Collins Jr.
Performed by any other actor, this would've been a simple paint by number story we've seen before; aging and weathered artists face something that shakes them at the end of their careers. It's The Wrestler, and it's The Rider. But none of those films had Clifton Collins Jr. just giving his all. No disrespect to any of the actors in those films, but seeing a long-time under-appreciated character actor get his time to shine brings this film up a few notches.
Though, Jockey does stand on its own two feet as a solid piece. The production quality is extremely high, with the film feeling more expensive than I'm sure it was. The visuals are stunning, with so many shots set up so perfectly that I wanted to applaud the cinematographer for their efforts throughout. The score is also breathtaking, with the last arrangement packing a gut-punch. But none of that wouldn't work if it wasn't for Jockey's impeccable acting and directing.
Jockey sees Clifton Collins Jr as Jackson, a middle-aged horse rider trying to adjust to his position in the industry now. His body isn't what it once was; the other riders are gearing younger, and he knows near the end. He's gearing for an upcoming championship with his trainer Ruth (Molly Parker), and then his life is even more shifted when another rider comes claiming to be his son. Gabriel's character feels just as lost as Jackson's but at a very different point. Where Jackson is trying to find his spot after the competitions, Gabriel is still discovering himself in that world, and his confused parentage isn't helping.
All of these pieces come together so well, with director Clint Bentley weaving a story well, even if it gets predictable. Balancing his straight-forward with more underrated elements will likely put him on the radar of many studios and producers. This is the directing that leads to a long career of award-winning films and acting performances.
Clifton Collins Jr. does a lot of the heavy lifting in this relatively simple story, but it's a pleasant surprise to see them go the simple route. When you have a substantial actor in your leading role, muddling up the story with extra bells and whistles is a disservice to him. Down to the last frame of the film, Collins Jr. plays Jackson with such love and respect that I felt like he was a real person.
The acting isn't just strong from Collins Jr., though; there's another performance that I'd like to see get its awards run. Moisés Arias offers such a quiet and nuanced performance. It could be because this writer is closer to Arias's age and character, but I found him to be the most heartbreaking. The script, co-written by Bentley and Greg Kwedar, balances out the characters to make sure we feel for each; the work and time on Arias' Gabriel needed a special shoutout.
When looking at the film as a whole, the acting isn't the only aspect of the film that needs some awards season attention. Cinematography seems to be a key component to what makes Jockey so powerful. The camera not only captures some of the most beautiful landscape shots I've seen in quite some time but brings that beauty to every scene.
A conversation between two people is elevated with the sleek handheld camera work and the power shots. Simple leading room in the first real conversation between Jackson and Gabriel tells the story just as much as the words being spoken. 
Camera work like this makes it certain that director Clint Bentley and DP Adolpho Veloso know exactly what they're doing. Much like this is a career-making turn for Bentley, Veloso will obviously do well since this is a perfect encapsulation of what he can do. Given these two more money, more compelling settings, and we could see future stars. The type of work is what got Terrance Malik and Chloe Zhao all their awards love; it will certainly work for these two. 
Altogether, from top to bottom, Jockey is the type of film you want to see at film festivals. The impressive acting, stellar technical abilities, and powerhouse story that touches the heart. 
You may feel like you've seen stories like Jockey before, but you've never seen it with this cast and crew before. Jockey is a must-see heartbreaking and emotional story that will likely touch many souls along the way.
Flickering Myth Rating – Film: ★ ★ ★ ★ / Movie: ★ ★ ★ ★
EJ Moreno