Tom Jolliffe offers up a perfect triple bill for fans of this years most talked about series, Squid Game…
Have you seen it? You must have seen it by now. Netflix's latest worldwide phenomenon, surprisingly, is Squid Game. I say surprisingly, because though Korean cinema and dramas have proven very popular with Western audiences (and Netflix has been a good platform), it's not often resulted in a particular film/show becoming the water cooler topic across the viewing world. As it is, Squid Game has amassed impressive viewing figures and fervent online discussion since bursting onto the scene. Hwang Dong-hyuk's death game sub-genre creation has certainly drawn a number of comparisons to films like The Hunger Games but it has become compulsive viewing (I know because I'm halfway through and enthralled).
So, if you're into dystopian and extreme films of human death games, mysteriously nefarious overseers, you may find a hankering to watch some after you've finished Squid Game. So to fill that void, here are three great films to watch if you loved Squid Game:
Cube
Recently given the remake treatment in Japan, Vincenzo Natali's Cube was an underground revelation when it arrived in 1997. Shot on a meagre budget, this minimalist Sci-fi masterpiece was filled with impressive visual effects and brilliantly effective use of a single set (often re-coloured to look like the actors with moving through a seemingly endless collection of interchanging cube rooms). So is Cube a death game film? Natali retains plenty of enigma and remains deliberately vague over who is behind this construct where a handful of strangers wake (with no memory of how they got there), thrust immediately into a battle to survive.
The group, who all appear to have very little connection, furtively join forces to attempt to navigate themselves through a giant cube (that shifts around not unlike a Rubix cube). Government? Aliens? A megalomaniacal villain with a lustful desire to see humans tortured within this deadly maze (filled with booby traps)?  We don't know, but as they attempt to make sense of the room numberings and shifting construct, the increasing hunger and thirst, and confined setting inevitably fractures some already broken minds. On top of the intensity, Natali's film also has a wry layer of humour and a macabrely whimsical approach to killing off some of the characters.
Big things were expected in the wake of this from Natali, who never quite found the level up in the movie world. He's subsequently had a successful shift into TV as a director for shows like Hannibal and The Stand. His sophomore film effort, Cypher also remains a very underrated Hitchcockian/Phil K. Dick-esque Sci-Fi film. Natali certainly delivers a pleasing package in Cube that ekes out plenty of enjoyment from its premise and confined setting. An engaging cast, headed by David Hewlett (who became a regular Natali collaborator) keep us engaged in this lithe and well paced thriller. Cube still works brilliantly. Aside from the upcoming Japanese remake, this spawned two pretty solid (if repititious) straight to video sequels. The enigma, mystery and imaginative death sequences, in what is a giant cube puzzle game, should certainly appeal to Squid Game lovers.
The Running Man
Based on a Stephen King story (though not entirely in keeping), The Running Man is a peak era Schwarzenegger cult classic. It should be said that Schwarzenegger might lack critical love as an 'actor' but his peak era CV is up there with anyone in genre cinema. With such classic and cult-classic films as Terminator (And 2), Conan The Barbarian, Commando, Total Recall and Predator stacking up from 1982-1991, the fact this ranks as one of his weaker efforts, is testament to Ahnuld's early standards. Prisoners are used for a TV game show where the 'contestants' are pitted in a survival battle against deadly Gladiators. Using only their wiles in a rigged game, there's no 'winning' either as the nefarious execs having been murdering any previous winners.
Arnold is Ben Richards, who gets framed for a brutal massacre. Determined to clear his name he goes on the run but is inevitably captured, then thrown into the game. With some help from a rebel faction (fighting against totalitarian rule), Richards needs to find the evidence of his framing and bring to light just how far the corporation has been going to keep the viewing public docile (by gifting them the gladiatorial blood-letting).
Though this is a pure Schwarzenegger vehicle, littered with his trademark one liners, the film still carries some interesting and wry dystopian ideas. The whole commentary on increasingly extreme, de-humanizing reality TV shows seems to ring through but it also foreshadows deep fake technology and the current state of fake news. A commentary on corporate mentality, media manipulation and consumerist placation, The Running Man is underpinned with more intelligence than the cheesy action vehicle at the forefront suggests. Still, it's rightly considered a cult favourite to this day.
Battle Royale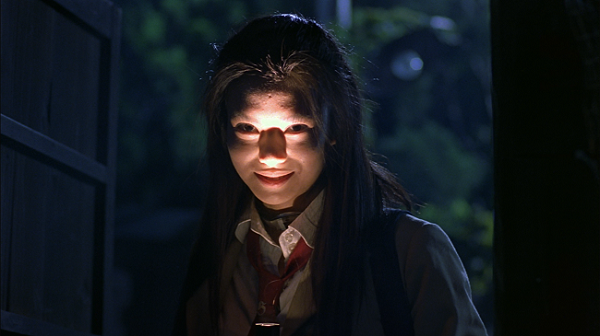 This is probably the most referenced film in relation to Squid Game comparisons. Kinji Fukasaku pulls the pin and tosses a grenade of frenetic mania onto screen. The film stars legendary comedian and game show host, Beat Takashi as a teacher who sends in a group of students, who are unaware of just where this field trip will take them. Takashi's association with the crazy, Takeshi's Castle game show (oft dubbed, 'near impossible' to win) is certainly wry, whilst this dystopian depiction of population control, targeting an increasingly apathetic, uncontrollable youth generation in Japan winks at a decline in traditionalism.
Once the game begins we of course see a split between the more unruly and psychologically unbalanced (bad) kids having an initial advantage whilst fragile truces are formed along the way in a game where ultimately, only one person can survive. Fukasaku's film is brimming with wild, persistent energy. The conceit is simple but it beautifully balances the visceral thrills and extreme violence with some emotional moments too (that kind of balance is certainly more than evident in Squid Game for example). Like some of the best of Asian extreme cinema, this has a devilish humour beneath the violent thrills.
The youthful cast are all engaging and game for the intensity of the violence and situations inflicted on these characters. Kill Bill fans will undoubtedly recognise Chiaki Kuriyama who appeared in Tarantino's first instalment of his martial arts inspired double (as Gogo). Battle Royale is still dynamic, fresh and fierce, and for its type (in cinema at least) hasn't been bettered.
What are your thoughts on Squid Game? Any other similar films or shows you enjoy? Let us know your thoughts on our social channels @flickeringmyth.
Tom Jolliffe is an award winning screenwriter and passionate cinephile. He has a number of films out on DVD/VOD around the world and several releases due out in 2021/2022, including, Renegades (Lee Majors, Danny Trejo, Michael Pare, Tiny Lister, Nick Moran, Patsy Kensit, Ian Ogilvy and Billy Murray), Crackdown, When Darkness Falls and War of The Worlds: The Attack (Vincent Regan). Find more info at the best personal site you'll ever see here.