Neptune Frost, 2021.
Directed by Saul Williams and Anisia Uzeyman.
Starring Cheryl Isheja, Elvis Ngabo "Bobo," Bertrand Ninteretse "Kaya Free," Eliane Umuhire, Rebecca Muciyo, and Trésor Niyongabo.
SYNOPSIS:
An intersex African hacker, a coltan miner, and the virtual marvel born as a result of their union.
One of the most materially bizarre films made in this year or really any other, Neptune Frost is a sci-fi musical from the minds of slam poet Saul Williams and actress-playwright Anisia Uzeyman. A testament to the ability for unique ideas to triumph over limited budgets, this Rwandan-shot audio-visual fever dream may be as messy as it is impassioned, but it's tough not to respect the ambition and audacity on display.
Where to even begin? The film takes place in the fallout of a resource war, where African Matalusa (Bertrand Ninteretse) works as a miner of coltan – the mineral ubiquitous in the production of modern computers, and without which our technocentric society simply couldn't exist.
Mata's life changes forever following two incidents; the murder of his brother Tekno by a superior officer, and meeting intersex hacker Neptune (played by both Elvis Ngabo and Cheryl Isheja as their sex morphs throughout the film). Mata forms a romantic entanglement with Neptune, and together they join a band of rebel hackers who seek to push back against those who oppress them.
Neptune Frost is a difficult film to categorise because it's so fundamentally different from anything you've likely seen before. It's Alice in Wonderland for an age defined by technology, and in that stead not entirely unlike The Matrix, but with music and righteously angry commentary on contemporary global inequality.
From the film's opening moments, Williams and Uzeyman train their sights on myriad targets, and spend the next 105 minutes spraying wildly at them. The recipients of the pair's disdain include but are certainly not limited to: capitalism, the Church, corrupt politicians, the police, Internet censorship, gentrification, Big Data, and white people.
This isn't a film that wants much for subtlety, loudly shouting "Fuck Mr. Google" at one point, presenting its villains as pink-shirted officers of the nebulous body known as "The Authority," and lacing both dialogue and lyrics with chest-thumping takedowns of the institutions which prop up inequality, prejudice, and violence against Black people.
Yet beyond its exploration of the systems which deny Black prosperity is a wider pushback against the straight, white hegemony which not only commodifies Black blood and sweat to keep the world spinning, but seeks to oppress expression outside of the norm. There's a clever poignance to those who have broken their backs building the infrastructure of the Internet having their own vehicle with which to scream back – exceedingly odd though its presentation undeniably is.
It'd be interesting to see what Neptune Frost's script looks like in pure written form, because expressed here it's both highly creative and maddeningly opaque. This is a film that trades on knowingly insane dialogue like "the Motherboard is bleeding," and hilarious African proverbs such as "One who swallows a whole coconut trusts his anus." At one point a character even says, "Maybe you're asking yourself what the fuck this is?" Indeed.
Characters greet each other with the phrase "Unanimous goldmine," said to be the greeting of choice for the resource-rich, and though audiences may be left understandably confused by much of the spoken word, there's enough clarity in the wider world-building to make the intent clear. Failing that, Williams and Uzeyman use the film's many musical numbers to hammer their broader points home in more elevated fashion.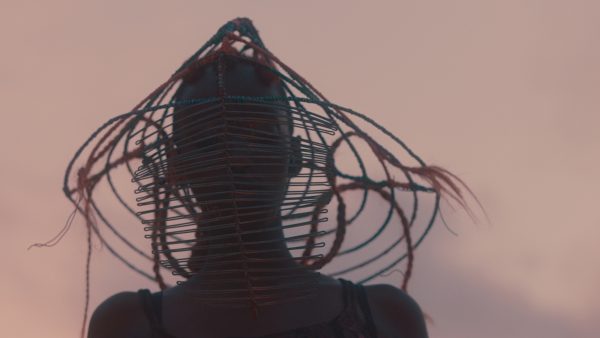 Though there's little hiding the film's low budget, this is a sumptuous meal of a movie to absorb regardless. Co-director Uzeyman lenses the project herself with sure skill, though it's ultimately the slung-together, DIY aesthetic that most makes Neptune Frost stand out. Characters use computer components for purposes both decorative and protective – Mata's keyboard jacket is legitimately Oscar-worthy costume design – alongside wild makeup work and the occasional interjection of low-fi computer-generated graphics.
It somehow all adds up to a consistent – or at least consistently inconsistent? – aesthetic, working in tantalising union with the film's songs. From intense, drum-backed call-and-response protest belters to entrancing electronic-scored musical screeds, these set-pieces double-underline the thematics of the story and serve as lively breaks between the movie's more abstruse elements.
You certainly needn't feel shame for failing to understand everything going on in this madcap journey, especially given some of the more glacial passages where you might be left waiting for a song. But on the balance of assessment, this is an impressive achievement albeit one that's categorically "not for everyone." In the very least, it'll hopefully make you consider your probably-privileged place in the world, while watching the film on your TV and writing about it on your PC or phone.
An hypnotic slice of Afrofuturist poetry, Neptune Frost boldly challenges cinematic form even as its obscurity threatens to overwhelm.
Flickering Myth Rating – Film: ★ ★ ★ / Movie: ★ ★ ★
Shaun Munro – Follow me on Twitter for more film rambling.