The Painted Bird, 2020.
Written and Directed by Václav Marhoul.
Starring Petr Kotlar, Nina Šunevič, Ala Sakalova, Udo Kier, Michaela Doležalová, Stellan Skarsgård, Harvey Keitel, Julian Sands, Júlia Vidrnáková, Lech Dyblik, Aleksei Kravchenko, Barry Pepper, Petr Vaněk, Radim Fiala, and Jitka Čvančarová.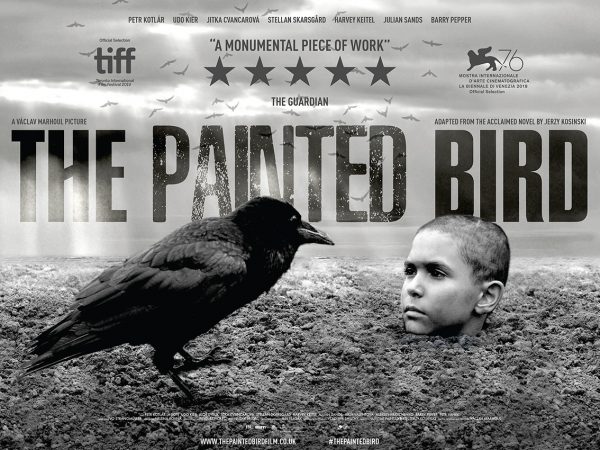 SYNOPSIS:
A young Jewish boy somewhere in Eastern Europe seeks refuge during World War II where he encounters many different characters.
For reasons I won't get too far into, the silent Eastern European young boy at the center of The Painted Bird comes across a man lying up against a tree with his eyeballs ripped out. The unnamed child (nameless until the ending, anyway), who has seen more than enough abuse and depravity for a lifetime already by this point, calmly places the eyeballs into the man's hands, unsure of what else to really do, and who can blame him. Visually striking in its horror as the scene may be, it elicits two strong reactions; the child himself might as well be blind considering it's unfathomable how he can even function and think clearly (let alone see with clarity given the bleakness and pain surrounding his life), and even at only 45 minutes with two more hours to go, the viewer has probably seen enough to wish they too had no more vision. Anything to make the graphically harrowing display of Holocaust survivor hell stop, even if there assuredly is artistic merit to be found.
Directed by Václav Marhoul (adapting the celebrated but controversial novel from Jerzy Kosinski,) The Painted Bird admittedly steeps itself a little too far into misery, and this is coming from a self-professed connoisseur of sadistic cinema, or simply depressing storytelling in general. With that said, there might be one or two rape scenes too many, an unnecessary sequence of child abuse here and there, and a few unnecessary characters that don't add anything to the narrative other than the recurring theme that pretty much every single person this child encounters on his mentally and physically exhausting journey home is a horrible human being in some way, whether it be morally, violently, or sexually. Suffering is not limited to humans as well; plenty of animals are brutally murdered.
However, literally all of it can be justified if there is truthfulness to the material. Unfortunately, The Painted Bird has long been caught up in not only accusations of plagiarism towards its author, but the realization that the book is actually not autobiographical despite being initially passed off as such. Now, a movie is a movie, and ultimately I have to grade only what I see on screen, but such murkiness is not only tough to shake from the mind, it also adds to the argument that could be made against The Painted Bird serving as hollow misery porn. There's consistently this feeling that the film is going too far, albeit necessary depending on historical context.
And while I have no doubts such horrific stuff did occur under Nazi Germany rule, it's more about how The Painted Bird piles on the trauma to an overwhelming degree. For example, the young child is raped by at least two characters. No taboo is left unturned, including pedophilia, savage full-on rape, bestiality, and God knows what else I'm forgetting. The film's greatest trick is that the viewer doesn't become desensitized to all of it, as it is skillfully crafted with beautiful black and white photography, sharp cinematography, and enough restraint to never sensationalize the horror on screen. It's never presented as a means to emotionally manipulate the viewer or shock; if anything it's depicted with stark authenticity that requires an iron stomach to sit through. One particular sequence that comes to mind involves Jews attempting to escape a train, with the casualties going far beyond adults.
The Painted Bird is episodic torture clocking in at a daunting 169-minute running time, yet it would be false to say it's ever boring or uninteresting. There is more than enough grace behind the camera to give the uncountable tragic events a sense of poetic delivery, whereas young Petr Kotlár gives an unforgettable wordless performance conveying everything from pain to resilience of the human spirit. Notable actors such as Udo Kier, Harvey Keitel, and Barry Pepper also pop in bringing some more well-respected talent to the table. Reality or fiction, The Painted Bird is traumatizing, devastating, and eye-opening in its unflinchingly dark portrayal of unpleasant history.
Flickering Myth Rating – Film: ★ ★ ★ ★ / Movie: ★ ★ ★
Robert Kojder is a member of the Chicago Film Critics Association and the Flickering Myth Reviews Editor. Check here for new reviews, friend me on Facebook, follow my Twitter or Letterboxd, check out my personal non-Flickering Myth affiliated Patreon, or email me at MetalGearSolid719@gmail.com