Tom Jolliffe looks at the perpetually delayed reboot of The Crow and why it's both cursed and unnecessary…
The uninspired Hollywood reboot. It's not a new phenomenon, but certainly in the last 15 years, there have been innumerable examples of cinematic reboots. It's not always the case that the primo IPs, which bring with them a mainstream audience, are the ones being remade either. Plenty of cult films, even once box office flops, have been rebooted, or targeted for such. Of the ones which do make it, the level below Batman, Spider-Man etc., the result is usually the same; uninspiring box office, indifferent (at best) reviews from both critics and fans, and a general sense that the whole exercise was a gigantic waste of time.
What do the original Total Recall, RoboCop, The Hitcher, Highlander, The Crow, Hellboy, Conan the Barbarian, Fright Night and Point Break all have in common? The original films were very distinct works. They were unique, with genuine flair and a strong directors vision. In some cases the films were inherently flawed, but such was the creativity displayed in them, these were overlooked.
Mark Kermode once chimed quite effectively that a film (particularly genre film) should make you say "wow" and not "why?" Be it convoluted plotting, or illogical moments, these can be overlooked if you're too busy being dazzled. An even better example comes down to the best exponents of time travel cinema. In its very nature, the notion of time travel is inherently prone to paradoxes. The more you stop to think about a film's time travel schematics, the more said film could end up derailing. You don't overthink the ins and outs, and potential logic bombs in The Terminator or Back to the Future, because you're too busy saying "wow." If the film isn't quite as effective at gripping you, that's when the viewer suddenly becomes a wannabe Stephen Hawking and begins picking apart the material.
Most of those aforementioned works of brilliance have also had reboots made. In every case the result paled in comparison to the original. They often felt painfully conventional and churned out with a production line aesthetic. In most cases too, the audiences weren't exactly flocking to the big screen and the majority bombed. For one there is a very clear issue. The original films have such a clear directorial style. Often too, be it Paul Verhoeven doing RoboCop/Total Recall, or Russell Mulcahy doing Highlander, the cohesion between auteur and idea are perfect, and for the most part, despite some producer push back on a few these projects, by the finish, they had got their way (for the most part). Verhoeven's distinctly Verhoeven films are visually dazzling, wry and macabrely comical. The remakes were dreadfully conventional in every facet, not least uninspired visuals.
In an age where Disney have hired and fired many a distinct director to ensure their films remained production line, it's likely true that the remit for most reboots is to conform to stylistic norms and the distributors idea of market expectation. To hell with individuality. Again, even getting in a director with real flair, still peaking in their powers, doesn't guarantee success. It's time we got to the subject at hand though… The Crow. How does anyone improve on Alex Proyas' vision, which brilliantly (and faithfully) brought to life James O'Barr's iconic cult graphic novel? The answer is simple: You can't. This major obstacle in itself could be part of why the film seems perpetually doomed to fall at the development hurdle.
The source material has already been matched perfectly with a director. It's also been matched about as perfectly as one could get, with its Eric Draven. Brandon Lee was pitch perfect in the role, playing a vengeful rocker, back from the dead to put his revenge affairs in order. Lee had charm, pathos, comic timing, intensity and unmatchable physicality. He contorted like a graphic novel sketch, framed by Proyas' almost monochromatic visuals. The grim truth too, is that Lee will now forever be synonymous with Draven following the unfortunate accident which claimed his life on set. He is immortalised by the fact he played a spirit resurrected from the dead, where Draven effectively has an air of immortality whilst he's unable to find peace. Lee in unison, is also eternal as Draven. He was an actor on the cusp of greatness, and with The Crow, would have been launched to the big time. He was also, as far as potential action heroes go, the perfect blend of looks, physicality, likeability, charisma and the all important element often evading some of his contemporaries…real acting ability.
SEE ALSO: The tragic story behind the death of Brandon Lee on the set of The Crow
The film is impossible to remake. What do you do with it? You can go one of two ways: You can follow in the tone and style of Proyas, making a pitch dark, but darkly comedic film, resting on a gothic and grimy visual palette. This way will not fly though, because by repeating what Proyas did, minus that creative verve required to counter a tight budget in an era before CGI where you didn't have the option just to figure things out in the CGI room, will ultimately result in a pale imitation. The flipside is to do something vastly different, but such is the source material, and the fact that Proyas has already perfected the big screen adaptation, that this also won't work. Additionally, there's also a sense that through the 15-20 years of perpetual rumours and false starts and innumerable actors lined up as Draven (including Jason Mamoa, Ryan Gosling, Alexander Skarsgard, Tom Hiddleston, James McAvoy and many, many more), and countless directors, that there's never been a cohesion between these visions and the producers. Ultimately the latter want a product first and foremost and will play safe before they resort to daring.
SEE ALSO: The Crow test footage shows Jason Momoa as Eric Draven in aborted reboot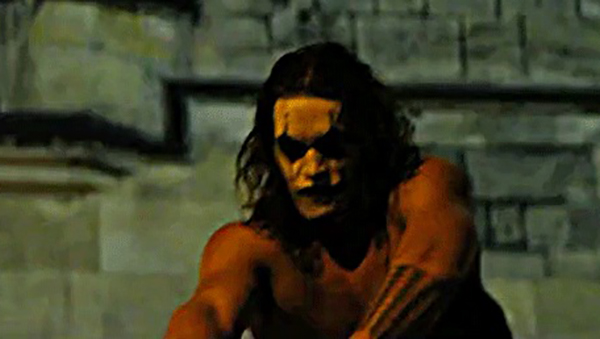 Maybe less so than perhaps Disney, who always plays it very safe, The Crow is also likely to be shot on a significant budget. The sensibility of the original, slightly rough and ready in nature, imbued with a flamboyant approach to creative problem solving, comes with working on lower budgets. Was it a surprise as such that The Crow and Dark City were far more visually engaging than Proyas' first tent pole studio flick, I, Robot (which though a finer example, still looks indistinguishable from the 00's blockbuster production line aesthetic) . The safety net of big bucks not only has the ability to breed lethargy, but additionally brings with it the kind of corporate pressure which can stifle. Ask Neil Marshall on his experiences working on his dire Hellboy reboot. A bad director can't make something as fantastic as The Descent that's for sure.
SEE ALSO: What Happened To Alex Proyas?
On the surface, latest Draven casting, Bill Skarsgard is a good choice. He's different enough to Lee, but talented enough to do something interesting with the role that's his own,hilst the choice of director feels slightly as if it's leaning toward the "well he's done big studio films, let's get him" mentality. From Snow White and The Huntsman, to the much maligned Ghost in The Shell, Rupert Sanders' track record isn't the best, but you'd wager he wasn't given too much license to get his stamp on those projects. Still, perhaps more effective ways to reboot the material would be to take it into series and lock it in with one of the streamers. Where The Crow: Stairway to Heaven (starring Mark Dacascos) didn't quite kick off the source material as a popular series in the late 90's, in todays standards and tastes, a Crow series certainly could work (and then becomes suitably different).
With a series, you allow yourself time and breathing space to draw in an audience. If it fails and doesn't get that second season, well it's probably not going to sting like the inevitable box office failure that would come from making a major tentpole picture. The big screen audience isn't really there, salivating in baited breath for a Crow movie. A series though, could work. Alternatively you could make it as a VOD premiere for less money, but give Sanders the freedom to let loose. It effectively makes it a straight to video sequel, but in the right circumstances, with the right director this can create interesting results (John Hyams' two Universal Soldier sequels for example were great reinventions of an established IP, changing the style and tone across both).
As far as seeing Eric Draven on the big screen? Well I have an even better idea than a reboot. They should rerelease the original film on the 30th anniversary of Lee's death next year. Give the timeless classic another bite at the box office and give it a substantial release. New audiences will undoubtedly take to a film that is pulsating, breakneck paced and creative. It's dated very well, with a lead oozing star power, colourful supporting characters and a nostalgically grungy soundtrack in a time where modern films are loaded with nostalgia (see the grungy soundtrack in the latest Batman film for example). Additionally, modern blockbuster cinema is incredibly sparse with genuinely engaging villains. Modern villains seem to be painfully dull for the most part, particularly in the MCU. It's been arguably one of their biggest failings with only a few exceptions (Tony Leung and Michael Keaton to name two). Modern audiences can watch some proper scenery chewing villainy in action with the great Michael Wincott strutting his stuff, ably abetted by David Patrick Kelly, Tony Todd and Bai Ling. So show it in 4K, let the modern audiences enjoy a film that's comfortably under two hours and doesn't outstay its welcome because the truth is, The Crow is still one of the best comic book films ever made.
Tom Jolliffe is an award winning screenwriter and passionate cinephile. He has a number of films out on DVD/VOD around the world and several releases due out in 2022, including, Renegades (Lee Majors, Danny Trejo, Michael Pare, Tiny Lister, Nick Moran, Patsy Kensit, Ian Ogilvy and Billy Murray), Crackdown, When Darkness Falls and War of The Worlds: The Attack (Vincent Regan). Find more info at the best personal site you'll ever see here.