The Muppets, 2011.
Directed by James Bobin.
Starring Jason Segel, Amy Adams, Chris Cooper and Rashida Jones.Featuring the voice talents of Steve Whitmire, Eric Jacobson, Dave Goelz, Peter Linz, David Rudman, Bill Barretta, Matt Vogel and Tyler Bunch.
SYNOPSIS:
After going their separate ways, the Muppets reunite to save their old theatre from an evil oil tycoon.
They're back. After 12 years of cinematic and television silence (aside from two made for TV movies), the Muppets have returned to the big screen with the help of Jason Segel and Nicholas Stoller.
Before we go on, I should say that I am a huge fan of The Muppets (and when I say 'huge fan', I don't just mean that I watch The Muppets Christmas Carol every December). So when the announcement of a brand new Muppets movie was going into production with Jason Segel behind the wheel, my expectations were high. Those expectations grew when the first parody trailers hit Youtube and then grew to gigantic standards when the first official trailer came out. It looked like it would have everything I could ever ask for from a Muppets movie. Laughs, songs, fart shoes.
All of this is building up to me saying that I am so happy that the film met my incredibly high expectations.
Simply put, the Muppets (the characters) are just pure magic that transcends age and time. Not only does The Muppets (the film) have a great soundtrack coupled with humour that appeals to both kids and adults, its simple charm warms the coldest hearts and brings a smile to your face that won't leave for the next 90 minutes.
It amazes me that Muppet legend Frank Oz has been so negatively vocal about the movie. He (and many other Muppet performers on the movie) felt that it did not reflect Muppet values and it is not within "Henson's vision" with respect for the characters. In fact, some of the Muppet performers even threatened to have their names removed from the movie (the fart shoes gag being a particular point of contention). If you ask me, this film is more in keeping with Muppet values than the last three Muppet movies (Muppets from Space, It's a A Very Merry Muppet Christmas Movie and The Muppets' Wizard of Oz). I'd like to think that Frank really doesn't hate the movie and he was just bitter Disney chose Segal's script over his ("this is a case of Disney wanting to get into the Jason Segel business" he was quoted as saying).
Despite my love for the film, it is not without its faults. Some of the jokes fall a little flat and it suffers from the unfortunate "I've already seen that bit in the trailer" syndrome. There is also a moment during the second act where we are given two musical numbers, both of which did not work for me. The first one felt like it had no place in the movie and the second just didn't work (after reading an interview with Bret McKenzie, it turns out the first of the tracks in question was a studio request rather than a story drive song – which makes sense as to why it doesn't fit). As for the second track, I'm sure the image of Chris Cooper rapping sounded great on paper, but the song (and comedy) just didn't click for me.
But having said that, the film's soundtrack is actually one of its shining stars. As well as some excellent parodies and Muppet classics (Rainbow Connections is just a beautiful track), Flight of the Conchords writer and star Bret McKenzie has done a wonderful job of creating catchy tunes that you'll be humming the second you leave the cinema and for days after (nearly two weeks on, I am still singing 'Man or Muppet').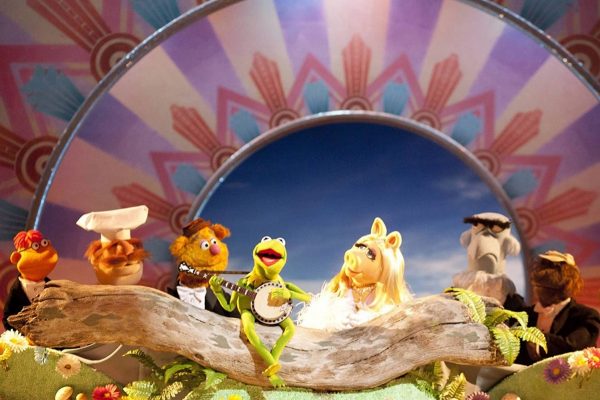 Aside from the two misplaced tracks, my only other problem with the film is that I don't think certain elements were given enough time. Story arc felt rushed and some of them felt either unfinished or anti-climactic. On top of that, a lot of the cameos felt wasted and under-utilised. I won't spoil any of the ones that aren't in the trailer in this review (as a lot of them are great), but I just wish some of them had been used better – in particular the drummer of the Moopets.
But these are just minor problems I had with the film. For me, The Muppets is a funny, heart warming movie that will entertain people of any age. While it may not be the movie of the year (it's not even the best Muppets movie), it's one hell of a fun ride that you should all check out. During those 90 minutes, the 26 year old copywriter from Reading slipped away and the 6 year old Animal lover had an amazing time.
Luke Owen