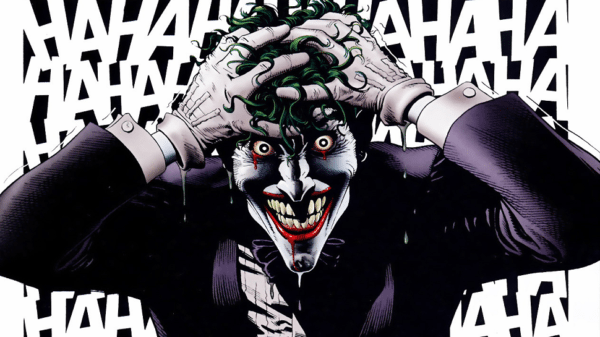 A week ago we were treated to the news that Martin Scorsese is producing a Todd Phillips (The Hangover) directed Joker movie. This movie may not even have the Clown Prince of Crime sparring with Batman either: It will serve as an origin movie for the character. Not only that, but the film will apparently be pretty gritty, if the latest rumor is true.
Bear with me here: Brendan Schaub, a retired MMA fighter, was recently a guest star on The Joe Rogan Experience. On the show, the topic of The Joker origin movie came up. Schaub claimed to have information from Todd Phillips' agent Todd Feldman regarding the film. This is what Schaub had to say: "My boy Todd Feldman put this together with Todd Phillips. It's dark. It's like a dark Joker. As a kid, he had a permanent smile and everyone made fun of him. It's like on the streets of Brooklyn. It's super dark and real."
A bit convoluted, to be sure. However, the "dark" theme this info promises does fall in line with the most popular Joker origin story: The Killing Joke. In the comic, the Joker is a comedian trying to get established, and ends up owing the wrong people a favor. Of course, this all leads to the chemical plant that ultimately creates Mr. J himself.
SEE ALSO: 10 Actors Who Could Play The Joker In the Upcoming Origin Movie
Now, it looks like they will be going quite farther back than that. There is no word if Batman will show up either, and if he does, would it be a new Batman? Maybe most of this takes place prior to the Joker's creation? If so, The Killing Joke would only be useful for the tail-end of the film. It at all. Needless to say, it will be very interesting to see how this project develops.
Who do you want to play the Joker in his origin film? Let us know in the comments below!
… You can find Jordan on Twitter (@JordJJones), and Facebook.