Sean Wilson chats to the composer behind the violent new black ops thriller American Assassin starring Dylan O'Brien and Michael Keaton…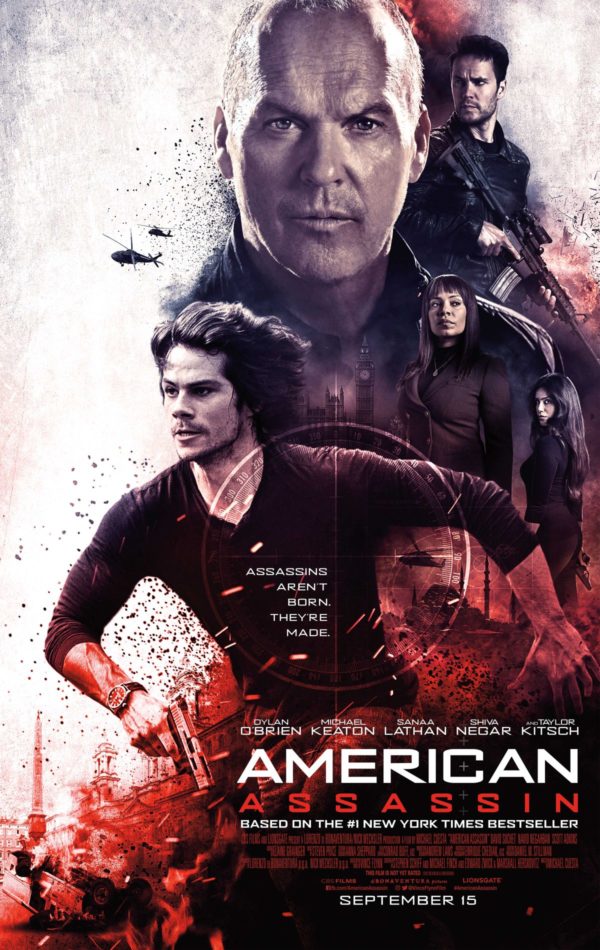 Based on the bestselling novel by Vince Flynn, American Assassin plunges viewers into the murky world of CIA black ops. The Maze Runner's Dylan O'Brien stars as Mitch Rapp, the fledgling government secret weapon sworn to avenge the girlfriend he lost in a brutal terror attack. Meanwhile Spider-Man: Homecoming's Michael Keaton is on enjoyably shady form as Rapp's mentor.
The movie also sees the latest in a series of striking, dynamic scores from British composer Steven Price, responsible for scoring this year's Edgar Wright smash Baby Driver and who won an Oscar for his musical/sound-design mash-up work on Gravity. We caught up with Steven to discuss his career, the secret to a great film score collaboration and how he nailed the tone of the first ever Mitch Rapp movie.
So before we get onto American Assassin itself I just wanted to take it back in a sense and ask, what was the eureka moment that inspired you to become a film composer?
Well, I started playing the guitar when I was five and I grew up being exposed to all sorts of stuff. But I then got a job with Trevor Jones, the composer behind The Last of the Mohicans and other classic movies. I must have been… 22? Something like that. I was just out of college and I simply answered an advert in Music Week Magazine.
At the time I really wanted to write music, yet I wasn't really sure exactly what I wanted to do. And I got this job with Trevor. On the first day he sent me into the studio and told me to work out the equipment, all that sort of stuff. So I did, I sat there with a piano and the film he was currently working on. I started composing stuff to the picture and realising what a massive effect just the most simple note change could have, emotionally speaking, on the scene. This was everything I had ever been interested in, all in one job.
So that really got me excited about the possibility of it and 20 years after that I'm getting to do it for myself. It's incredibly exciting. There are so many bits to film music, so many processes. I've done arrangements for people, programming for people, samples, orchestration. Every bit of it is fascinating to me. It never gets old.
So you progressed from working with Trevor Jones to being a music editor for the likes of Howard Shore. What is the exact nature of the music editor role and how important is that in a film score?
It kind of varies from film to film. The way I used to see it, as a music editor you're the link between directors and composers. There's no reason why a director should have a musical vocabulary. We're there to find a way to get the film everyone wants. You're helping both sides, keeping the wheels rolling. And that would change depending on the job. There were films where there may not have been a composer initially and that was important for me in the early years for getting some writing credits. In other projects I was the actual composer's right hand man during the recording sessions.
Doing that, I spent so much time in cutting rooms with directors and editors. As a composer you're very often in a totally different environment from those guys. So to be able to hear those conversations about this cut and that cut – it was kind of a real filmmaking education for me. You know, they're not simply cutting the film to ruin the music. There are always conversations to be had about the process. At the time I really wanted to compose but just didn't have the opportunity. But this was a great way to get involved in the musical side of things and learning about it.
As I understand it, you've also collaborated with artists like Bono, is that right?
Yeah that was back when I was working in a recording studio. Every now and then you get to meet one of these legends.
Are there any comparisons to be drawn at all between a bestselling pop artist like that and a film composer like Trevor Jones or Howard Shore?
Everyone in the creative realm shares one thing: they don't stop. They really want it to be as good as it can possibly be. Nothing's finished until it's the right time to step away. That applies to every great person I've been lucky enough to see in action. That need to constantly question everything and make improvements all the way along. Very often it's the night before a recording session or during the session itself that you hit upon a decision that elevates a project. Directors, writers, they're all the same. Constant polishing to make it as good as it can be. Leaving the door open to new discoveries.
Talking of key collaborations, we must discuss your partnership with Edgar Wright, which has encompassed Scott Pilgrim, The World's End and Baby Driver this year. When you get a call to work on an Edgar Wright movie, how close is the nature of the collaboration? Because he's such a musically literate director.
He thinks about music from the word go. Funnily enough I was with him last night and we were talking about Baby Driver. I'd first spoken to him about that back in 2007. He had this idea and he was trying to work out how the songs might work and so forth. We went through numerous songs, breaking them down, seeing how certain songs worked around the script he'd written. Every year or two we'd dip back into it and that culminated in me scoring it, doing the stuff that joined the songs together.
I think we recorded it this year or the end of last year. It was pretty much a 10 year project. Obviously during that time we did Scott Pilgrim together and on that I got to work with [record producer] Nigel Godrich, another of those people in whose company you learn a massive amount. That ultimately led to me getting the composer opportunity on Attack the Block. So the collaboration with Edgar has had a huge impact on my life, really.
It's just a pleasure to get the call from him because you know that whatever he's going to do, it's going to be interesting, exciting, he's going to be so prepared for everything in terms of his filmmaking. I'm thrilled that Baby Driver went down as well as it did because everyone involved is so proud that Edgar managed to follow this really hard-to-explain idea through to that conclusion. He knows what he's after, he's planning all the time and we have a lot of back and forth, trying new ideas. It's a very fun process.
On Baby Driver there's obviously a strong presence of songs, as well as score. How much of a challenge is it to interweave your own music around needle-drops and pre-existing numbers?
When it's done well, it's a pleasure. On The World's End for example, all the source music choices in that were character-driven, all drawn from the era that the main character had got stuck in. That then helped me to feed off it in terms of the score. There was a lot of slide guitar stuff in there to bounce off the Primal Scream material and also to reflect Simon Pegg's character Gary King, kind of like an electric version of an acoustic. When the film's good it's a fun opportunity to do these things, to join both songs and score together.
I loved your work on The World's End and watching the movie brought back a few pub crawl memories for me. Was it the same for you?
That's it! I was a little too young for the early 90s era of pub crawls depicted in the film but you got a sense of that time. And it's got some of the best drunk scenes I've ever watched.
Before we get onto your score for American Assassin we must address your score for Gravity, which was released to enormous acclaim and won you an Oscar. What are your memories of working with Alfonso Cuaron on that?

That was a really wonderful, intense period of working really closely with a director. I was on it for a very long time, between nine months and year. and we'd just hammer away at it. The very first thing Alfonso said to me was, "I don't like film music, I don't want film music, I need to find a way to do this that isn't film music."
So that just opened up the doors to everything. We were always talking about the emotions and how the music needed to be with the characters the whole time. And you could be confident that the music was going to be heard in the movie. I'd put a lot of layers in there, that odd little noise that would be lost in an ordinary film would lead to an emotional payoff later on. It was just a really amazing experience and we had no idea the film was going to go down as well as it did. But it was an amazing experience. There were so many moments when you think, we're onto something! You do so many versions of these cues and often you end up circling back to an early one whilst incorporating aspects of your latest discovery. Just a real evolutionary process and a chance to come up with a sound not really heard before.
Well you mentioned there the phrase 'not film music'. Many of your scores like Gravity and Fury, especially, have blurred the lines between sound design and music. How important is it for you as a composer to blur the lines between the sonic and melodic expectations of what film music can be?
I believe that albums, films, whatever, should be their own thing. I really want each individual score to be bonded to that movie. With Fury, we wanted it to sound like what those characters were feeling. It was heavy, grinding, every day was hard, and yet there were moments of beauty, too. The melody itself had a kind of bluntness to it, like it belonged to those people. For me, the fun is making a score feel like it belongs to those characters.
You hear the argument a lot about temp scores being used. It is difficult. They may even use your own music. It may be a nice gesture but you want to find your own unique way through a score.
I've spoken to several film composers this year and they all lament the lack of musical identity in many contemporary movies and soundtracks. So it's fascinating to hear how you bond the music to each individual film.
You don't really want to imagine the music without the film, you know? That's the real challenge. Then you've got all the storytelling challenges on top of that. There's no reason why films need to be purely orchestral or electronic. I like to try to blend these things and discover the connection.
Onto the main attraction then, American Assassin. This is a tale of CIA black ops taken from Vince Flynn's novel. What were the instructions from director Michael Cuesta to you about the direction of the score and where it was going to go?
Well he's all about the psychology of the characters. It's about finding a way to represent the motivations of the main character, Mitch Rapp. The events at the beginning of the film send him in a certain direction and he feels a certain anger. We had to find a way to capture that coiled spring of his personality. Then we play it off against the Michael Keaton character who's the mentor, and also the character of the rogue operative, Ghost. That triangle of motivations sent me on the path of the score, which is quite suspenseful, quite jagged.
In terms of the instrumental makeup, was it important to establish an orchestral/electronic hybrid?
It was something of a hybrid. On this score I used a lot of different groupings, little ensembles of strings and woodwinds, particularly with regards to the motives of the Ghost character in the film. So there was a lot of orchestral stuff in there. It was important for me to find that psychological approach.
There's a globe-trotting angle to the movie as well, this being an international tale of covert espionage. Was that something to latch onto?
Actually something I was keen to avoid were those ethnic touches telling you you're in another country. That's an approach that's been done so well for so long, there's nothing there for me. Rhythmically I tried to give the movie its own distinct sound and voice. I'd record soloists to really inject that sense of drive into the score. It was again more about the psychology of the characters, rather than where they were or what stage of their journey they were at.
I'm assuming this movie is going to be the first in a series. Was there groundwork laid in this score to be reinstated in future instalments?
Certainly, yeah. There are ideas in there that I'd love to develop in future. This is essentially the origin story of Mitch Rapp. Hopefully everything goes well. There's certainly fun places I can take these musical ideas. They're planted now to hopefully develop in the future.
Fantastic. Steven, thanks very much!
Thank you!
American Assassin is out now.
Sean Wilson is a journalist, writer and soundtrack enthusiast, and can be found on Twitter here.