Following the release of the new trailer on Monday, it seems like we can expect the Star Wars: The Last Jedi marketing floodgates to open. Yesterday we got an IMAX poster for the hotly-anticipated second chapter of the Sequel Trilogy, and now we have a look at an IMAX theater display, which seemingly teases a potential turn to the Dark Side for Luke Skywalker…
SEE ALSO: The Flickering Myth Reaction to the Star Wars: The Last Jedi trailer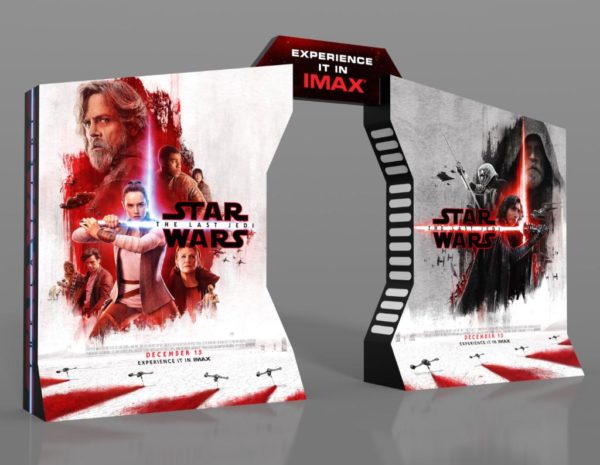 The above image was shared to Twitter with the caption "Light side or the dark", and you will of course notice that Luke is present on both sides, and is looking rather Sith Lord-like on the First Order side, where he's joined by Kylo Ren, Captain Phasma and Snoke's Praetorian Guards.
Rumours and speculation of a turn to the Dark Side for Luke Skywalker have been circulating since before the release of Star Wars: The Force Awakens, and Mark Hamill himself has even teased the possibility and even pitched to George Lucas that Luke should turn in 1983's Return of the Jedi.
The Last Jedi marketing has definitely played up on this (take for example the new poster seen at the top of this article, where half of his face is in shadows, complete with a red glow). But surely the folks at Lucasfilm won't have the galaxy's greatest hero falling to the Dark Side, will they?
Of course, the other alternative is that Luke is no longer light or dark, which would fit in with his comments that it's time for the Jedi to end. What are your thoughts? Is this misdirection? Let us know your thoughts in the comments below…
In Lucasfilm's Star Wars: The Last Jedi, the Skywalker saga continues as the heroes of The Force Awakens join the galactic legends in an epic adventure that unlocks age-old mysteries of the Force and shocking revelations of the past.
Star Wars: The Last Jedi is set for release on December 14th in the UK and December 15th in the States and sees returning cast members Mark Hamill (Luke Skywalker), Carrie Fisher (Leia Organa), Adam Driver (Kylo Ren), Daisy Ridley (Rey), John Boyega (Finn), Oscar Isaac (Poe Dameron), Lupita Nyong'o (Maz Kanata), Domhnall Gleeson (General Hux), Anthony Daniels (C-3PO), Gwendoline Christie (Captain Phasma), Billie Lourd (Lieutenant Connix), Andy Serkis (Supreme Leader Snoke), Peter Mayhew and Joonas Suotamo (Chewbacca), Tim Rose (Admiral Ackbar), Mike Quinn (Nien Nunb), Simon Pegg (Unkar Plutt), and Warwick Davis joined by new additions Jimmy Vee (Pan) as R2-D2, Kelly Marie Tran (Ladies Like Us) as Rose, and Benicio Del Toro (Guardians of the Galaxy) and Laura Dern (Jurassic Park).