The Flickering Myth writing team share their thoughts on the new trailer for Star Wars: The Last Jedi…
Last night (or in the early hours of this morning, for those of us in the UK), Disney and Lucasfilm unleashed the second trailer for December's massively-anticipated Star Wars: The Last Jedi. Despite Rian Johnson's recommendation that fans avoid the trailer, the Flickering Myth writing team – and pretty much everyone else in the world – couldn't resist this latest peek at the galaxy far, far away, and here's what we made of it…
Ben Robins: Loving the focus on the force and Jedi in this one, and getting a very different vibe from it too. Even down to the lighting, everything seems a lot fresher and in some cases, weirdly smaller than Star Wars: The Force Awakens which is very exciting. As expected, pretty much zero plot given away too which is always nice, but plenty of ace moments hinted at. Not exactly the fanboy fist-pumping trailer I expected but totally enough to keep me excited for December for sure!
Eric Bay-Andersen: This is how you do a trailer! A lot shown but little actually revealed, which is how it should be. Epic, moody and exciting – even more looking forward to it than I was before.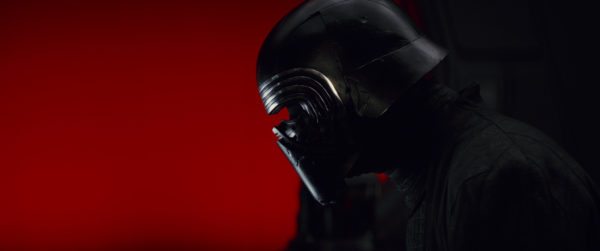 Sean Wilson: Loving the personal focus amidst the spectacle and action. Johnson really looks to be deepening and darkening Rey's journey, and Kylo Ren's tortured family dynamics also promise to add fresh depth. Yet at the same time very little has been given away. Frankly I can't wait.
Shaun Munro: I regret watching it. It looks fantastic but I feel like I might know too much now. The obvious fake-out at the end is a bit of an eye-roller, though.
Helen Murdoch: Great trailer and far more gripping than the first. Keen to see the relationship between Luke and Rey develop and the shot of Kylo Ren looking like he's about to kill Leia was fantastic!
Chris Cooper: Naysayers be damned. This is a great trailer. Amid the action and explosions is plenty of drama and emotion. Love the focus on Jedi and the Force. Plenty to salivate over yet I don't feel spoiled. Well played.
Scott Watson: Enough little nuggets of Star Wars joy spread throughout that trailer to fill me with a ton of excitement for what lies ahead. Did it have breathtaking moments like some of the Falcon shots for The Force Awakens, probably not, but more of a solid montage of everything you would expect from a galaxy far, far away.
Andy Naylor: I'm annoyed and enthralled by it. They've hinted at so much and revealed nearly noting at the same time. That's how to do a trailer. Grab my attention and curiosity then promise the answers I crave when I watch the film. No spoilers, just 2 and half minutes of teasing the hell out of me.
Ricky Church: I thought this was an amazing trailer. Like everyone her has said, it shows enough, but not too much to get into spoiler territory. It teases you perfectly to get you speculating on scenes and characters. I love the focus on people rather than big, crazy action sequences (though those look awesome too) and Mark Hamill looks like he's going to deliver as this jaded Luke Skywalker. I could go on, but suffice it to say The Last Jedi looks great and December can't get here soon enough.
Gary Collinson: Lucasfilm usually delivers with Star Wars trailers, and this one might be my favourite yet. I thought it was absolutely fantastic. A great mix of character and drama amid what looks to be epic action and spectacle. By this point with The Force Awakens, I felt I had a pretty good grasp on how the film would play out, but that's not the case here at all. I was certainly not expecting to see Rey and Snoke in the same scene. Remove that Porg, and it would have been a perfect trailer.
Anghus Houvouras: Excellent piece of marketing. It almost makes me forget how average The Force Awakens was and the hot mess that was Rogue One. I like the character focus and the mental hermit that Luke has become. I'm still crazy ambivalent about Disney Star Wars but this notched my interest upwards by eight midichlorians.
Graeme Robertson: Is it a bit sad that I'm avoiding the trailer altogether? I really just want to go in knowing as little as possible so that I can be surprised by how things play out.
Villordsutch: I enjoyed this trailer quite a bit; it looks like a great Star Wars film. We have Luke, Leia, new aliens and lightsabers; boxes were ticked. But then come the final scene – to paraphrase the great Danny Zuko – "I got chills".
What did you make of the trailer? Did you get chills, or did it show too much? Let us know in the comments below…
In Lucasfilm's Star Wars: The Last Jedi, the Skywalker saga continues as the heroes of The Force Awakens join the galactic legends in an epic adventure that unlocks age-old mysteries of the Force and shocking revelations of the past.
Star Wars: The Last Jedi is set for release on December 14th in the UK and December 15th in the States and sees returning cast members Mark Hamill (Luke Skywalker), Carrie Fisher (Leia Organa), Adam Driver (Kylo Ren), Daisy Ridley (Rey), John Boyega (Finn), Oscar Isaac (Poe Dameron), Lupita Nyong'o (Maz Kanata), Domhnall Gleeson (General Hux), Anthony Daniels (C-3PO), Gwendoline Christie (Captain Phasma), Billie Lourd (Lieutenant Connix), Andy Serkis (Supreme Leader Snoke), Peter Mayhew and Joonas Suotamo (Chewbacca), Tim Rose (Admiral Ackbar), Mike Quinn (Nien Nunb), Simon Pegg (Unkar Plutt), and Warwick Davis joined by new additions Jimmy Vee (Pan) as R2-D2, Kelly Marie Tran (Ladies Like Us) as Rose, and Benicio Del Toro (Guardians of the Galaxy) and Laura Dern (Jurassic Park).