Blame, 2017.
Directed by Quinn Shephard.
Starring Quinn Shephard, Chris Messina, Nadia Alexander, Sarah Mezzanotte, Tessa Albertson, Luke Slattery, Owen Campbell, Geneva Carr, and Tate Donovan.
SYNOPSIS:
A drama teacher's taboo relationship with an unstable student strikes a nerve in her jealous classmate, sparking a vengeful chain of events within their suburban high school that draws parallels to 'The Crucible'.
Blame certainly has its fair share of problems and while it may soon look as if this review is overly harsh, that doesn't take away how speechless rendering and impressive it is that the high school drama (proudly drawing parallels to widely regarded masterpiece and standard curriculum book The Crucible) was directed, written, starred, edited, and produced by 22-year-old Quinn Shephard, who started scribing the movie with her mother Laurie Shephard when she was only 15. The road to Blame's existence (especially in a male-dominated industry apparently full of misconduct, abuse, and a general lack of faith in giving more women prominent filmmaking roles whether it be behind or in front of the camera) could have made for a gripping experience itself. Flaws inside, whatever Quinn Shephard takes part in next will be anxiously awaited.
Getting to the actual film, Quinn Shephard throws herself into the role of Abigail, a senior student who suffered some kind of psychological breakdown and was institutionalized, but is cleared and ready to start the new year of studies on time. It's never really explained what happened, and even when it seems a bit of information might be given out, the script deflects answering the subject, almost as if Shephard wasn't sure herself about the mental illness. This causes Abigail to be ostracized from the rest of her classmates (unfortunately, expressed in cartoonish ways such as slanderous and/or cruel statements spray-painted over bathroom walls) and depressingly lonely.
She's definitely an oddity and anomaly for a teenage girl, already aesthetically resembling the protagonist role of Abigail in The Crucible before the middle-aged, mysterious, and handsome substitute drama teacher Jeremy (Chris Messina) announces the novel will be performed by the students. Furthermore, Jeremy seems to be introverted in his own way, clearly unhappy with his current pushy significant other pressuring him to seek work that pays well despite his heart not being in it. If it weren't for the generational age difference and teacher/student dynamic, it would make perfect sense for him to become romantically interested in Abigail. It definitively makes for some awkward viewing, but the script occasionally can be so strong in its writing that it's not totally insane to want to see these drifting, comparable souls work out with their taboo relations. Likewise, it should also be taken as a cautionary tale to both young teenagers and adults that this brand of forbidden love isn't the correct or appropriate solution to crushing loneliness.
There are problematic areas, such as a weak indie-pop soundtrack blaring over intimate seems that fail to be romantic. The biggest offender here is a scene inside Jeremy's car with the rain pouring down outside, where Abigail turns on the radio followed by the pair passionately looking at each other overtaken with heavy breathing. It's cheesy, amateurish, and doesn't help anyone buy into the brewing romance. The same thing happens in a scene where they may or may not engage in sexual relations (it is implied that they just kiss, but I don't know if that should be taken as truth, although for what it's worth, the two never discuss sex), except this time with annoying drums pounding and pounding as they stare into each other's eyes. To be fair, Shephard's direction in other areas, namely with the stage rehearsals and presentation of The Crucible is artsy and hypnotic thanks to lighting experimentation; it will be very interesting to see if she pursues this style more in other projects.
Elsewhere, Blame equally focuses on the nasty, self-centered, trio of friends on the cheerleading squad that does everything possible to make Abigail miserable. The ringleader of the friends Melissa (Nadia Alexander turning a fine performance as the gossipy bitch seemingly behaving immaturely due to a broken home) instantly becomes jealous that Jeremy chooses Abigail to play the role of her own name (an observation he also points out), and from there it should be easy to spot where some of the parallels with The Crucible will arise. The young girls are various levels of coldhearted, with two of them interested in boys also in the class.
Betrayal and double-crossing are at the core of Blame, but it takes a frustratingly long amount of time to get anywhere compelling. There is an overly long sequence where the horrible young boys groom the girls for sex with alcohol when it's clear from the start of the scene what's going on, some of the catty dialogue feels a bit too exaggerated even for teenage girls, and the film simply can't find its footing until the tremendous final act that elicits all kinds of different emotions. Also, one has to wonder if Blame would have benefited from a subtle approach that doesn't directly announce it's drawing influence from The Crucible.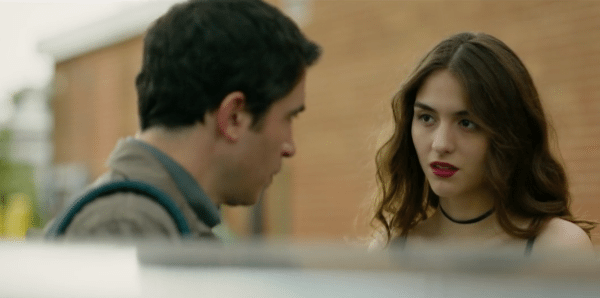 It should also be mentioned that the acting is fine in most places and not so good in others. Quinn Shephard, in particular, is a highlight and revelation; it's hinted that Abigail could have multiple personalities and exceptionally shows it in a classroom scene which seats are going from capably defensive to fearfully shy and vulnerable. Her partner, Chris Messina pulls off the tricky balancing act of not coming across as outright creepy or despicable for going along with the affection he and Abigail share for one another. As mentioned, Nadia Alexander gets a lot of cruel material to chew into, but also feels a bit one-note with her home life underwritten. Blame is messy and uninteresting for roughly half of its running time, but when Quinn Shephard figures out how the pieces fit her work is riveting. She will only grow as she fine-tunes her abilities; this could be the beginning of a very gifted filmmaker.
Flickering Myth Rating – Film: ★ ★ ★ / Movie: ★ ★ ★
Robert Kojder is a member of the Chicago Film Critics Association and the Flickering Myth Reviews Editor. Check here for new reviews, friend me on Facebook, follow my Twitter or Letterboxd, check out my personal non-Flickering Myth affiliated Patreon, or email me at MetalGearSolid719@gmail.com