Warning. Spoilers for Star Wars: The Last Jedi follow…
It may have been disappointing for some to learn that all of the fuss over Rey's parentage proved to be much ado about nothing in Rian Johnson's incredibly divisive Star Wars: The Last Jedi. While some felt that this moment was incredibly powerful, and all-too-true to life — mainly, that sometimes there is no greater reason for the way our life turns out — while others felt this moment was a betrayal, and ruined all of the mysteries that J.J. Abrams created in Star Wars: The Force Awakens.
Not so fast though: according to Rian Johnson, the case of Rey's parentage is still open. In an interview with the Huffington Post, he said something interesting:
"What's going to make life hardest on her? It would be the big 'I am your father' twist [from The Empire Strikes Back]. And same thing with Rey and her parentage. The easy thing would be, 'Yes, your parents are so and so and here's your place in the world. There you go.' The hardest thing she could hear would be […] 'No, you're not going to get the answer. This is not going to define you. You're going to have to find your own place in this world. Kylo is going to use that even as leverage to try and make you feel insecure, and you're going to have to stand on your own two feet… Anything's still open, and I'm not writing the next film. [J.J. Abrams and Chris Terrio] are doing it."
SEE ALSO: Mark Hamill regrets his criticisms of Star Wars: The Last Jedi
Well, you could go crazy trying to guess where things will go from here. What this seems to translate to is: "My choices can be interpreted in an entirely different way by another director". And he's right. After all, that's exactly what Johnson did with Abrams' film. It's kind of what makes this new universe really interesting so far (well, to some).
What do you think? Is the truth of Rey's parents yet to be revealed? Or have we already gotten our answer in The Last Jedi? Let us know in the comments!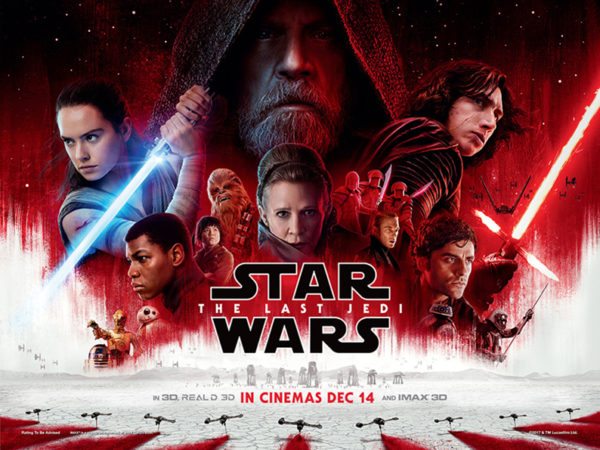 In Lucasfilm's Star Wars: The Last Jedi, the Skywalker saga continues as the heroes of The Force Awakens join the galactic legends in an epic adventure that unlocks age-old mysteries of the Force and shocking revelations of the past.
Star Wars: The Last Jedi sees returning cast members Mark Hamill (Luke Skywalker), Carrie Fisher (Leia Organa), Adam Driver (Kylo Ren), Daisy Ridley (Rey), John Boyega (Finn), Oscar Isaac (Poe Dameron), Lupita Nyong'o (Maz Kanata), Domhnall Gleeson (General Hux), Anthony Daniels (C-3PO), Gwendoline Christie (Captain Phasma), Billie Lourd (Lieutenant Connix), Andy Serkis (Supreme Leader Snoke), Peter Mayhew and Joonas Suotamo (Chewbacca), Tim Rose (Admiral Ackbar), Mike Quinn (Nien Nunb) and Warwick Davis joined by new additions Jimmy Vee (Pan) as R2-D2, Kelly Marie Tran (Ladies Like Us) as Rose, Benicio Del Toro (Guardians of the Galaxy) as DJ and Laura Dern (Jurassic Park) as Vice Admiral Holdo.
…You can find Jordan on Twitter, and Facebook.