George Chrysostomou on Marvel One Shots…
With the news that a brand new short film, featuring the Grandmaster and Thor's roommate Darryl, will be attached to the Blu-ray release of Thor: Ragnarok, the question is raised again as to whether Marvel should invest in more short films to continue to expand its universe. Known as Marvel One-Shots, these often act as a way into exploring fan favourite characters of filling in the gaps in between films. These have not only acted as back door pilots for both ABC series Agents of S.H.I.E.L.D. and Agent Carter, but have also explained the Tony Stark cameo in the Incredible Hulk and hinted towards the presence of a real Mandarin, after fan backlash from Iron Man 3.
Thor: Ragnarok director Taika Watiti's Team Thor shots have been on the more humorous side, adopting a mockumentary, much like his popular film, What We Do In The Shadows, and putting together Thor and his unlikely roommate as the Asgardian struggles to fit into Earth's culture. With the news that Thor will now be replaced by the Grandmaster and talk in the past from Kevin Feige of the potential to expand the types of One-Shots that are produced, there must be a solution to the question of the One-Shot Conundrum – in what format do you continue to successfully explore other sides of the MCU?
What has been suggested in the past for Marvel to adopt the Pixar approach, using the One-Shots as a method to test new creative talent and in this case, a way in which characters and concepts can be given an opportunity. The Pixar approach would see a short film, or One-Shot, produced for every MCU film and screened in theaters before the main film. Partially, the problem with this, is not only are you limited by the length of the One-Shot, which really couldn't be over ten minutes max, but also the fact that MCU films are considerably longer than Pixar films, which means you're asking audiences to sit in the cinema for even longer. And, with longer viewing times, less screenings of the film can be scheduled for each day, which results in a loss of financials. The cost of producing these One-Shots for no immediate gain is also evident, although Blu-ray bonus is at least an incentive to pick up a copy at your local retailer.
The solution I suggest therefore, pays homage to the classic comic series Tales of Suspense, a book that allowed budding artists and writers to test their content. How about an athology TV series called Tales of Suspense, which could air on the Disney streaming service. Acting as a series of one-off tales, told in a longer 45 minute format, the series could develop the idea of the One-Shot even further, dedicating an entire episode to a completely different character or side of the universe. One episode could be used to introduce the Swordsman, a random Marvel villain who  could then be used elsewhere in the future. Another could introduce Captain Britain as a backdoor pilot to his own series. A third could continue the adventures of Sif during her absence in Thor: Ragnarok. Each episode could offer something entirely different in tone, concept and creative team, giving an infinite amount of options to produce a quality series which continues to enrich the Marvel Cinematic Universe.
This longer form content has already been played around with, with Marvel creating the YouTube mini series for Agents of S.H.I.E.L.D. character Yoyo Rodriguez. Known as Slingshot, the series focused on the Inhuman as she encountered many of S.H.I.E.L.D.'s recurring characters whilst developing her own personality and narrative. This sort of narrative could easily be found on Tales of Suspense, with a whole episode dedicated to the dodgy dealings of Turk Barrett and his continued encounters with costumed individuals. What's more, the series could be a prime place for team-up episodes, something we only see in the bigger tentpole films and series. With a completely standalone episode, which will not majorly impact any other part of continuity, these team-up episodes could be a lot of fun, exploring character combinations we haven't seen before: Daredevil and Ghost Rider. Nick Fury and Luke Cage. Hawkeye and Mockingbird. The list of possible combinations is endless.
Furthermore, it could act as an additional way into setting the scene before a film is released, continuing to fill in the blanks. Think of the WHIH Newfront mini episodes that were released through YouTube that fleshed out characters from Ant-Man especially. In a much larger setting, these episodes could be the key to setting up key plot devices later on for the films. An episode that focused on Damage Control before Spider-Man: Homecoming or an episode tracking the fan favourite villain Crossbones as he started to get together his crew and gear, recovering form his near death experience, prepping for the events of Captain America: Civil War, would further flesh out the worlds of which we are entering.
Perhaps the biggest point in favour of a Tales of Suspense series is the notion that you cannot get bored with them, nor will they ever be too heavy. For instance, the Netflix Marvel shows, which are usually 13 episode per season, have moments where they drag and feel a little bit too long. However, with the ability to do a series of any length, as well as the prospect that each episode is standalone and can be dipped into at any point (not to mention the option of having a completely different creative team on each), the series will continue to feel fresh and innovative. Risks can be taken on a series such as this, where the stakes are not as high, and new directors and writers could even be tested out. Individuals in the MCU who wish to turn their hand to directing for instance, could do just that. This happened recently with Clark Gregg directing an episode of Agents of S.H.I.E.L.D. and with many other talents under Marvel contract, there's no limit to the potential. Even a popular filmmaker like James Gunn might wish to expand a little nugget of story with his side of the universe, fleshing out a obscure character from the Guardians of the Galaxy franchise. The list of possibilities are so endless with this concept that it seems to me to be the perfect solution to the One-Shot conundrum. Plus, who doesn't want a Korg/Miek spin-off episode!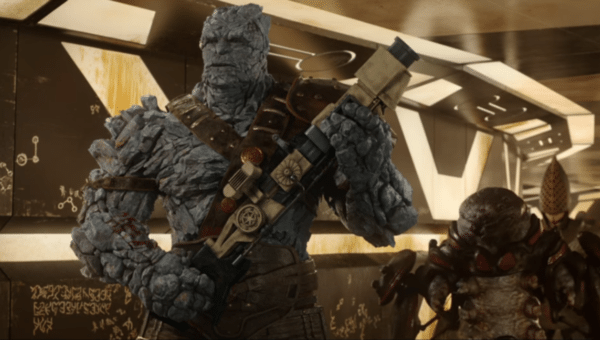 George Chrysostomou