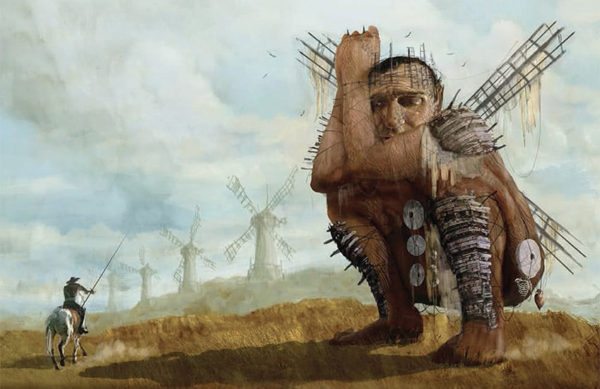 Last year, Terry Gilliam finally managed to complete production on his long-gestating passion project The Man Who Killed Don Quixote, and now we have a first-look image from the film featuring Adam Driver as Toby and Jonathan Pryce as Don Quixote; check it out here…
around european film market i've got the first official picture from terry gilliam's quixote with adam driver and jonathan pryce #themanwhokilleddonquixote #Berlinale #TerryGilliam pic.twitter.com/5IOmapTqSc

— Andrea Corsini (@andreamtcorsini) February 21, 2018
Gilliam has spent the best part of two decades trying to get his adaptation of Miguel de Cervantes' classic novel off the ground. In 2000, he started shooting the movie with a cast that included Jean Rochefort as Don Quixote and Johnny Depp as his lead character Toby, only for the production to encounter numerous difficulties before it was eventually abandoned. The failed effort was documented in the 2002 film Lost in La Mancha.
Here's the rumoured plot overview:
There was a time when Toby was a young film student full of ideals. So he decided to shoot a film adapted from the story of Don Quixote in a pretty Spanish village.
But those days are gone and now Toby is an arrogant publicist, libidinous and jaded. Money and glitter have corrupted him, and while he is in Spain where he finishes filming an ad, he has to juggle with his boss's wife – Jacqui – a calamitous weather, and his own ego. This is when a mysterious gypsy comes to find him with an old copy of his student film: Toby is upset and decides to go in search of a little village where he had made his first work a long time ago. He discovers with horror that his little film has had terrible effects on this quiet place. Angelica, the girl full of innocence, became a high-class call girl; and the old man who played Don Quixote lost his mind, convinced in his delusion of being the real "Knight of the Sorrowful Countenance."
A series of incidents lead to a fire that threatens to destroy the village. Wanted by the police, Toby is "saved" by the old fool who takes him for his faithful squire Sancho, and drives on the roads in search of his perfect wife, Dulcinea.
During this journey, Toby will face demons, real and imaginary, modern and medieval. Damsels will be saved, jousts will be completed, and giants will be killed!
Reality and fantasy merge in this strange journey, until a spooky ending.
The Man Who Killed Don Quixote features a cast that includes Jonathan Pryce (Game of Thrones) as Quixote and Adam Driver (Star Wars: The Force Awakens) as Toby, while the rest of the cast includes Olga Kurylenko (Quantum of Solace), Stellan Skarsgård (Avengers: Age of Ultron), Joana Ribeiro (A Uma Hora Incerta), Eva Basteiro-Bertoli (Black Bread) and Rossy de Palma (Women on the Verge of a Nervous Breakdown).